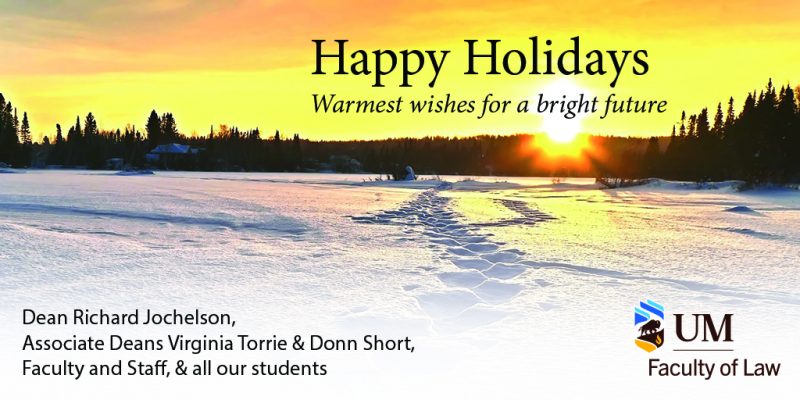 Reflecting on a year of change, Faculty of Law looks towards bright future
December 23, 2021 —
Another year of virtual teaching and learning has passed, another Spring graduating class of law students endured final exams, convocation ceremonies, grad celebrations and commencement of articles in front of a screen at home. Another cohort of 1L students were introduced to law school virtually. Professors spent another year recording and uploading lectures, staring at boxes on screens hoping students were behind them, heeding the lessons. At some point, everyone wondered where the community was and what was happening at Robson Hall?
Meanwhile, the boxy pile of concrete still stood as it has for 52 years, with Professor John Irvine pacing its halls preparing his lectures, while other faculty and staff popped in and out on occasion, all masked and waving greetings, relieved to see actual people in-person. Dr. Richard Jochelson, once installed as the new Dean, became a stalwart fixture in the big corner office. And things began to change.
Looking back over 2021, here is a list of significant evidence of changes coming to Robson Hall with related UM Today stories, heralding a bright future:
Answering the Truth and Reconciliation Commission's Call to Action #28
Formation of the Truth & Reconciliation Action Team

Passing of the mandatory upper-year course, "Indigenous Methodologies and Perspectives"
Hiring of alumnus Marc Kruse as Indigenous Student Support Coordinator
Ongoing updates to Law course calendar to reflect commitment to CTA 28 on a course-by-course level

Call for applications for an Indigenous Professor (please share job posting)
Development of a new Indigenous Clinical Experience

Improved 1L orientation to include CTA 28 and legal ethics content
Hosted a second session of the Indigenous People and the Criminal Justice System workshop for practicing bar plus 40 law students

Sponsored about 30 students to attend the Canadian Institute for the Administration of Justice's Indigenous Peoples and the Law conference
See UM Today Stories:
Expanding Clinical Learning Opportunities, Business Law, and Bilingual program
Increased investment in the L. Kerry Vickar Business Law Clinic
Developing Room 113 (former storage room) into a new clinical space
Expanding the Desautels Centre for Private International Law to include blogs, case reporter, peer reviewed journal, conference and paper sponsorship and student support
Passing of a concentration in Private Enterprise & the Law
Passing of a concentration in Access to Justice Bilingual program
Expanding the University of Manitoba Community Law Centre (UMCLC)
Addition of a net year's worth of four full-time staff forming a clinical team of instructors and professors
See UM Today Stories:
Hiring new professors and staff
Two new professors were hired in the spring
In addition to the new Indigenous Student Support person, a new Admissions Officer was hired in the summer
Two new instructors were hired this fall
The search for the Mauro Chair in Human Rights and Social Justice has concluded and will be announced in the new year
It goes without saying but bears repeating that the Faculty appointed a new Dean of Law, Dr. Richard Jochelson, who took office on July 1, 2021.
The Faculty also appointed a new Associate, JD Program, Dr. Virginia Torrie, with Dr. Donn Short continuing in his term as Associate Dean, Research and Graduate Studies
See UM Today Stories:
Administrative, Building, and Community Improvements
Four classrooms have been prepared with videoconferencing capabilities in anticipation of a partial return to in-person teaching and learning
Faculty council has completed an initial study of bylaws and is preparing them for modernization
Despite Labour Action and pandemic, the Faculty successfully preserved the schedule for Winter term to keep students on track for graduation and timely commencement of articles
Forging of strong links with the Law Society of Manitoba with announcements coming

Ongoing provision of Equity, Diversity and Inclusion (EDI) seminars with more planned for next term
Mental Health supports and initiatives
Ongoing – Student Counselling Centre services have provided two imbedded counsellors for law students to have one-on-one counselling appointment (virtual). When SCC counsellors were not, available, students were connected with Empower Me for virtual counselling support.
A Mindfulness presentation given virtually by Dr. Thomas G.W. Telfer of Western Law was part of the 1L Orientation on September 3.
A "Mask and Learn" lunchtime talk with Professor Brandon Trask took place September 14 on the topic of protecting one's mental health as a lawyer. The in-person event featured tips for law students to carry into practice to guard their mental health and help reduce the overall stigma of mental health issues in workplace.
A Presentation by Shannon Daniels (therapist for MB Justice) and Carolyn Reimer (MB Crown Attorney) occurred October 22 over Zoom. Discussion was regarding general risks faced by law students and lawyers regarding mental health issues and stress, how to recognize the signs of stress and trauma, how stress/trauma impact your work, how to deal with stress, the competitiveness of law, imposter syndrome and how to deal with same.
Rebecca Bromwich, EDI manager at Gowling joined us via Zoom on November 23 to give a Mental Health First Aid presentation. This was an overview for students, staff and faculty of the basics of mental health, how to notice mental health issues in others, what to do/not do to provide assistance to someone who experiencing a mental health crisis.
Shannon Daniels and Carolyn Reimer returned virtually to give a presentation to Assistant Professor David Ireland's Legal Profession and Professional Responsibility class at the end of term on December 10. Assistant Professor Brandon Trask moderated class discussion. The presentation included practical pointers for law students and lawyers to deal with stress and vicarious trauma related issues.
Celebrating Accomplishments of Faculty, Students, and Alumni
In addition to online teaching, many professors have continued to publish their research throughout the pandemic
Students have persevered, competing in moot competitions online, and taking part in extracurricular academic and career-related activities to their benefit
We have been increasingly reaching out to our alumni to see what kind of impact their legal educations have had on their careers and their communities
See UM Today Stories:
Professors
Students
Alumni