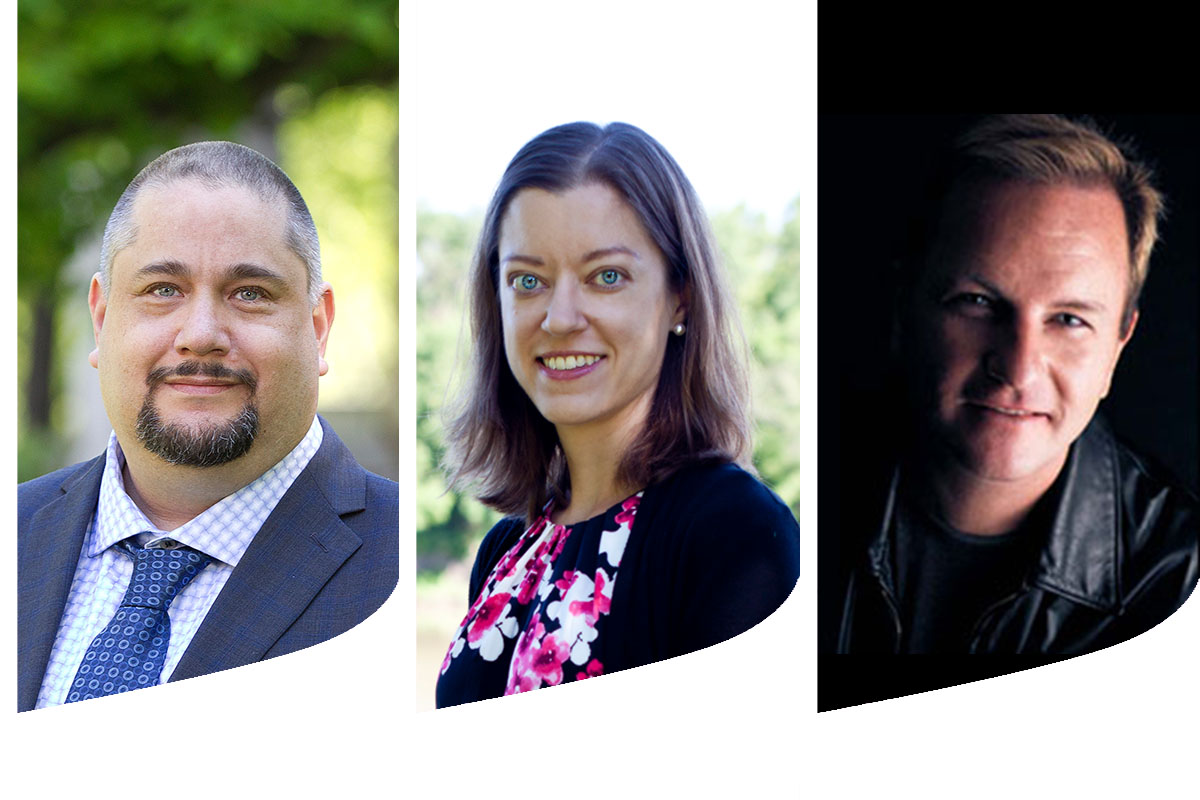 Familiar faces form new team at Faculty of Law Dean's Office
Dr. Virginia Torrie appointed new Associate Dean (Juris Doctor), Dr. Donn Short to continue as Associate Dean (Research and Graduate Studies)
June 29, 2021 —
The newly appointed Dean of Law, Dr. Richard Jochelson, welcomes to the "Dean Team" at the Faculty of Law, Associate Dean, Dr. Virginia Torrie. Dr. Donn Short continues as Associate Dean Research and Graduate Studies until June 30, 2024. Dr. Torrie's term begins July 1, 2021 lasting until June 30, 2026.
"Dr. Torrie is a perfect fit for our team," said Dr. Jochelson. "She is a dynamic, award winning teacher with high standards, and she understands how important it is for our students to live up to professional standards in order to develop the requisite skills for the practice of law. She is also a critical thought leader and is committed to pursuing, with unflinching efforts, our need to live up to the promises we have made as a Faculty towards truth and reconciliation."
The new Dean also looks forward to working with the Associate Dean of Research and Graduate Studies on chairing the Faculty's Strategic Planning Committee in addition to developing a new set of Master of Laws degree programs.
"Dr. Short has done fantastic work in enhancing the quality of our graduate program," said Dr. Jochelson. "He is also an award-winning researcher and is exceptionally well positioned to draw on his depth of experience in developing new graduate opportunities including course-based and clinical offerings. Moreover, as a long-term Faculty Member he possesses the institutional wisdom needed to help with our strategic plan. Further, he has been at the leading edge of seeking equality for those excluded and marginalized by law and society."
Dr. Torrie, who received both tenure and promotion to Associate Professor earlier this year, brings to the office of Associate Dean (J.D.), a dedicated interest in improving methods of teaching and learning. Having completed a Certificate in Teaching and Learning in Higher Education from the University of Manitoba, she has used blended learning and interactive teaching strategies to promote classroom engagement in all her courses and is dedicated to trying new and innovative teaching methods and approaches with the twin purposes of making learning both effective and enjoyable. Her skills are well-recognized and she is the recipient of several awards, including the Faculty of Law's Barney Sneiderman Award for Teaching Excellence in 2017 and the University of Manitoba Merit Awards for Teaching in 2018 and Service in 2019.
As Associate Dean of the Juris Doctor program, she will be fostering student professionalism and developing an evolving curriculum that will involve strides towards Indigenization of the curriculum, refining our clinical offerings and strengthening the private enterprise curriculum of the Faculty.
"I'm delighted to be stepping into the role of Associate Dean (Academic – JD Program) on July 1st, 2021, and working alongside Dean Richard Jochelson and Associate Dean (Research) Donn Short in the years ahead," said Dr. Torrie of her next role. "At the University of Manitoba's Faculty of Law we are fortunate to attract bright, talented and collegial students year after year, and I look forward to enhancing their academic and clinical experiences in the JD program, and supporting them as they prepare for their future career paths."
Recognizing the work already cut out for her in this new position, Dr. Torrie continued, "One of the immediate challenges as Associate Dean (J.D.) will be continuing to monitor public health advice and University policies relating to the pandemic as these affect teaching and learning at the Faculty of Law. The situation is fluid, and we will need to be both sensible and nimble in how we respond and adapt to the changing situation."
Dr. Torrie holds J.D. and LL.M. degrees from Osgoode Hall Law School of York University, and a Ph.D. from Kent Law School, University of Kent. As an expert in Bankruptcy and Insolvency Law, her area of research focus includes the history of Canadian business restructuring from the Great Depression through to the 21stCentury. To learn more about her research, please visit her profile page on the Faculty of Law website.
Dr. Donn Short is the author of numerous books dealing with bullying in schools, including Don't Be So Gay!, Am I Safe Here? and the forthcoming Making the Case, all published by UBC Press. Dr. Short has received a number of university merit awards for his research, teaching and service. He was the winner of the 2016 Rh Institute Foundation Award for Outstanding Contributions to Scholarship and Research in the Social Sciences at the University of Manitoba.
"Robson Hall is a place that allows faculty to grow and develop their research alongside supportive colleagues and students," said Dr. Short. "I have a lot of optimism for the future working as a team with Dean Richard Jochelson and Associate Dean Virginia Torrie."
Dr. Short received his JD from UBC (Raymond Herbert Award Best All Round Graduating Student) and his PhD from Osgoode Hall. Dr. Short has been a member of the Manitoba Human Rights Commission and is the founding editor-in-chief of the Canadian Journal of Human Rights. He is the Executive Director of the Legal Research Institute at the University of Manitoba. Please learn more about Dr. Short's work on his profile page on the Faculty of Law website.
Dr. Jochelson was announced as Dean of the Faculty of Law along with a number of other University of Manitoba faculties at the end of June. He begins his five-year term on July 1, 2021. Professor Jochelson holds a PhD in law from Osgoode Hall at York University, a Masters in Law from University of Toronto, and a Law Degree from University of Calgary (Gold Medal). He taught criminal and constitutional law at the University of Winnipeg for ten years prior to joining the University of Manitoba's Faculty of Law in 2016.
Dr. Jochelson's area of research focus includes regulation of sexuality and other expression, socio-legal governance of harm and precaution, policing and police powers, surveillance and security in legal decision-making, the criminal and constitutional jurisprudence of the Supreme Court of Canada, jury law, disability and the criminal law, regulation of sexuality and other expression, socio-legal governance of harm and precaution, and empirical analyses of legal decision makers.
He is one of the co-founders of the legal blog Robsoncrim.com. The blog contributes to legal education at Robson Hall, providing reflections on current issues in criminal law through its Blawg program, through special events, and through its annual peer reviewed journal (a special edition of the Manitoba Law Journal). Dr. Jochelson has published numerous peer-reviewed articles and co-authored and co-edited an increasing number of books and volumes dealing with obscenity, indecency, judicial activism, police powers, criminal justice pedagogy and curriculum development, empiricism in criminal law, green criminology and conceptions of judicial and jury reasoning. He is a member of the Bar of Manitoba. Please read more about Dr. Jochelson at his profile page on the Faculty of Law website.