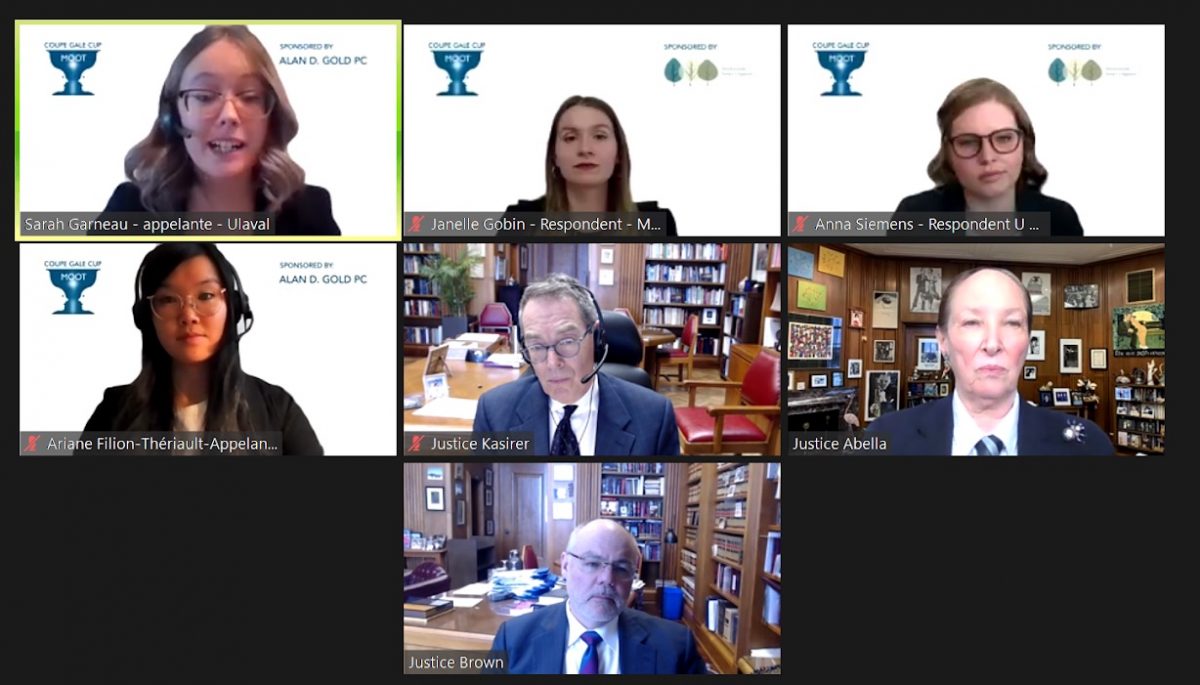 Manitoba's Gale Cup Team places third after decade-long shutout
April 2, 2021 —
The University of Manitoba's Faculty of Law team of Janelle Gobin and Anna Siemens, Jessica Humphries and Madison Parker had an extraordinary year, placing third overall. Significantly, this is the first time in over 10 years that the team from Robson Hall has placed in the top four teams of the Gale Cup, which took place virtually, February 26 – 27, 2021.
Named after former Ontario Chief Justice George A. Gale, the Gale Cup simulates the appellate court experience and puts before the students, a criminal law case to argue. The Gale uses real judges versus lawyers and – in a normal year, would have taken place at the Ontario Court of Appeal at Osgoode Hall in downtown Toronto.
The subject of this year's competition was R v Williams (2020 SCC 11), which dealt with entrapment in the context of dial-a-dope investigations.
Team coaches Melissa Hazelton and Michelle Bright shared this report:
"The team from Robson Hall had an amazing showing at the Gale Cup this year and came in 3rd place overall! The Robson Hall Appellants, Jessica Humphries and Madison Parker, were up against the Respondent team from Queen's University, while the Robson Hall Respondents, Anna Siemens and Janelle Gobin, met up with the Appellants from the University of Saskatchewan.
Anna and Janelle were selected as one of 4 teams in the final round of the competition, where they had the opportunity to appear before Justices Abella, Brown and Kasirer of the Supreme Court of Canada. They held up to many questions from the panel and showed the poise and confidence of veteran lawyers.
While the circumstances of the moot were certainly different this year with the online format, the organizers did an outstanding job making sure that things ran smoothly."
Speaking from the student perspective, Janelle Gobin said, "It was an incredible experience and the highlight of my law school career. I think I speak for all my teammates in saying that we couldn't have done it without the hundreds of hours our coaches, Michelle Bright and Melissa Hazelton, dedicated to helping us develop our oral and written advocacy skills. Our researcher Emilie Cook was invaluable. We are incredibly grateful for the lawyers and judges who volunteered their time to sit on our practice panels."