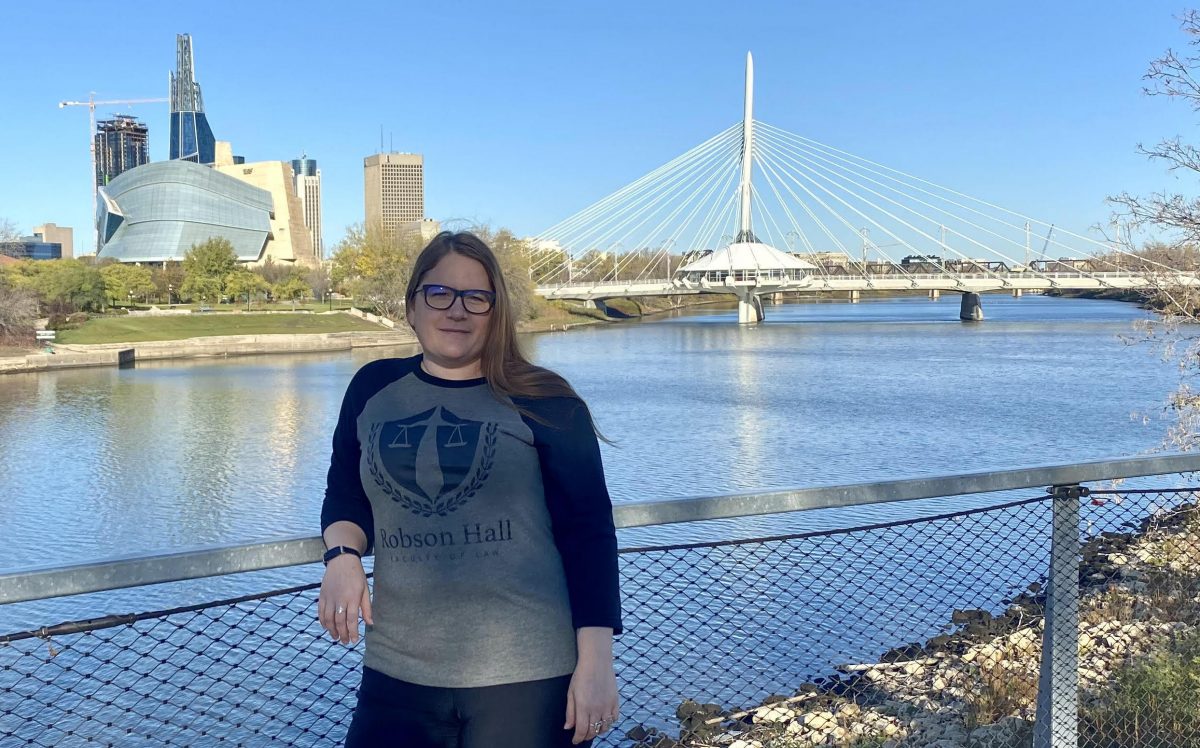 An education with impact
Master of Human Rights student's thesis holds potential to improve lives
October 18, 2021 —
Roberta (Bobbie) Whiteman had already worked in the child welfare sector for at least 10 years when she first learned about the new Master of Human Rights (MHR) program being offered at the University of Manitoba. Born and raised in Winnipeg, she had previously completed a double-major BA in Human Rights and International Development Studies at the University of Winnipeg, and was "immediately excited at the prospect of being able to continue my studies and research in the field of human rights without having to go abroad," she said in an interview about her studies. On October 18, she graduates as a member of the inaugural Master of Human Rights program class her thesis already demonstrating potential to impact the work she does in changing lives.
Students in the MHR program can choose either the Practicum or Thesis stream. Since the program first started in September of 2019, the majority of students have chosen the Practicum stream, although three students in Whiteman's cohort chose the thesis stream. "The thesis stream is appropriate for students interested in doing in-depth, original research on a human rights issue," said Dr. Kjell Anderson, Director of the MHR program. "It is also excellent preparation for those who intend to pursue doctoral studies (and we have a couple of MHR students who have applied to PhD programs)."
Whiteman, however, who already was employed in her chosen area of child welfare, chose to deepen her knowledge of her chosen career in a way to provoke concrete change. "She decided to pursue a Master of Human Rights degree to gain a broader and deeper perspective on human rights, which she is now applying directly to her important work for the province," Anderson explained. "Her thesis examined the right to legal representation for children in care, a crucial issue in ensuring that children's rights and child welfare are at the heart of our system of care."
"My thesis, Toward Guaranteed Legal Representation for Children in Care, is looking at the inequities that children who have been apprehended into the care of the child and family services systems across Canada face in having a voice in the process that so greatly affects the trajectory of their lives," Whiteman explained. "Ultimately my research argues that every jurisdiction, and specifically Manitoba, should have an office of the children's lawyer established to represent children and youth in the proceedings."
With the MHR program being housed at the Faculty of Law with opportunities for students to take courses from the faculties of Arts, Education, Law and Social Work, Whiteman took Dr. Lorna Turnbull's course Children, Youth and the Law course and determined from that experience, that "with her vast knowledge and understanding of the CFS [Child and Family Services] system and its linkages to the legal system, she was the ideal professor to advise me."
The main inspiration behind Whiteman's thesis stems back to one of her previous roles working over the past decade in child welfare, when she had occasion to visit all of the group homes in Manitoba where children in care were placed to live with staff hired to provide care for them. "The best part of that role was having the chance to chat with the youth," Whiteman said. "Inevitably what I heard is that this, whatever 'this' happened to be for that specific youth, is something that is happening to them and not for them and not with them. It struck me that if they actually had a voice in the process maybe their experiences and outcomes would be more positive or at the very least more authentic for them."
This experience left a lasting impact on Whiteman, so throughout her studies in the MHR program, every paper and project she worked on was about some aspect of children's rights. "It is what I am passionate about because I see that of all of the rights holders, children and youth are often silenced and have no avenue to voice their objections due to power imbalances," she said.
"I am intrigued by the law itself. I am intrigued by the application of the law, so it was fitting for me to focus my thesis on the legal aspects of children's rights as they intersect with my career."
With her brand-new Master of Human Rights degree, Whiteman intends to continue using everything she has learned in the program "to improve the actualization of rights for the children and youth I serve through my role within government systems. My goal now is to see an office of the children's lawyer come to fruition and I am fortunate to have an incredibly supportive Director who has already shared my thesis with some potential 'movers and shakers', so I intend to build on that communication and hopefully create momentum."
Despite being a seasoned worker in her chosen field already, Whiteman found there was much to learn while completing this degree. "I learned that I may have underestimated my need for rest as a late-thirty-something, single parent working full time in a demanding profession while completing a Masters in two years!" she said.
"All jokes aside, I learned that laws are not infallible and are meant to be challenged if they are misaligned or interpreted in a way that does not reflect the commitments made to human rights instruments on the international stage.
"I would also note that it was invigorating to be studying human rights with a cohort of people with diverse passions as it highlights how interdependent rights truly are. I learned so much both from the brilliant professors within the Faculty of Law and from my fellow students."