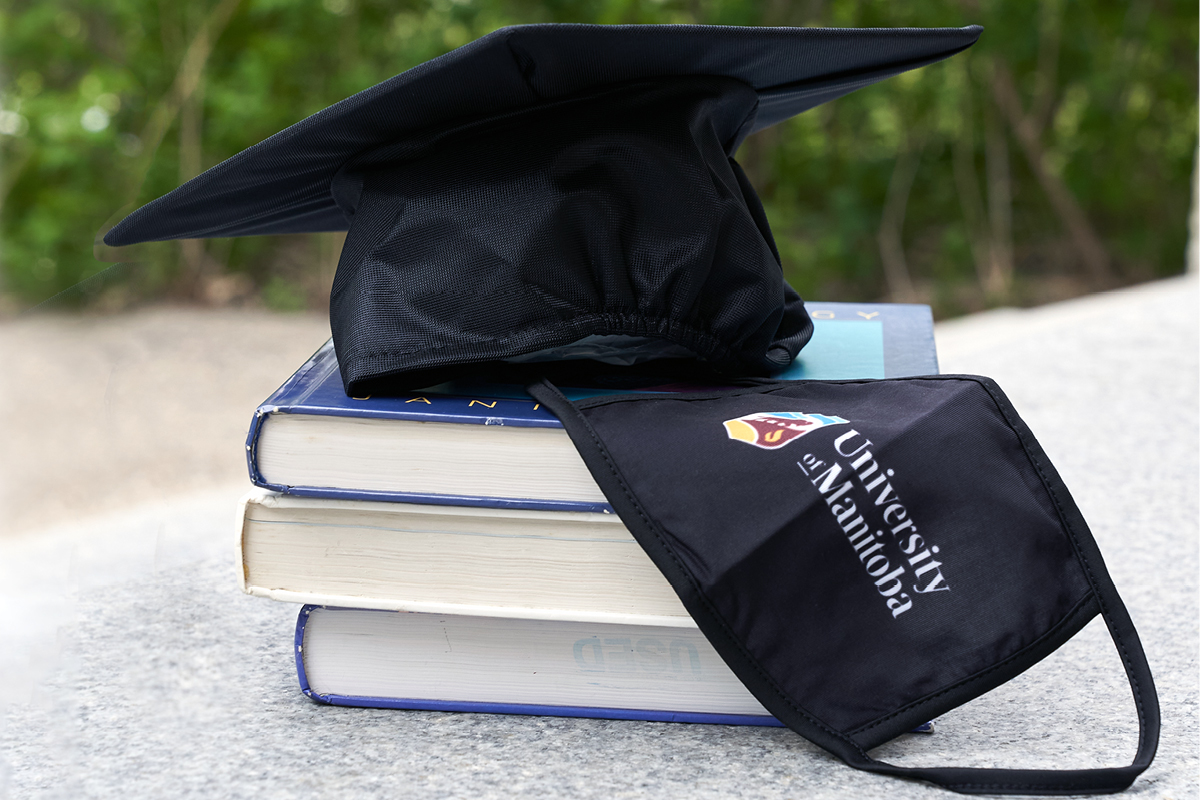 Fall Convocation: meet the class of 2021
October 15, 2021 —
Meet some of the incredible members of the University of Manitoba's class of 2021. Fall Convocation will be held this year from Oct. 18-21 and on Nov. 10.
Karen Froman, Faculty of Graduate Studies (Arts)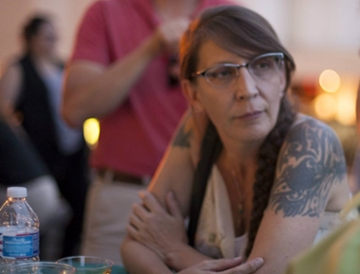 Karen Froman began her undergraduate degree at 27 years old as a single mother of two young children—a four-year-old daughter and a two-year-old son. She was dedicated to balancing her responsibilities to her family with pursuing her dreams.
While she did not have a clear idea of what her career would look like, taking a course that introduced her to Native studies in her first year was the catalyst to it all. Froman, who is Kanyen'keha (Mohawk) from Six Nations of the Grand River territory, went on to specialize in Native studies for both her bachelor's and master's degrees. Her path as a UM student ends with the completion of her PhD in history with an Indigenous focus.
Froman has secured a tenure-track position in the University of Winnipeg's department of history as an assistant professor. "As an Indigenous scholar, I want to empower other Indigenous students the same way that I was empowered by my professors at UM," says Froman.
Her family, especially her dad, is one of her greatest sources of strength and inspiration in this field. Her dad was a residential school Survivor, and Froman wanted him to be proud of his identity and culture. She looks forward to carrying this responsibility of influencing the next generation of Indigenous scholars.
Sidhant Sharma, Asper School of Business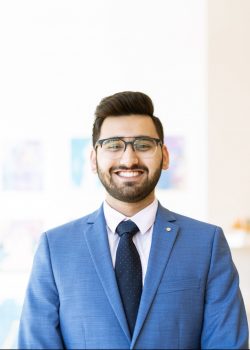 After completing high school in Accra, Ghana, Sidhant Sharma moved to Canada for his university education. He intended to follow a career in computer science, but he soon felt a natural drive toward business. He confidently made the move into the Asper School of Business to focus on Finance and Management Information Systems.
Sharma speaks passionately about his education: "Being able to introduce new technologies, identifying gaps and inefficiencies within processes and helping improve them requires creativity as well as logical thinking. I thoroughly enjoy mixing both of those skills."
From volunteering to mentorship programs, Sharma has embraced every opportunity to gain experiences that fueled his zeal and curiosity. This also helped him settle down in Winnipeg and truly enjoy his new life in this city. He received the Emerging Leader Award in 2019, which recognized his contributions to UM and the community on and off campus. It also served as a reminder to continue developing not only as a student but also as someone who has the power and abilities to make an impact on the community.
After graduating with a bachelor of commerce, Sharma will be starting in a new position as a business analyst at Bison Transport. He is excited to work with a company that puts an emphasis on technology, and to lead the charge in this evolving field.
Ashley Daniels, Faculty of Arts
Graduating with a bachelor of arts in Native studies with a minor in family social science, Ashley Daniels's experiences throughout her undergraduate program have set her up for success.
She engaged in multiple volunteering positions such as the communications coordinator of the University of Manitoba Indigenous Students' Association as well as a student mentor for the Neechiwaken Indigenous Peer Mentorship Program. She also volunteered in Ecuador with UM's Community Engaged Learning program and served as the first female Youth Chief in the Southern Chiefs' Organization for three years.
As a member of Swan Lake First Nation with ties to Sioux Valley Dakota Nation, she is most fascinated by Indigenous-focused research, especially in data sovereignty and language revitalization within the discipline. Focusing on an area of study with expansive implications on scientific knowledge and research moving forward, Daniels has a crucial role in reframing the world's views.
Her family is dedicated to keeping their Indigenous roots alive, which makes her education resonate with her on a personal level. "I enjoy spending time with the community, the land and maintaining kinship relationships," says Daniels. "I am inspired by my family and how they continue to show up every day for the future generations of our kin."
Daniels is currently serving as an elected executive council member and the Manitoba representative on the Assembly of First Nations National Youth Council.
Corrine Clyne, Faculty of Graduate Studies (Occupational Therapy)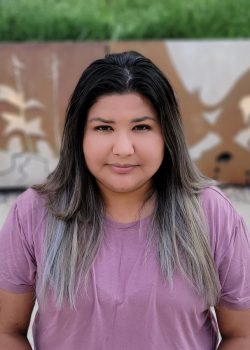 After earning her bachelor of arts at the University of Winnipeg with a major in conflict resolution studies, Cree student Corrine Clyne is now graduating from the master of occupational therapy program. At the same time, she has also completed the geriatric certificate program through McMaster University.
The diverse, holistic nature of the health profession immediately captivated Clyne– it was a natural decision to proceed with such a rigourous yet rewarding journey. Upon learning of the lack of culturally safe and relevant health-care services for many Indigenous communities, Clyne chose these programs as they will equip her with the skills and experiences to advocate for change in the health-care system and overcome jurisdictional barriers for better access to services.
"I also recognize the lack of mental health services that were present for me growing up in a reserve," says Clyne, who is from Norway House Cree Nation. "It is important to address this because mental health affects a person's health holistically."
She is eager to join the workforce on reserve in Northern Manitoba and change the lack of culturally appropriate health-care services available in these communities. In the future, she plans to pursue a PhD in applied health sciences.
Ashley Ammeter, Faculty of Graduate Studies (Agricultural and Food Sciences)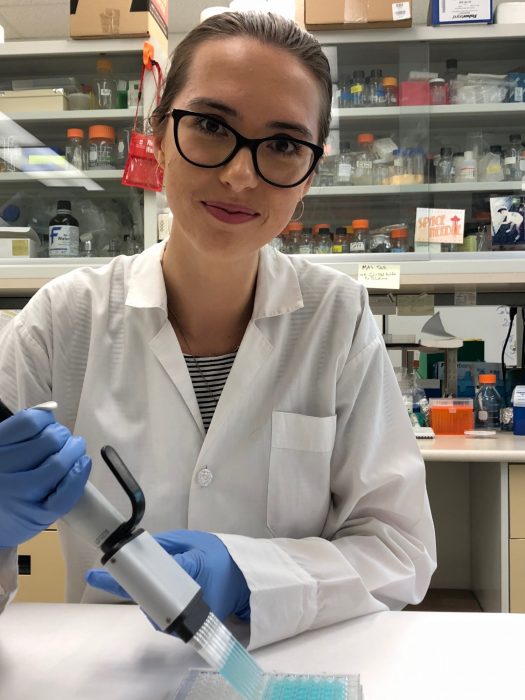 Ashley Ammeter previously earned a bachelor of agricultural and food sciences and is now adding a master of science to her accomplishments. Her research focuses on plant breeding approaches to the improvement of canola meal protein quality.
Growing up on a farm in Starbuck, Man., agriculture was always an important part of her life. She learned more about the science behind plant breeding in high school and became fascinated by the topic, which led her to where she is today.
Ammeter's research applies to the future of Canada's food systems and how it impacts the world. As the Earth's resources are depleted over time, agriculture is at the forefront of addressing challenges related to food availability and access. Her research topic has the potential to create innovations that would ensure Canada's agriculture industry can navigate future food shortage issues.
As a researcher, she uses a humble mentality when facing setbacks that other students can learn from, that also apply in the real world. "I've learned how to effectively solve problems when challenges arise," says Ammeter. "When things go wrong, there is often a learning opportunity to gain a deeper understanding,"