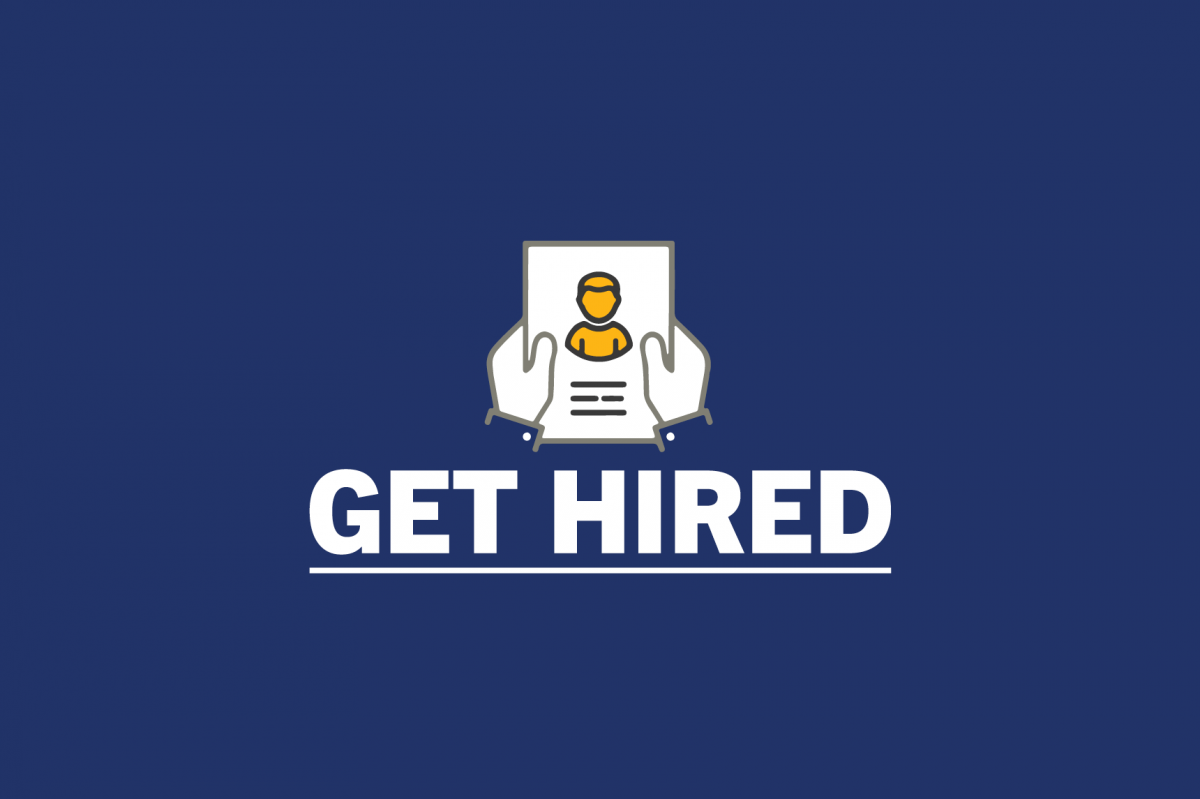 Get Hired! Week of May 10
Check back for job opportunities and tips week-to-week.
May 10, 2021 —
Are you looking for work, trying to get that first job, or want to gain experience in your field of study? You won't want to miss the weekly edition of Get Hired, by Career Services!
Get access to timely updates on what is happening in the job market and the inside scoop from UM's Career Services. Each week we will share some key employment opportunities along with information on labour market trends or an employer tip.
Who's Hiring?
Summer/Part-Time Work
Are you looking for a summer job? STEP Services is the official student employment placement service for the Government of Manitoba. Eligible students can find full and part-time jobs with government departments, agencies, and Crown corporations throughout the year in various locations across the province. To be eligible to work for the Province of Manitoba as a student employee, you must meet two requirements: be at least 16 years of age at the time of employment, and attending school during the 2020/2021 academic year and returning in the fall. There were be a range of positions in the next few weeks. Here are some current positions available: Administrative assistant, Documentation assistant, Gardener, Accounting assistant, Warehouse clerk, Student procurement analyst, Client services assistant, Junior web/application developer, Groundskeeper/Labourer, Storekeeper and Research assistant. For more information and to register, STEP Services can be found here. For questions, email stepservices [at] gov [dot] mb [dot] ca.
Young Canada Works (Canada.ca) has several summer positions that are available.
The Academic Learning Centre on campus is hiring for a number of student positions starting in Fall 2021. Follow the links for more information and to apply.
Summer Student Recruitment Poster from Manitoba Metis Employment and Training, Manitoba Metis Federation.
UM Careers has several positions available in Research, as Grader/Markers and Casual Food Servers as well as Content/Study Skills Tutor.
Shared Health Manitoba / Winnipeg Regional Health Authority is hiring Student Entry Point Screeners (COVID). The positions start immediately, are casual, and there are a variety of shifts. Apply here.
Shared Health Manitoba / Winnipeg Regional Health Authority is hiring additional staff, Laboratory Technicians, supporting our fight against COVID-19. There are positions throughout Manitoba and a variety of shifts. For more information, go to Laboratory Technician – COVID.
McDonalds is actively recruiting for several positions throughout the province.
Stats Canada continues to recruit in Manitoba for the Canadian Census. There are several positions including Enumerators, Crew Leader Assistants and Crew Leaders. Hours are flexible; many during the evenings and weekends. Find information about these positions on the Career Services Job Board on Career Connect.
Full-Time Work
FDM Group is located in downtown Toronto with offices across the globe in North America, Europe, and Asia-Pacific. FDM's business model provides opportunities for recent graduates and young tech professionals to kick-start their careers in Tech & Business roles. All opportunities are entry-level roles not requiring work experience as a prerequisite, making this the perfect leeway to get a foot in the door with top financial institutions and blue-chip companies as a fresh graduate in Toronto, Montréal and other locations. FDM has over 85 nationalities working together as a team and circa 55% of the management team is female. Check out the FDM website for more info.
Traction on Demand has several positions across the country with Senior Developer and Technical Architect in Winnipeg.
CBI Health is currently seeking Support Workers for their homes. To apply, go to Health Care Aide (bilingual), Board Certified Behavioural Analyst, Personal Support Worker, LPN, Health Care Aide, Operations Manager, LPN (Brandon), and Clinical Care Manager (Brandon).
BMO Enterprise is hiring. Please see below for their Fall 2021 employment opportunities. To apply, students must submit their cover letter, resume, and academic transcript via the link(s) below. If students have identified multiple areas of interest, they are encouraged to apply to multiple roles! Applications are due on Sunday, May 23rd at 11:59 PM (EST). To address questions, contact Campus [dot] Recruiting [at] bmo [dot] com.
Enterprise Holdings is looking for Management Trainees. If you're looking to start your career with a company that grows their managers and leaders from within the organization, then the Enterprise Management Training Program is for you. Whether you see yourself in sales, business development, customer service or operations, this program will prepare you to create your ideal career.
Positions at National Microbiology Lab
For multidisciplinary positions classified as BI, the minimum standard is graduation with a degree from a recognized post-secondary institution in a natural, physical or applied science with specialization in a field relevant to the duties of the position (ex. Computer Science, Bioinformatics, Computational Biology, Biomedical Engineering, Biotechnology).
Other external postings:
Genome Prairie is seeking a Manager, Programs. They are seeking candidates with a background in molecular biology, immunology, and/or genetics; MSc minimum, PhD preferred.
Augmenta is hiring software developers. To apply go to:
RAPID RTC is a multinational brand providing automotive manufacturers and retailers with cutting-edge B2B/B2C lead management and lead generation solutions, serving more than 3,000 clients in multiple languages and countries. Information for their Quality Assurance Analyst and Full-Time Bilingual-French Online Agent – Live Chat (Customer Service) position can be found here.
DASCH provides in-home support for persons with developmental disabilities and is looking for compassionate and hardworking employees several positions. They offer both full-time and part-time jobs during the day, evening and weekends, which is perfect for any student. Benefits of the job include: paid benefits, competitive hourly wage, comprehensive paid training, flexible work hours, 50+ locations across Winnipeg to choose from, and more! For information, go to DASCH Inc.
Career Connect has several postings include one for five Patent Examiner positions in the Biotechnology Division to be staffed in early 2022.
Career Fairs and Conferences provide an excellent way for you to learn more about your field, to network and to find the opportunities available in it. Employers attend career fairs and trade show booths to inform students of future opportunities as well as look for talented students/graduates for current positions. Check out these upcoming events!
Employer tip!
Marina Marchanka, MA, University Partnership Manager from FDM Group says, "Building awareness for graduates about the tech world opportunities is the most fulfilling part of my job. I think it's important that while at the university, students embrace the opportunities that their school provides and dip their toes in activities that are outside of their comfort zone. For example, tech majors join a debate club to hone their public speaking and communication skills, and liberal arts majors sign up for the next hackathon to familiarize themselves with what IT & Tech are all about. This will help them develop skills necessary for today's job market (team work & communication skills, especially), meet new people, and broaden their professional network!"
Need support?
Need support navigating your job search efforts? Career Services not only has access to available jobs, it offers a variety of services to help you get the knowledge and skills you need to get that job. Whether you are looking for experiential learning, part time, summer or full time work upon graduation, we are here to assist you. To help you hone in on your skills, we offer workshops on resumés and cover letters, creating a LinkedIn profile, mentoring, job searches and interview preparation. Check out the Student Affairs Event Calendar and register today!
Do you have questions about anything specific? We would love to answer your job search questions! Questions can be forwarded to cs [dot] receptionist [at] umanitoba [dot] ca.