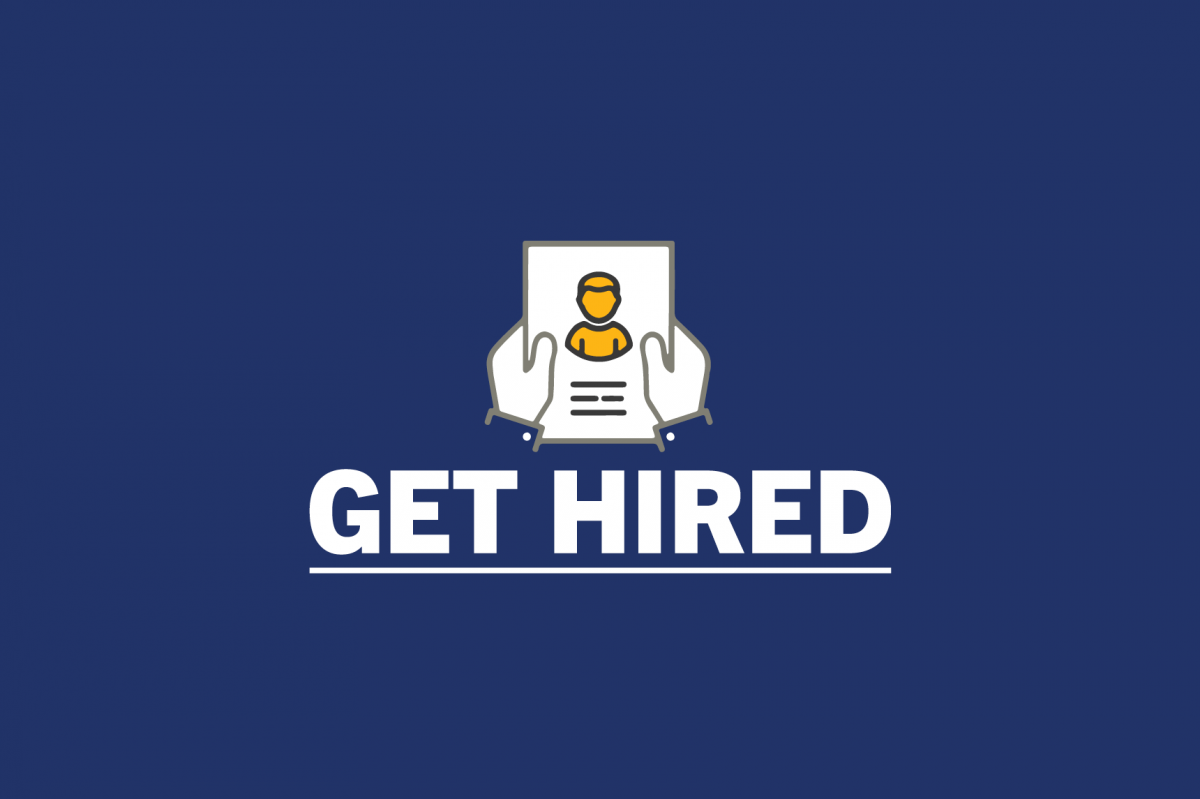 Get Hired! Week of July 19th
Check back for job opportunities and tips week-to-week.
July 19, 2021 —
Are you looking for work, trying to get that first job, or want to gain experience in your field of study? You won't want to miss the weekly edition of Get Hired, by Career Services!
Get access to timely updates on what is happening in the job market and the inside scoop from UM's Career Services. Each week we will share some key employment opportunities along with information on labour market trends or an employer tip.
Who's Hiring?
Summer/Part-Time Work
Circles for Reconciliation is hiring for a six month term for a part time Office Assistant.
The Winnipeg Art Gallery is hiring for its Ideas Lab Summer Intern Program.
Wawanesa is looking for a Customer Experience Transformation Specialist – Summer Student, among numerous other positions.
Peacepipe Family Wellness Centre in Winnipeg Beach is hiring a Youth Group Coordinator.
Pan-Am Clinic is hiring a part-time Research Assistant.
The Downtown Winnipeg BIZ is hiring a Downtown Ambassador and Downtown Maintenance and Cleanliness Worker.
The Manitoba Child Care Association has numerous positions posted, including Child Care Assistant – Part Time (Beaumont Daycare) and Child Care Assistant – School Age (O.K. Before & After School Child Care Centres).
The Manitoba Institute of Trades and Technology is hiring a Summer Student – Recruitment Assistant.
Loblaws is hiring for numerous positions, including Cashier – Kenaston, Apparel Clerk – St. Annes, Grocery Clerk – Bison Drive, Deli Clerk – Mcphillips, and more.
The Manitoba Crafts Museum and Library is hiring a Digital Content Creator.
The Canadian Red Cross is hiring HR Assistants – Shared Services (Summer Students).
UMCareers has numerous job postings, including TA/Demo/Tutor/Sem. Leader 2 – ENG 1430 (CUPE TA, Requisition No. 16013), TA/Demo/Tutor/Sem. Leader 1 – ANTH 2860 (CUPE TA, Requisition No. 15990), Grader/Marker 1 – PSYC 2440 (CUPE TA, Requisition No. 16000), and more.
Career Connect has numerous positions available, including Student Caller (Fundraiser) with University of Manitoba Donor Relations (Job ID #48516).
Full-Time and Co-op Work
DPR Group has several Pharmacist jobs posted on Career Connect.
Odyssey International Group provides culturally immersive experiences and world-class hospitality training to students and young professionals from around the world. They are based out of Los Angeles and Paris, France. They are offering hospitality and culinary management students the opportunity to complete paid internships in the United States through the J-1 exchange program.
Techtronic Industries Canada Inc. is looking for a Field Sales Representative.
Shawenim Abinooji is hiring for multiple positions, including Accounting Technician and Transition Support Worker.
The Art Gallery of Southwestern Manitoba in Brandon is looking for a Museum Studies, Art History, Visual Arts Indigenous Studies, or Education grad for a Prepator/Facility Aid position.
The Salvation Army is hiring a Program Coordinator (Community and Capacity Building Program).
Sysco is hiring for a Human Resources Internship (Prairies Region).
AECOM is hiring for multiple positions, including Environmental Scientist, Community Engagement and Communication Specialist, and more.
The Canada Revenue Agency is hiring for Various Bilingual Agent and Officer Positions at the Winnipeg Tax Centre.
The YMCA-YWCA of Winnipeg is looking for a Fitness Services Coordinator.
HyLife is hiring for multiple positions, including Engineering Co-Op Student.
Hoot Reading is hiring a Full Stack Engineer.
Siloam Mission is looking for a Research and Evaluation Specialist.
TakingITGlobal is looking for a Connected North School Lead & Indigenous Student Engagement Coordinator.
The Government of Manitoba is hiring for numerous positions, including Court Coordinator, Duty Nurse, Registration and Client Services Representative, , Food Process Technician and more.
The Winnipeg Regional Health Authority is hiring Occupational Therapists.
True North Sports and Entertainment is looking for a WJHA Female Hockey Coordinator.
Oil Change International is hiring a Global Campaigns Director and Regional Programs Director.
Jonathan's Farm is hiring for full and part-time Market Gardener positions.
The City of Winnipeg is hiring for multiple positions, including Programmer Analyst 1 – Intern, Data Analyst (Criminology/Sociology grads preferred), Occupational Therapist, and more.
Farmer's Edge is hiring for multiple positions, including REACT Engineer/Developer, Manager (Corporate Projects), and Seasonal Inventory Warehouse Coordinator.
Intact Insurance is looking for a Learning and Development Consultant (Specialty Solutions), and a Business Development Manager (Specialty Solutions).
Manitoba Blue Cross is hiring a Customer Service Representative.
Career Connect hosts many job postings, including Software Developer at Assiniboine Credit Union (Job ID 48893).
UMCareers has numerous job postings, including Marketing Officer –Donor Relations – Administrative Assistant 4 (AESES – Requisition No. 16166).
FDM Group is located in downtown Toronto with offices across the globe in North America, Europe, and Asia-Pacific. FDM's business model provides opportunities for recent graduates and young Tech professionals to kick-start their careers in Tech & Business roles. All opportunities are entry-level roles not requiring work experience as a prerequisite, making this the perfect leeway to get a foot in the door with top financial institutions and blue-chip companies as a fresh graduate in Toronto, Montréal and other locations. FDM has over 85 nationalities working together as a team and circa 55% of the management team is female. Check out the FDM website for more info.
Enterprise Holdings is looking for Management Trainees. If you're looking to start your career with a company that grows their managers and leaders from within the organization, then the Enterprise Management Training Program is for you. Whether you see yourself in sales, business development, customer service or operations, this program will prepare you to create your ideal career.
Career Fairs, Information Sessions and Conferences provide an excellent way for you to learn more about your field, to network and to find the opportunities available in it. Employers attend career fairs and trade show booths to inform students of future opportunities as well as look for talented students/graduates for current positions. Check out these upcoming events!
Amazon is opening two delivery stations in Winnipeg this Fall. There are part time shifts in the early am and mid afternoon and full time (night) shifts which are 4 days a week/10 hours a day. Amazon will be postings these jobs 3-4 weeks before the launch of their buildings in September. A special employer session for University of Manitoba students has been scheduled on August 10 at Noon for students to learn about Amazon and their recruitment process.
2021 IEEE 19th International Symposium on Antenna Technology and Applied Electromagnetics (ANTEM) August 8-11th (virtual)
Need support navigating your job search efforts? Career Services not only has access to available jobs, it offers a variety of services to help you get the knowledge and skills you need to get that job. Whether you are looking for experiential learning, part time, summer or full time work upon graduation, we are here to assist you. To help you hone in on your skills, we offer workshops on resumés and cover letters, creating a LinkedIn profile, mentoring, job searches and interview preparation. Check out the Student Affairs Event Calendar and register today!
Do you have questions about anything specific? We would love to answer your job search questions! Questions can be forwarded to cs [dot] receptionist [at] umanitoba [dot] ca.