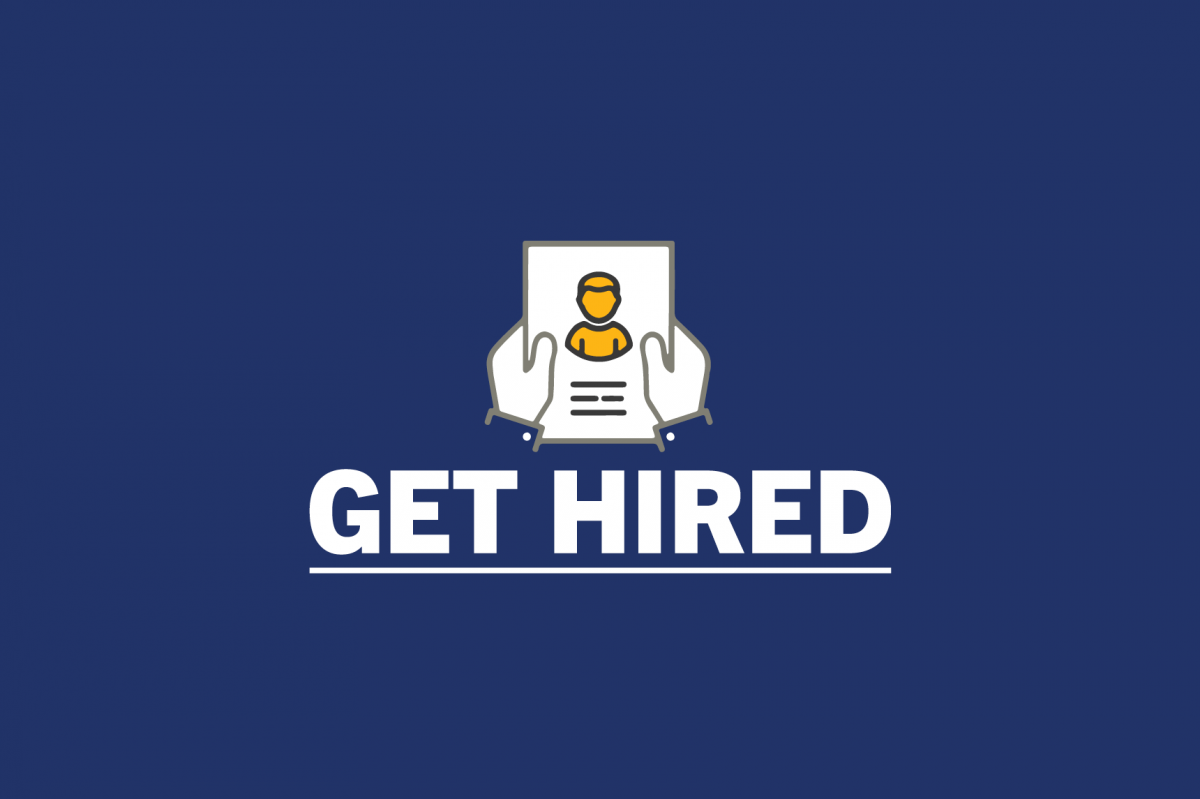 Get Hired! Week of October 12
Check back for job opportunities and tips week-to-week.
October 12, 2021 —
Are you looking for work, trying to get that first job, or want to gain experience in your field of study? You won't want to miss the weekly edition of Get Hired, by Career Services!
Get access to timely updates on what is happening in the job market and the inside scoop from UM's Career Services. Each week we will share some key employment opportunities along with information on labour market trends or an employer tip.
Who's Hiring?
Part-Time/Summer 2022
Career Connect job portal has numerous positions including Agronomy Summer Intern with TerraLink (Position 50579).
Searching for summer student positions with the Bayer CropScience division for May – September 2022? Check out Bayer's postings hosted through Impres' Career Website.
UMCareers has various UM jobs posted, including Food Services Worker (Unifor) – Requisition No 17925, TA/Demo/Tutor/Sem. Leader 1 – ARTS 1110 (CUPE TA) – Requisition No 17936 and more.
The RISE program (organization: Apathy is Boring) is hiring for their ninth cohort. Students interested in working on community/grass-roots projects about societal issues should apply. This cohort's theme is "Resilient Cities" – accessibility to arts, infrastructure, green spaces, civic engagement, etc.
AgCareers has summer 2022 positions in Manitoba and across Canada.
Nursing and Health Care students, Shared Health has part-time opportunities.
Health Care Aide Uncertified positions are available in Winnipeg.
Full-Time
Maple Leaf is hiring for their Graduate Career Development program.
The Advance Policy Analyst Program (APAP) is one of the Government of Canada's premier recruitment and leadership development programs. Submit job applications through GC Jobs. See section on Conference and Events below for details on an information session.
Vale is recruiting for the Graduate programs: Global Trainee Program, accepts undergraduate students from all areas of studies who have graduated between May 2019 to May 2022; and the Specialist Program, is targeted towards Engineering and Geology graduates. Check out their information session on October 12 on the Career Services Event Calendar.
Emler's Welding and Manufacturing are hiring an Electrical/Computer Systems Engineer (#50621), Manufacturing Engineer/Tech (#50736), Field Support Engineer (#50737) and a Mechanical Engineer (#50738). Postings can be found on Career Connect.
Full Stack Developer, f/t or flexible, Open Food Network, anywhere in Canada
Communications/Development, part-time, For Our Kids, virtual / anywhere in Canada
Policy Analyst, Resilience,,, full-time, International Institute for Sustainable Development, Winnipeg, Manitoba.
AgCareers has several positions in Manitoba and across Canada.
BMO is looking for Virtual Call Centre Agents. This is a great opportunity for recent graduates looking to launch their careers within Financial Services. Hires will join an organization that invests in their training and development while being at the forefront of our customer experience. Start dates are as early as November! https://bmo.wd3.myworkdayjobs.com/Campus/job/Virtual-ON-CAN/Call-Centre-Agent_R210024426-1.
Manitoba Government Job Opportunities include Advertisement No. 38166 – Victim Services Worker, SP4 Social Services Worker 4; Advertisement No. 38030 – Municipal Development Consultant, IC2 Municipal Development Consultant; French Language Services Coordinator and Policy Analyst, PM2 Planning and Program Analyst 2; Advertisement No. 39003 – Community Corrections Worker, CWC Community Corrections Work and more.
Wastenot Farms is hiring a Digital Sales and Marketing Coordinator.
Shared Health has numerous opportunities including Health Care Aides, Dietitians, Nurses (RN, RPN, LPN, OHN, etc.),Spiritual Health Providers, Occupational Therapists, Recreation staff, Physiotherapists, Speech-Language Pathologists, Social Workers, Physician Assistants, Clinical Nutritionists and Clinical Assistants.
TATA Consultancy Services – IT Enabled services in Toronto is looking for a Software Engineer (Job Id 50147 in Career Connect.)
Youth Program Leads/ Youth Team Facilitators, full-time +housing & food, Katimavik, various locations in Canada
Bayer Canada is hiring a Design Research Assistant, Market Development Farm Tech and two Field Breeding Associates from April to October.
Bayer Crop Science is hiring Territory Sales Associates in Dauphin, Yorkton, Swan River, Tisdale/Melfort and Red Deer.
Canadian Security Intelligence Service (CSIS) has several opportunities available. Canada.ca/CSISjobs.
Enterprise Holdings is looking for Management Trainees. If you're looking to start your career with a company that grows its managers and leaders from within the organization, then the Enterprise Management Training Program is for you. Whether you see yourself in sales, business development, customer service or operations, this program will prepare you to create your ideal career.
UMCareers has numerous UM positions including PGME Prog Administrator-Office Assistant 5 (AESES)-Reposted – Requisition No 17710 and more.
Career Fairs, Information Sessions and Conferences provide an excellent way for you to learn more about your field, to network and to find the opportunities available in it. Employers attend career fairs and trade show booths to inform students of future opportunities as well as look for talented students/graduates for current positions. Check out these upcoming events!
Vale Information Session, Oct 12, 2021 12:00 PM to 01:00 PM.
St.Vital Centre Job Fair is Thursday, October 14 from 2-7 pm.
The Advance Policy Analyst Program (APAP) is one of the Government of Canada's premier recruitment and leadership development programs. Information session is on October 19th at Noon.
CPP Investments Women's Leadership Conference – registration deadline is October 17th. The date of the event is November 4 and 5, 2021.
Information session on Enterprise Holdings Management Trainee Program. Dates include Thursday, October 14 at 2 pm; Wednesday, October 27 at 11 am; Tuesday, November 9th at 1 pm; and Wednesday, November 24 at 2 pm. Click here to register: https://lnkd.in/gXMnuMyN
Simaril is having a JOB FAIR on October 18th &October 19th from 9 am – 11 am. The Job Fair will be held at the BRAZEN Hall located at 800 Pembina Highway. See Career Connect job posting 50532.
Careers in Insurance – Virtual Speed Networking Oct 19, 2021 "This is your chance to virtually network and engage with representatives from leading insurance employers!"
Cargill is hosting a virtual informational event on October 21, 2021, | 5 pm CST. This will be a great opportunity for you to learn more about who we are, what we do, and how you can be part of helping the world thrive. Register Here.
Japan Exchange and Teaching (JET) Programme Information Session
Oct 22, 2021 10:00 AM to 10:30 AM
Odgers Berndtson Canada is pleased to announce that the CEOx1Day program will return in 2022 with a twist!  On February 25th, 2022, we will host a Future Leaders Summit to provide leadership development and career insights to some of Canada's most promising future leaders. With the summit taking place virtually, we are able to inspire and be inspired by our student communities across Canada, allowing our furthest reach possible. Applications for the program will open from October 25th until November 25th at midnight in your local time zone. Students can access the application using this link: www.ceox1day.ca/apply-now.
Skip the Dishes Information session, November 1, 2021, at NOON.
Need support navigating your job search efforts? Career Services not only has access to available jobs, it offers a variety of services to help you get the knowledge and skills you need to get that job. Whether you are looking for experiential learning, part-time, summer or full-time work upon graduation, we are here to assist you. To help you hone in on your skills, we offer workshops on resumés and cover letters, creating a LinkedIn profile, mentoring, job searches and interview preparation. Check out the Student Affairs Event Calendar and register today!
Do you have questions about anything specific? We would love to answer your job search questions! Questions can be forwarded to cs [dot] receptionist [at] umanitoba [dot] ca