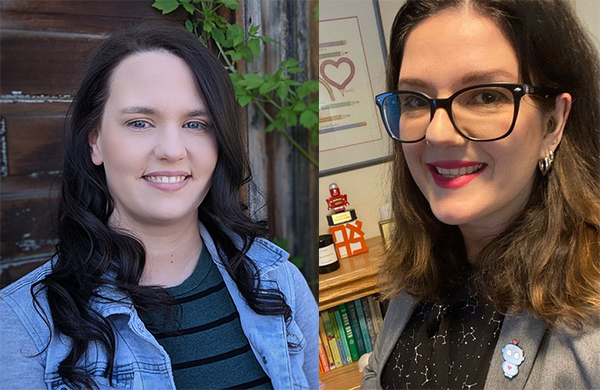 Faculty of Law welcomes Assistant Professors Martine Dennie and Katie Szilagyi
May 19, 2021 —
The Office of the Dean of Law is pleased to advise that on May 19, 2021 the University of Manitoba Board of Governors confirmed the appointments of Martine Dennie and Katie Szilagyi to fill two tenure track Assistant Professor positions in the Faculty of Law. They will commence their positions starting July 1, 2021. Ms. Dennie will teach Torts, and Ms. Szilagyi will teach Property. Both will teach upper year courses according to their respective areas of specialty.
Martine Dennie obtained a Juris Doctor degree at the Université de Moncton in New Brunswick, a Master of Arts in Sociology at Laurentian University in Sudbury (Violence in Hockey: A Social and Legal Perspective), and is currently completing a PhD in Sociology at the University of Calgary on The Legality of Violence in Ice Hockey: Risk Assumption and Consent in the Playing Culture of North American Hockey Leagues. Her work has been published in a number of peer-reviewed journals and she has given numerous conference publications on violence and liability in hockey. At the University of Calgary, she has been a research associate in the Department of Sociology where she taught courses in the Sociology of Law, and Socio-Legal Issues in Sport. She has also taught courses in Gender, Sexuality, and Sport and Socio-Cultural Aspects of Sports for Calgary's Faculty of Kinesiology.
Katie Szilagyi comes to us from the University of Ottawa where she is completing a PhD in Law and Technology on Artificial Intelligence & the Machine-ations of the Rule of Law. Her area of specialty is law and technology, artificial intelligence, privacy law, and autonomous weapons. Originally a University of Manitoba alumna with a BSc in Biosystems Engineering, Ms. Szilagyi completed her Juris Doctor degree at the University of Ottawa with joint specializations in International Law and Technology, later obtaining her Master of Laws in the same from Tel Aviv University. Currently a Part-Time Professor at the University of Ottawa's Faculty of Law, she has taught courses in Contract Law, Privacy Law, Law and Technology, and Intellectual Property Advocacy. Szilagyi previously clerked at the Federal Court of Appeal in Ottawa and practiced litigation at a large national firm in Toronto. Her work has been published in a number of peer-reviewed journals and she has given presentations and guest lectures on various technological themes in the law at universities in Heidelberg, New Haven, Montreal, Prague, Rio de Janeiro, and Sao Paulo.