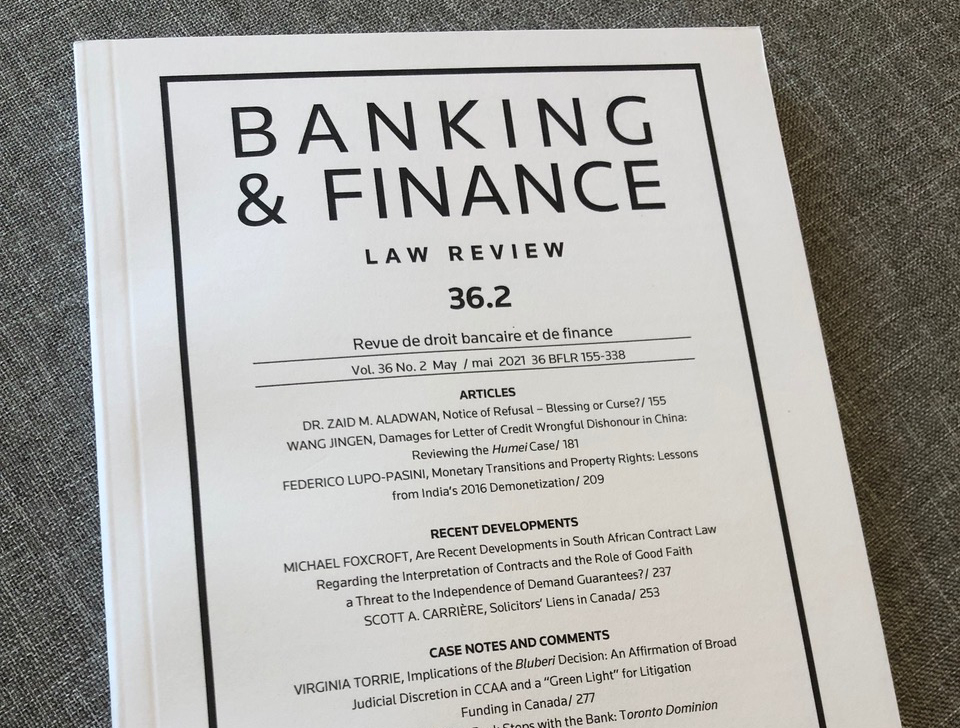 UM Law Students, Associate Dean (JD) behind globally-recognized law review
Banking & Finance Law Review's latest issues engage international authors in legal developments in banking
July 16, 2021 —
Published by Thomson Reuters, the internationally respected niche peer-reviewed law journal, Banking & Finance Law Review has of late been edited by the University of Manitoba, Faculty of Law's new Associate Dean (Juris Doctor program) Virginia Torrie, with help from a growing number of law students diligently working out of a virtual Robson Hall. Joined by students from several other law schools it is a truly collaborative experience.
Robson Hall alumnus Myles Davis [JD 18, LLM 19], now an associate at Winnipeg firm Walker Raffey McKelvey-Gunson, assists with editing book reviews, while Steven Dressler [JD/21], Jordan Sinder [JD Candidate/22] and Andrew Medeiros [McGill University JD, BCL/ 21], assisted with editing issues 36.2 and 36.3. This summer, Sinder, Ashely Bains [JD Candidate/ 23], Brandon Gray [JD Candidate/ 23], Derek Novesel [JD Candidate/ 23], Rob Johnstone [JD Candidate/ 24] and Connor Pouryekta [Osgoode Hall JD Candidate/ 2022] are hard at work on issues 37.1, 38.1, 38.2, and 38.3.
Issue 36.2, released in April, 2021, contains articles analyzing legal developments in letters of credit, monetary transitions, demand guarantees, solicitors' liens, bankruptcy and insolvency, cross-border banking, bank supervision, and the globalized governance of finance by authors based in Canada, United Kingdom, Colombia, Namibia, Singapore, and China.
Set to publish in July, Issue 36.3 will canvass legal developments in secured lending, securities regulation, bankruptcy and insolvency, P2P lending, central banking, and financial markets law in Canada, United States, European Union, France, Israel, and China.
"This summer is an especially busy and productive time for the BFLR, as we are preparing four issues for publication," said Torrie. "Prof. Ryan Clements (University of Calgary) and I are co-editing the 3rd Annual FinTech issue (issue 37.1), which features scholarship by authors from the United States, Canada, Hong Kong, China, Australia, and the United Kingdom."
The issue will canvass familiar fintech issues such as regulatory fragmentation, definitional and jurisdictional uncertainty, disintermediation, privacy and data protection, plus nascent concerns like decentralized finance, and central bank digital currencies, Torrie said, adding, "I am co-editing three further issues with Prof. Muharem Kianeff (University of Windsor) and Dr. Christian Chamorro-Courtland (University of Sydney), which will form a festschrift*, special volume 38, in honour of the BFLR's founding Editor-in-Chief, Professor Benjamin Geva (Osgoode Hall Law School)."
Professor Geva visited Robson Hall as a Distinguished Visiting Lecturer in 2018 where he spoke on "Money and Payments Digitization: Evolution, Revolution and the Law."
The special volume, Torrie explained, will be international in scope and include topics on reforms to Canadian Personal Property Security Law, conflict of law rules applicable to negotiable instruments, and an essay on the nature of money as a legally constructed "safe asset."
Currently, the BFLR which publishes three regular issues per year, is accepting submissions for articles, commentary on recent developments in financial law, case comments, and book reviews. The current Call for Papers is for the journal's 4th Annual FinTech Issue, which will be co-edited by Associate Dean Torrie, Prof. Ryan Clements (University of Calgary) and Prof. Aurelio Gurréa-Martínez (Singapore Management University). Prof. Clements is the new Managing General Editor, while Prof. Casey Watters (Bond University) serves as Case Notes & Comments Editor and Prof. Mark Hsiao (Leicester University) is the Recent Development Articles Editor. Submissions may be emailed to bflrrdbf [at] gmail [dot] com. Complete information about the BFLR may be found on its LinkedIn page. Follow the BFLR on Twitter @bflr_rdbf.
Torrie has recently been asked by the University of Manitoba, Faculty of Law Dean's Office to supervise the start of a new journal focused on Private and Commercial Enterprise and Law, supported by the generosity of Marcel A. Desautels. This journal will soon be joining the roster of peer-reviewed journals on the Faculty's course listings for law students at Robson Hall to take on a for-credit basis.
* A collection of writings published in honor of a scholar.