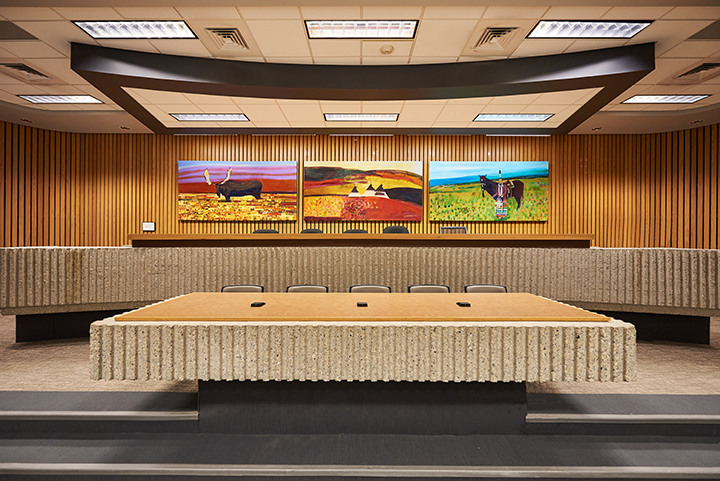 Faculty of Law takes major steps to answer Call to Action 28
Implementation of Action Committee, Indigenization of Curriculum among recent changes
December 13, 2021 —
Change can take a while to happen, but when the impact is finally felt, the results are rewarding. The amount of change between what third-year law student Katie Rothwell and first-year Melinda Moch have seen at the University of Manitoba's Faculty of Law in terms of Indigenization of the law school curriculum, is significant. This year alone, changes law students like Rothwell and Moch have witnessed include the creation of a Truth and Reconciliation Action Team, the hiring of an Indigenous Student Support Coordinator, and an increase of Indigenous content in mandatory first-year law courses.
Brewing over at least the past decade, movement towards curriculum Indigenization at the Faculty of Law came to a head this summer when the new Dean of Law Dr. Richard Jochelson, a professor with the faculty since 2016, reinvigorated an advisory group now called the Truth and Reconciliation Action Team. The Team consists of professors, instructors and practicing professional lawyers with deeply-rooted experience and knowledge in Aboriginal law, Indigenous Legal Orders, teaching and practice. Most also have personal family connections to Indigenous communities across Canada.
This Team is working to advise the Faculty and take action to implement long-anticipated changes to the curriculum. The Team builds further on a mandate adopted by the Law Faculty Council (LFC) in 2016 when former Dean Dr. Lorna Turnbull brought a motion to "investigate options for fulfilling elements of Call to Action #28 in existing courses and programs in a more coordinated way."
"I am most grateful and excited that this group of alumni and advisors have agreed to share their time, talent and wisdom to move the Faculty of Law into the future," said Jochelson. "Each voice on this team is critical to ensure we are on the right track with Indigenizing our curriculum, improving the student experience and reaching out to untapped potential students. As such, it is equally critical that we include the student voices of the Manitoba Indigenous Law Students Association."
Team member Stacey Soldier graduated from the Faculty of Law in 2007. "I am so pleased to be a part of a historical endeavor," she said, regarding her involvement. "The years I spent at Robson Hall had little to offer on Indigenous people and perspectives, with the exception of a portion in Constitutional Law and an upper-level course. I would not have made it through without the support of Wendy Whitecloud, whose steady and constant presence was a lifeline."
Soldier is pleased with changes made thus far. "Marc Kruse, the new Indigenous Student Support Coordinator is already off to an amazing start and his mentorship and enthusiasm are invaluable," she added.
Likewise, Team member and Robson Hall alumna Jessica Saunders [JD/2012] said, "During my time at Robson Hall, professors like Wendy Whitecloud and Lorna Turnbull worked in their own ways to advance reconciliation and support Indigenous students. Now, those efforts are being made full circle by Robson Hall. These efforts will go a long way to ensure future lawyers, academics, law and policy makers are advancing reconciliation in their own ways and on a wider scale."
Given this history, these changes have been a long time coming, and are welcomed by members of the Faculty of Law community. Even as recently as two years ago, "Indigenous content was really missing from the majority of my first-year courses and it was disappointing to see," said third-year student Katie Rothwell, an active member of the Manitoba Indigenous Law Students Association (MILSA) who is set to graduate in the spring of 2022. "However, it's encouraging to hear from current first-year students that there is a real prioritization of Indigenous content in their courses."
One such first-year student, Melinda Moch, was pleased to see consistent commentary being made on Indigenous matters in her first-term courses. "Our orientation days spotlighted many Indigenous voices and many of our first few weeks of classes had Indigenous content shared by outside sources," she said. "I was pleased to see that a distinction is being made between Aboriginal Law (relating to Canada's legislation and laws pertaining to the Indian Act and Indigenous persons) and Indigenous Legal Orders (being the laws of Canada's Inuit, First Nations and Metis peoples) and I believe that each of our professors acknowledged this distinction at one point or another."
Since the Faculty adopted Call to Action #28 in 2016, a number of dedicated courses have delivered Indigenous content to students at Robson Hall including:
Aboriginal Law – Criminal Justice and Family Law
Aboriginal Peoples and the Law
Indigenous Economic Development and the Law
Oral History, Indigenous Peoples, and the Law
No less than 24 courses in the Faculty's catalogue also contain Indigenous-related units of study for a substantial period of the course offering, in addition to doctrinal and clinical learning. These include such mandatory courses as:
Administrative Law
Constitutional Law
Evidence
Legal Systems
Legal Profession and Professional Responsibility
Property
This fall, the Faculty took its first-year curriculum a step further, first, as Moch noted, by incorporating significant content into its orientation days, followed by educational activities implanted into the mandatory first-year Legal Systems course. Dean Jochelson's orientation address was informed by findings of the TRC. Faculty alumni and Indigenous members of the practicing bar, Stacey Soldier and Sacha Paul, gave a "Welcome from the Bar" address, and brought welcome from their respective Treaty lands. Law Orientation's Keynote address was given by Canadian Senator Mary Jane McCallum who spoke about her role as a law maker and how her experiences in residential schools informed her perspective and law-making mission.
The Legal Systems course that Moch and her fellow first-year classmates have experienced in their first term was facilitated by the Manitoba Museum and included a modules involving discussion of the original spirit and intent of the Treaties, their foundational importance, and the basis of all kinds of law and how these discussions create the possibility of a moral inflection point in relations with First Nations peoples. Other experiences included elders and teachers from Roseau, Peguis and Berens First Nations, plus guest speakers Elder Harry Bone, Manitoba Treaty Commissioner Loretta Ross, Former Treaty Three Grand Chief Diane Kelly, and UM Faculty of Law alumna and Athabasca University Assistant Professor, Myra Tait. Professor Turnbull is the lead instructor for this course in collaboration with Ontario-based instructor and lawyer, Dr. Rebecca Bromwich-Jaremko.
Learning about these curriculum updates, third-year student Rothwell said, "I think it is crucial to introduce Indigenous content as early on as possible because it is such an important topic. Knowing that professors and instructors are making a point to introduce and incorporate Indigenous content into first-year courses, such as Legal Systems and Methods is a step in the right direction; although there is still much work to be done, it is one positive step."
In answer to what she hopes to see improve with these initiatives, Moch said, "I look forward to seeing an increase in course content relating to Indigenous peoples in the future and specifically a separate course offering specifically relating to the law and Indigenous peoples." Further, she added, "I would acknowledge the hard work of our Professors to rethink and reformat their commentary in this regard and have personally (happily) noted their thought-provoking, open-ended questions when discussing jurisprudence that reflects Canada's colonial foundation."
More updates are coming. This past summer, the Faculty hired Marc Kruse [JD/2015], practicing lawyer and research scholar specializing in the Indigenization of curricula. Kruse plays several roles at the Faculty including supporting Indigenous students, working with Faculty members to review their course curricula and help improve Indigenous content. Retired Faculty member Wendy Whitecloud, one of the architects of the Aboriginal Justice Inquiry, has also been retained to support Kruse and students.
"I was hired to continue the Indigenous student support work of Wendy Whitecloud and bring a new addition to the position for curriculum development," said Kruse. "When I joined the Faculty, the Truth and Reconciliation Action Team had already been formed. With their support we were able to develop a new course which fulfills the TRC Call to Action 28."
This new course, recently passed by the Law Faculty Council, is set to be mandatory for all second-year law students and was developed with the addition of Indigenous perspectives to first year courses to ensure that it would not be a standalone class. "Our new course continues discussions of Indigenous legal issues started in first year and will help our students develop a deeper understanding of Indigenous worldviews," Kruse explained. "Indigenizing our curriculum and those of all law schools in Canada is necessary for meaningful discussions about reconciliation."
He continued, "Non-Indigenous Canadians and Indigenous folk need to see each other as equals and to do so, both sides need to have respect for each other; this respect means learning about each other's laws and worldviews. Our new class is the next step in developing a curriculum which prioritizes the knowledge students will need to take part in and lead Canada's reconciliation efforts."
As the Faculty of Law's Truth and Reconciliation Action Team rolls out more changes in the coming months, law students at the University of Manitoba and the broader legal community can expect to see such progress as the hiring of teaching staff who will be actively involved in the Indigenization of the law program including developing the Faculty's teaching and clinical curriculum; the hiring of a Faculty member to help Indigenize the legal curriculum and develop an Indigenous-focused research program with an eye to meeting the TRC Calls to Action; development of an endowed Chair in Indigenous Economic Reconciliation; and implementation of further workshops aimed at educating students and the practicing bar around Gladue principles, and Indigenous People and the Criminal Justice System.
"When it comes to changes being made to implement Calls to Action and to advance reconciliation," Saunders reflected, "the Hon. Murray Sinclair has said that we must ask, "what will this do to change the relationship between Indigenous peoples and Canada?". Providing a foundation for Indigenous Laws and Legal Orders, honoring the stories, voices and vision of Indigenous students and their forebears impacted by Indian Residential Schools and the Sixties Scoop systems, are just some of the impactful changes Robson Hall is making to contribute to a relationship based on respect."