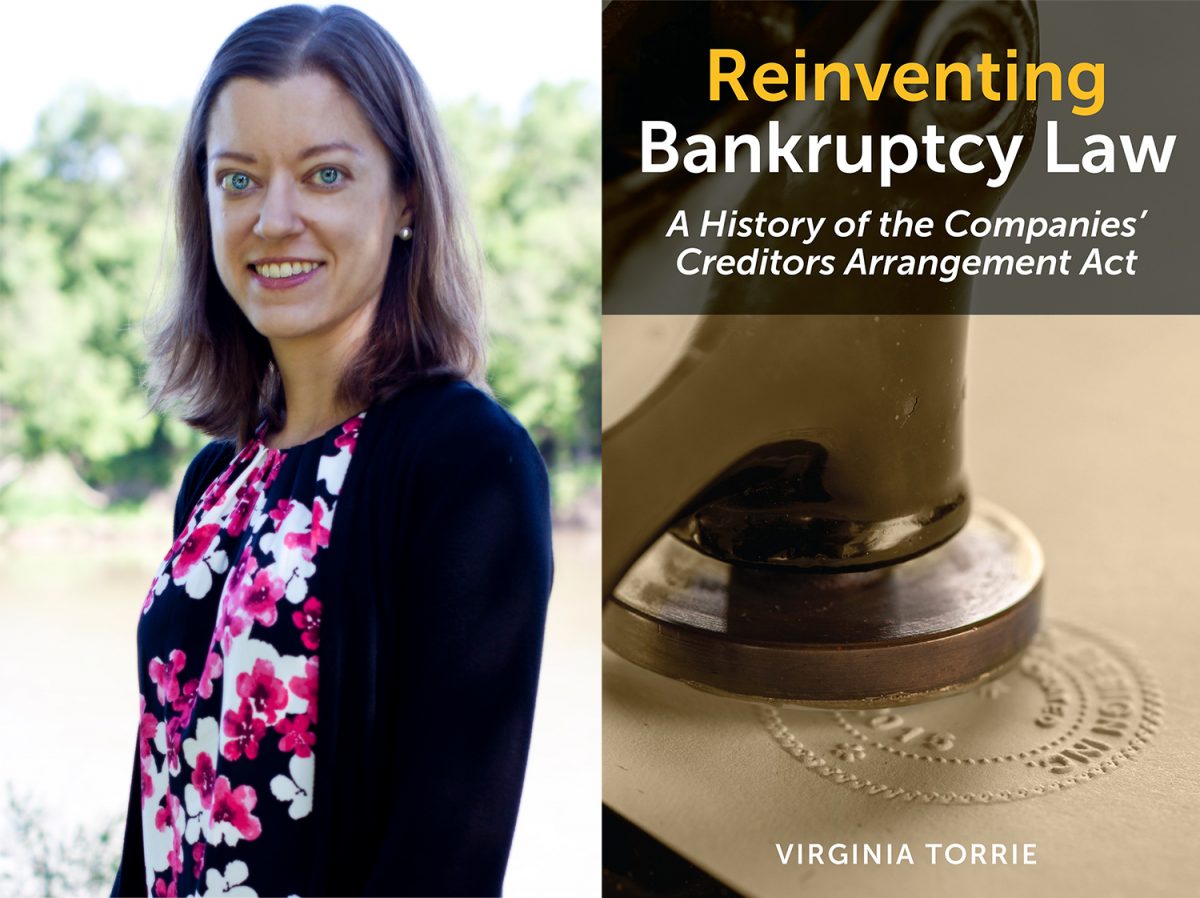 Law professor's accessible first book earns global attention, local award nomination
May 27, 2021 —
A year ago, Dr. Virginia Torrie published her first book, Reinventing Bankruptcy Law: A History of the Companies' Creditors Arrangement Act (University of Toronto Press, 2020). Given that it is about her favourite subjects – bankruptcy and history, and given her proven track record of being an excellent teacher (having won the 2017 Barney Sneiderman Award) it is not too surprising that it was short-listed for the 2021 Manitoba Book Awards' Alexander Kennedy Isbister Award for Non-Fiction.
Not many professor-written books aimed at academia end up competing among the popular presses known for their novels, poetry and travel fiction. For Torrie's book to place among books as varied as memoirs of intergenerational trauma, a football championship season and childhood lessons learned from nature, speaks to her already-proven talent as a teacher, skilled in making complicated matters accessible.
"Since the book deals with a complex subject, I aimed to make the prose as accessible as possible – using plain language and providing clear definitions of technical terms," said Torrie. "This made the book accessible to the widest audience possible, including members of the public who are interested in business, history and finance."
Even before the book was officially published, Torrie had been invited to speak about it as an Academic Visitor to the EW Barker Centre for Law and Business, Faculty of Law, National University of Singapore in the fall of 2019. Two further speaking engagements originally scheduled for the Spring of 2020 had to be cancelled due to the pandemic, but were to have been at the Department of Law at the London School of Economics in the UK, and at the Hazelhoff Centre for Financial Law, Leiden Law School at Leiden University in The Netherlands. With the emergence of virtual events, Torrie has been able to give presentations online including one to BMO's Lending Practice Group on May 19, 2021.
Now, after a year of receiving international reviews from scholars across the globe from the US to the UK, Torrie will be the 'Author' at an Author Meets Reader session, titled "A Socio-Political Lens – Corporate Restructuring Law" at this weekend's Law and Society Conference on Saturday May 29 at 1:00 p.m.