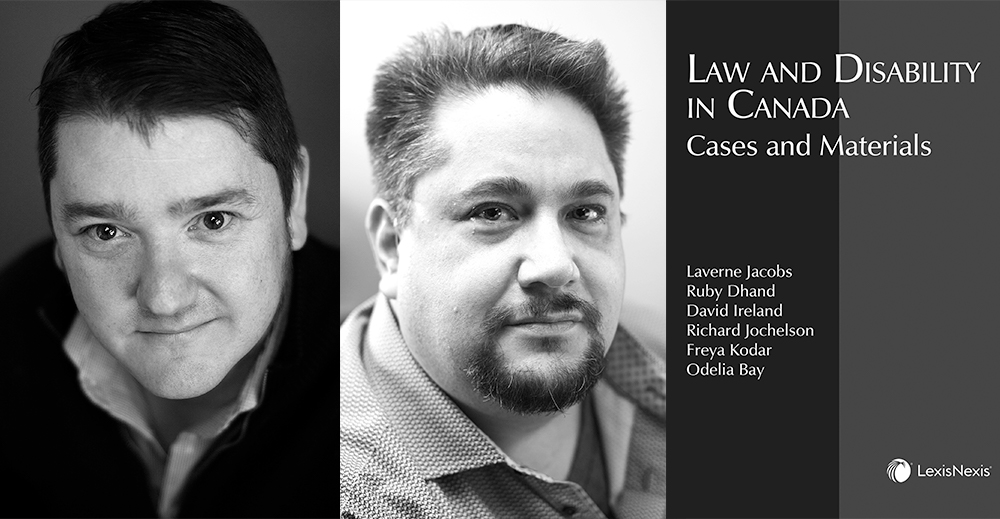 Law professors engage in cross-Canada collaboration on Law and Disability Case Book
October 21, 2021 —
The University of Manitoba's Faculty of Law professors frequently collaborate with scholars from other disciplines at other academic institutions, and this trend continues with the latest publication bearing the names of prolific legal researchers, Assistant Professor David Ireland and Professor Richard Jochelson, Dean of Law. Law and Disability in Canada: Cases and Materials is a comprehensive overview of – precisely what the title states. Ireland and Jochelson worked with four other academics and experts in the field, to develop this book which looks at the interactions of persons with disabilities with the law. As the publisher LexisNexis describes on its website, "Through an examination of barriers regularly faced by people with disabilities, [the authors] present key and foundational domestic and international equality rights instruments (including the Charter, human rights law and the Convention on the Rights of Persons with Disabilities), the history of disability rights litigation and several contemporary access to justice issues."
The book formally launched at a webinar on Wednesday, October 20, where Ireland and Thompson Rivers University co-author, Ruby Dhand, introduced the book to an online audience of about 200 guests. After, Ireland kindly took a moment to talk with Robson Hall Communications about the book.
What was the catalyst behind the creation of this book?
Dr. Laverne Jacobs, Professor of Law at Windsor had the vision and drive to bring this team of scholars together. Under her stewardship the book began to take shape. She kept each of us on track and her tremendous leadership is the reason we were able to complete this project. There was a need for a text like this in Canada and Dr. Jacobs wanted to bring together a group of diverse scholars to critically unpack the many issues facing people with disabilities.
What was it like collaborating on this project with the other authors?
The process of collaboration with these incredible scholars has been extremely rewarding. This book is so much more than the sum of its parts with each author bringing a unique and valuable perspective that has helped to create a singular and important source of information about the intersection of law and disability. This was a very fun project and I am so glad to have been given the opportunity to write with, and learn from, such an amazing team.
Who can benefit from the knowledge in this book?
Everyone! The idea behind the book was to provide a comprehensive guide to law and disability in Canada for multiple academic disciplines as well as practicing lawyers. Instructors in law, sociology, social work, law and society, and critical disability studies will find real value in the varied perspectives presented. There is no doubt that lawyers and judges dealing with these issues will also find the in-depth case analysis extremely useful.
What impact might the knowledge in this book have on the justice system or in a courtroom?
You are always hopeful that your work will be widely read and impactful. This book is a very readable resource that gives lawyers and judges a comprehensive overview of the shape and dimension of law and disability in Canada. As such, I would expect jurists to use it as a resource when tackling some of the very important legal issues that arise in the disability context.
What did you learn from this book-writing experience that you would be inspired to pass on in the classroom to your students or share with your colleagues going forward?
Firstly, the importance of collaboration and the sharing of knowledge between scholars. The process of reviewing each other's work invariably makes the final product so much better. Secondly, that you should not be afraid to take the opportunities that present themselves to you. I remember years ago attending a lecture by former Supreme Court of Canada Justice Rosalie Abella where she told law students to grab hold of every opportunity to grow and develop as a lawyer. I couldn't agree more. When the opportunity to join this team presented itself I jumped on board and I am so glad I did!