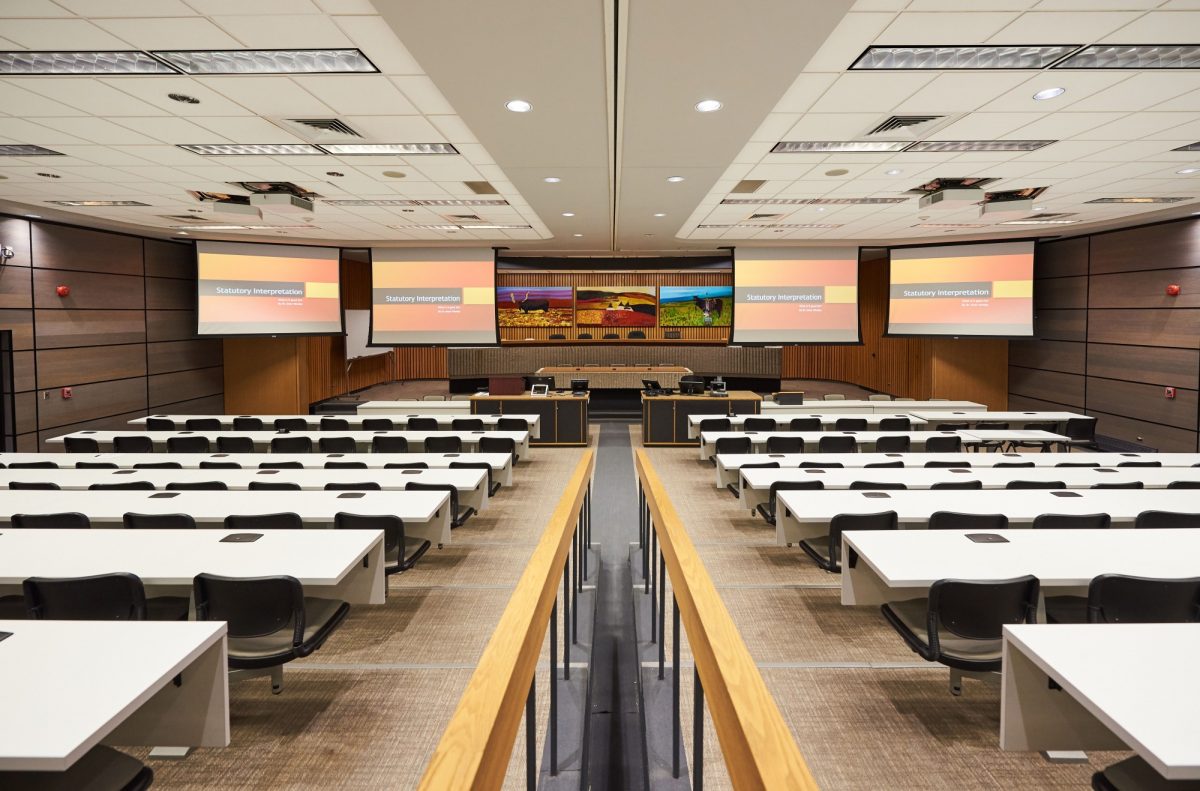 Mooting Matters
A competition season like no other comes to a close
April 1, 2021 —
Law school moot competitions are invaluable experiences for many upper-year law students. Moots traditionally require students to travel across the country to debate each other face-to-face in moot courtrooms. Problems are designed to hone negotiation, advocacy or appellate skills. Students network, share stories and socialize, exploring other cities and locales together. This year? Everything online and no one travelled anywhere. But at least mooting still happened, and University of Manitoba law students brought all they had to Robson Hall and performed their very best despite the pandemic.
Advocacy series
The competition season began last November with a selection process that resulted in Amber Harms and Kyla Kavanagh being selected to represent the University of Manitoba Faculty of Law first in the MacIntyre (Western) Cup regional competition, where they achieved second place, and finally the Sopinka Cup where they finished third top team in Canada.
Please see the following stories recounting their exploits:
Congratulations MacIntyre Cup reps, Amber Harms & Kyla Kavanagh
Moot News: Team Manitoba takes 3rd place in national 2021 Sopinka Cup
Negotiations
In the Negotiations series of competitions, Amber Harms and Braeden Cornick placed 2nd in the National Competition, while Reanna Blair and Menal Al Fekih won first-place in the Robson Hall competition and the Spirit Award in the National Competition.
Please read the following stories for details:
Manitoba Faculty of Law Teams Shine at Fifth Annual Canadian National Negotiation Competition
Law Faculty shines light on black women negotiators
Fox & Jessup
In late February, the Harold G. Fox Canadian Intellectual Property Moot Competition took place immediately followed by the week-long Philip C. Jessup International Law Moot Competition. University of Manitoba's Faculty of Law teams fought the good fight at both moots. Fox coach Mr. John Myers (with co-coach Mr. Kelsey Desjardine) filed the following report:
"This year's Harold G. Fox Moot which took place on February 20 and 21, was focused on the interrelationship between Official Marks which are granted to Public Authorities and ordinary Trademarks for goods and services. The subject revolved around trademarks for the administration of vaccines. The Fox Mooters took on this complex area of trademark law and mastered the subject matter in a very short period of time.
This year the preparation meetings, practice sessions conducted before local Intellectual Property law practitioners and the Moot Competition itself were all done virtually. Our Fox Mooters now have more experience arguing an appeal on a virtual platform than many lawyers who have been practicing for decades. They have developed some very valuable skills and did an exceptional job representing Robson Hall among the 12 Law Schools participating this year. Congratulations to this year's Team for a job well done!!!"
The Gale Cup
Robson Hall's team of Janelle Gobin and Anna Siemens, Jessica Humphries and Madison Parker had an extraordinary year, placing third overall. Significantly, this is the first time in over 10 years that a Manitoba team has placed in the Gale Cup appellate moot.
Team coaches Melissa Hazelton and Michelle Bright shared that "Robson Hall Appellants, Jessica Humphries and Madison Parker, were up against the Respondent team from Queen's University, while the Robson Hall Respondents, Anna Siemens and Janelle Gobin, met up with the Appellants from the University of Saskatchewan.
"Anna and Janelle were selected as one of 4 teams in the final round of the competition, where they had the opportunity to appear before Justices Abella, Brown and Kasirer of the Supreme Court of Canada. They held up to many questions from the panel and showed the poise and confidence of veteran lawyers."
Read the full story in:
Manitoba's Gale Cup Team places third after decade-long shutout
And more…
Manitoba Teams also took place in the bilingual Laskin Moot, the Western Canada Family Law Negotiation Competition, and the Kawaskimhon Moots, all of which were held virtually. Stay tuned for more results as they come in!