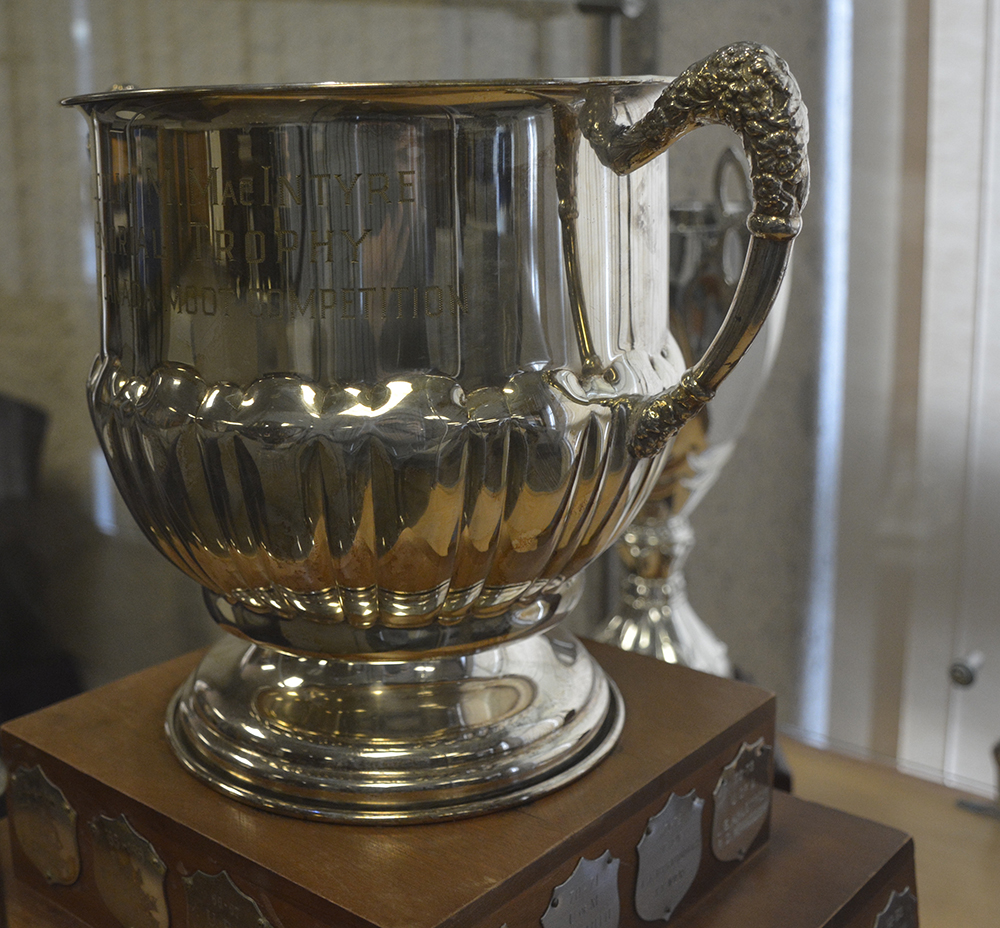 Congratulations MacIntyre Cup reps, Amber Harms & Kyla Kavanagh
Law Faculty adapts traditional mode of team selection to ensure moot representation
November 24, 2020 —
In a normal fall term, Robson Hall would have held its annual in-house advocacy moot competition, the Solomon Greenberg, right about now. The winner and runner-up would then go on to compete as a team in the MacIntyre (Western) Cup, and top performers from that regional advocacy moot would proceed to the national Sopinka Cup.
Competitors for Robson Hall's Greenberg moot are usually selected from top performers coming out of the previous March's advocacy class competition. The pandemic cancelled that, leaving the Faculty with no identifiable Solomon Greenberg competitors.
Undaunted, on November 14th, the Faculty held an audition via Zoom consisting of 12 competitors, which yielded UM Law's MacIntyre Cup team.
Congratulations Amber Harms (1st) and Kyla Kavanagh (2nd) who will represent UM Law in the MacIntyre (Western) Cup advocacy moot competition in February, 2021.
Audition judges included The Honourable Judge Timothy J. P. Killeen (Provincial Court of Manitoba), [LL.B./79], The Honourable Judge Raymond E. Wyant (Senior Judge of the Provincial Court of Manitoba), [LL.B./77], Chantal Boutin (Crown Attorney, Manitoba Justice), and David Ireland (Assistant Professor, UM Law) [LL.B./2010, LL.M./2014].
"We were all disappointed that the annual Solomon Greenberg competition could not proceed in the normal fashion due to the pandemic," said Ireland. "However, the MacIntyre moot try-out was a resounding success and the judges were blown away by the advocacy skills displayed by all twelve competitors."
A former winner of the 2008 Solomon Greenberg moot, who had gone on to take third place in the 2009 MacIntyre Cup along with teammate Allison Cathcart, Ireland added, "Robson Hall has a tremendous record in the MacIntyre Cup and we are so excited for Amber and Kyla to represent us in 2021."
Last year, UM Law's team of Keith McCullough and Alyssa Cloutier brought home the MacIntyre Cup (pictured above) and came 2nd place in the Sopinka. In 2018, Yassir Al-Naji and Ben Johnson likewise won the MacIntyre, and took 2nd in the Sopinka. For the record, Ireland and Cathcart also took 2nd place in the Sopinka back in 2009, which speaks to UM Law's history of excellence in advocacy. No pressure, Team 2020!