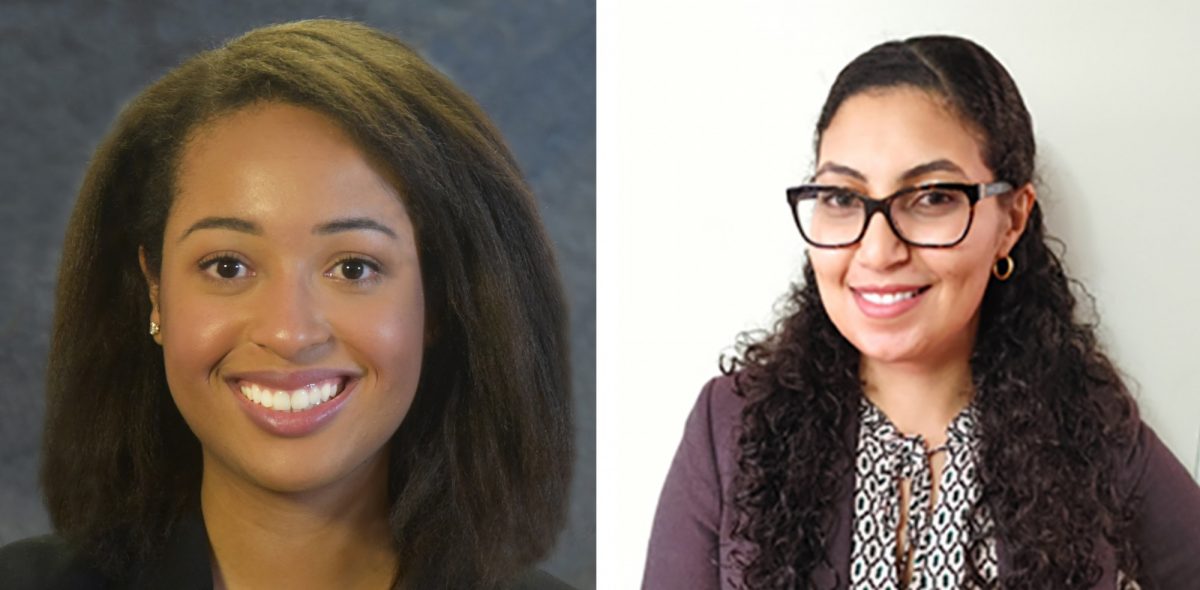 Manitoba Faculty of Law Teams Shine at Fifth Annual Canadian National Negotiation Competition
March 6, 2021 —
Over February 26th, 27th and 28th, two University of Manitoba Faculty of Law teams from Robson Hall put in extremely strong performances at the fifth annual Canadian National Negotiation Competition (CNNC). Against a talented field of the best law student negotiators from across Canada, the team of Braeden Cornick and Amber Harms placed third. The pair of Reanna Blair and Menal Al Fekih received the Honourable Mention for the "Spirit of Negotiation" award, which is peer-nominated and goes to the team that best illustrates the values of collaboration, humility, team work and respect.
When asked about her experiences, Harms said: "Participating in the CNNC was one of my favourite parts of law school. It was a fun opportunity that allowed law students to practice effectively communicating, tactically advocating, and collaboratively problem-solving. Negotiating is something that most if not all lawyers do, and I'm very thankful for the practical experience I got out of this competition that helped to prepare me for the legal profession. I especially want to thank our coaches, Andrew [Torbiak] and Heather [Wadsworth], who put in so many hours answering our questions and helping us to refine our strategies and tactics. I'd also like to thank the organizers, namely Professor Bruce Curran, who made this virtual event a success."
Cornick, Blair, and Al Fekih echoed their praise and gratitude for Torbiak and Wadsworth, and talked about it being an honour to represent Robson Hall. Braeden added, "The high level of competition from schools across Canada made negotiating tough, but very rewarding."
As repeatedly emphasized by our students themselves, our teams were expertly coached by Andrew Torbiak, a lawyer practising Estates and Trusts with Tradition Law, and Heather Wadsworth, a lawyer who practises family law at Mitousis Lemieux Howard Law Corporation. Andrew and Heather are two Robson Hall alumni who themselves have had great success competing in negotiation competitions, including placing fifth at the International Negotiation Competition in 2015.
"I'd like to start by congratulating both teams, not only for their achievements at the competition but for the discipline and dedication they put into their preparation for the competition weekend," said Torbiak. "All four students had such positive attitudes throughout, and were highly coachable. To have both teams recognized for their performances in some way is a real honour, and certainly doesn't happen every year. This is also Robson Hall's highest ranking at the CNNC in the current format, which builds on the reputation of success in Legal Negotiations that the school enjoys amongst Canadian law faculties. Menal, Reanna, Amber and Braeden represented their coaches, school and teammates admirably and should be really proud of themselves."
Wadsworth was also filled with praise for our students: "What I am most impressed with is how flexible the students were in working with the virtual format for the competition," she said. "They were so positive throughout their preparation and the competition itself, in spite of the additional challenges negotiating via Zoom presented. The students demonstrated professionalism and tremendous skill during the competition. The entire Robson Hall community should be very proud of Amber, Braeden, Reanna, and Menal – I certainly am."
A bit more about the CNNC …
Five years ago, the University of Manitoba's Faculty of Law hosted the inaugural competition at Robson Hall, which has been run annually since then. The size of the competition has been growing each year, both in terms of number of teams participating and number of law schools represented. This year, twenty teams competed from the following seven law schools: Saskatchewan, Manitoba, Osgoode, Ryerson, Toronto, Ottawa, and McGill.
The 2021 competition involved three rounds of negotiation taking place over three days. Teams of two law students, each representing opposing parties to a fictitious dispute, met in an attempt to reach a resolution, with each team possessing confidential details about client circumstances and settlement preferences. The first two rounds were bi-party, with the last round involving a more complex three-party negotiation. All of the negotiating took place under the scrutiny of judges, who scored each team's negotiation skills. At the end of each session, the judges provided detailed feedback to each team about what they did well, and potential areas for improvement.
Previous iterations of the competition have always occurred in person, with one law school hosting the event. Past hosts have been Manitoba, New Brunswick, Saskatchewan, and Osgoode. The COVID-19 pandemic prevented an in-person format for the competition this year, but the Professors involved in organizing past CNNCs were determined to prevent students from missing out on this great opportunity to develop their negotiation skills, given how important those skills are to success in one's legal career.
Adapting Online
For the first time ever, the competition was conducted using videoconferencing software, and a number of innovations were introduced in order to adapt.
Instead of a single law school hosting, the competition was co-hosted over Zoom by five schools: Manitoba, New Brunswick, Saskatchewan, Osgoode, and Windsor. A number of potential challenges had to be overcome, such as: "How do you enable teams to take a caucus?"; "How can teams share written material?"; and "What happens if a competitor or judge has a technological glitch in the middle of the time-limited negotiation?"
Fortunately, we were able to resolve these issues and prevent any significant problems from arising during the competition. This was greatly facilitated by a group of diligent, tech-savvy student volunteers from across the country hosting each Zoom negotiation (These Zoom hosts also went by the humorous moniker of "Zoomkeeper"). A number of Robson Hall students volunteered, and all did a great job managing the sessions. All-in-all, we were able to use the rich technological features of Zoom (such as Breakout Rooms) to facilitate the negotiations, something the competitors will have to use in their future practices, given the fact that negotiations by video-conferencing will continue to be a common fact-of-life, even after the pandemic lifts.
Some aspects of running a competition on-line were actually easier and less expensive. Judges and volunteers for the competition could be sourced from across Canada, rather than exclusively from the area near a host school, and we had a number of great practitioners from Manitoba who judged this year. The on-line nature also removed the time and expense of travelling for the competitors and coaches. As well, we were able to arrange for an experienced RCMP Crisis Negotiator, Corporal Janelle Canning-Lue, to deliver an extremely interesting Master Class by video conference, and it would have been unlikely that this would have been possible if the competition occurred in-person outside the Ottawa area, where she is based. So, despite the fact that such competitions are definitely better run in-person, there were still some silver linings.
To summarize, it seems fitting to quote one of the competition judges, Kimberly Cork, an experienced mediator from Winnipeg, on her observations of the competition: "Congratulations on a successful competition. I was consistently amazed at everyone's ability to manage the virtual environment and demonstrate sound negotiation skills. Most impressive to me was the obvious enthusiasm and interest in perfecting your skills, exceptional planning, and honest reflection. It is these qualities that will serve you well in the future and I look forward to one day having the opportunity to see you in action; representing your clients at the highest possible level. Cheers to you all!"