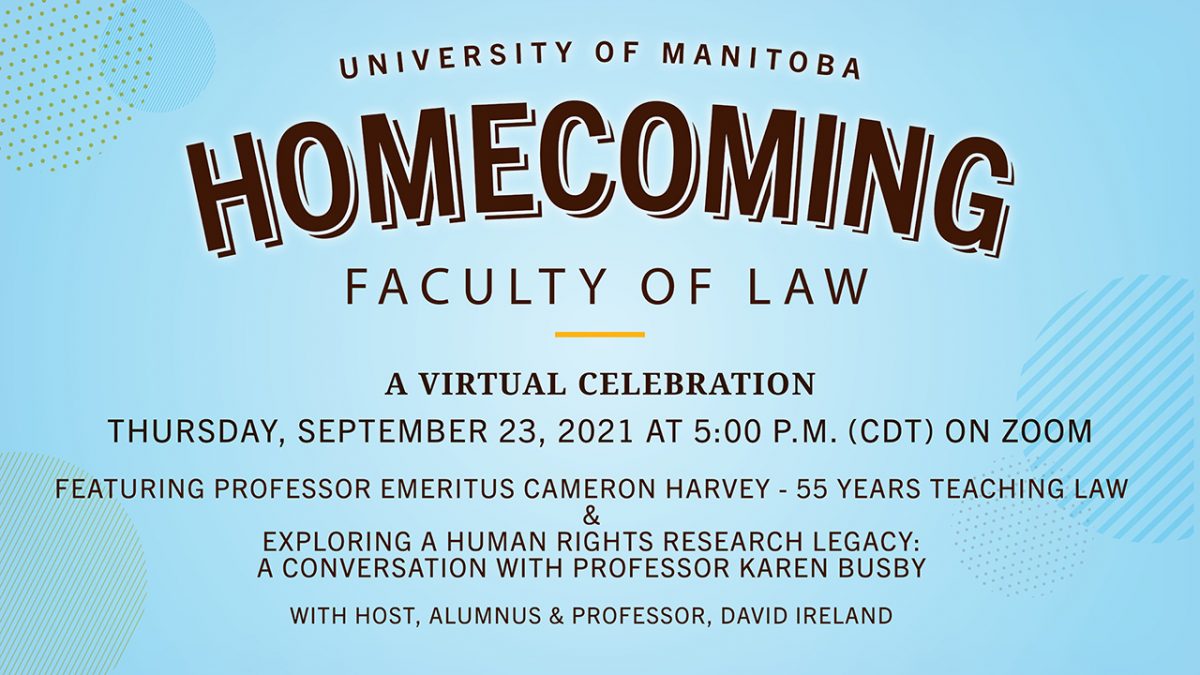 Delightful conversations and stirring memories: Law Homecoming 2021
October 1, 2021 —
The Faculty of Law was pleased to host a virtual version of Homecoming 2021 on Thursday, September 23, with over 100 guests in attendance on the Zoom call. This year the Faculty celebrated Professor Emeritus Cameron Harvey's 55th year of teaching, and Professor Karen Busby's last year of teaching along with her legacy of Human Rights research.
Host, alumnus and professor, David Ireland kept the program lively with his wit and warmth, making everyone welcome. The faculty's brand-new Dean, Professor Richard Jochelson brought alumni up to date on current events and upcoming changes taking place at their alma mater. In particular, he shared a number of important experiential learning opportunities now available including the Indigenous People and the Criminal Justice System seminar.
Manitoba Law Student Association President Michael Badejo shared a perspective of law student life during the pandemic, including the way the student community pulled together this year in the wake of the passing of law school graduate Darius Maharaj Hunter to create a scholarship fund in his memory. Badejo also brought a glimpse of the forthcoming transitional year as the law school returns to the classroom after nearly two full years of virtual learning and expressed hope of restoring and improving connections between students and alumni.
Professor Emeritus Harvey, who normally eschews the limelight, acquiesced – to the delight of his former students and colleagues – to share some anecdotes regarding how he came to teach at the Faculty, including the fact that he nearly studied forestry instead of arts at the University of Toronto and subsequently law at Osgoode Hall, and that in 1966, the Manitoba Law School paid its new professors an annual salary of $7500 per year, which was $500 more per year than Osgoode Hall!
Harvey said that he has loved all three aspects of being a law professor: teaching, researching and writing, and even administration, and that he never experienced stress or tension while teaching. He continues to teach to this day because he quite enjoys it, he said. While Harvey spoke, former students shared in the Zoom chat, memories of Harvey's notably aggressive hockey-playing ("fighting was allowed and I enjoyed mixing it up," he grinned), and tough marks they had received from him that were well-deserved.
Next, Ireland engaged Professor Karen Busby in a conversation that explored Busby's journey to the study and practice of law and her pursuit of Human Rights as a legal scholar and inaugural Director of the Centre for Human Rights Research. An award-winning professor, Professor Busby discussed her teaching experiences, her motivation for teaching, and the roles she'd had over the years in various landmark cases in human rights law. Colleagues with whom she had shared these experiences were on the call and knowing smiles of these common memories were witnessed by all.
Any law alumni, faculty or students who missed the event can still watch a recording by emailing the Dean's office to obtain the link at lawdean [at] umanitoba [dot] ca.