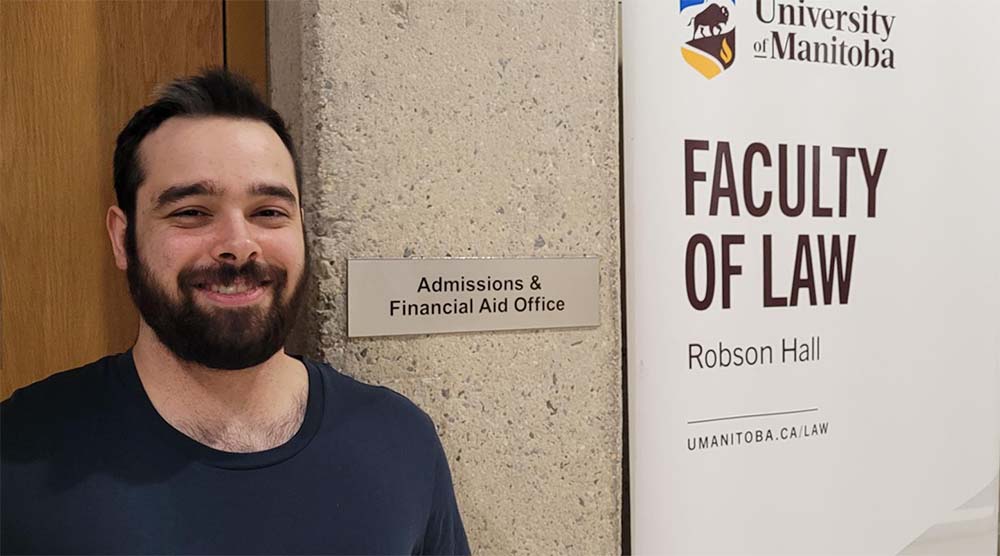 An essential service: Robson Hall's Admissions & Financial Aid Office
December 14, 2021 —
fBecoming a lawyer starts with getting admitted to law school. It may be stating the obvious, but the Admissions Office at any university's faculty of law is where many lawyers' careers technically begin. The next practical matter is how admitted students are going to pay for their legal educations. Not everyone has the means to do so, even if they have the academic ability. Financial Aid and Awards is therefore the other essential part of a law school's Admissions Office to help law students complete their degrees.
At Robson Hall, the Admissions Office falls under the Faculty of Law's Student Services department and is responsible for preparing all applications for admission to the Juris Doctor, Master of Laws, and Master of Human Rights degree programs for committee review. Once students are admitted and welcomed, the Admissions Office switches gears to make sure all admitted students have access to bursaries, scholarships, prizes and awards available to them.
"The Admissions Office fulfills a vital function in the Faculty of Law," explained Dr. Virginia Torrie, Associate Dean of the JD program. "Admissions and Financial Aid are interconnected. We want to make sure that our students are supported, and part of that is assisting them financially, starting from when they first arrive."
The Admissions, Financial Aid & Awards Officer responsible for all these critical aspects of a law student's experience is Mr. Rory Churchill-Henry, an alumnus of Robson Hall (Class of 2019) who once stood in the very shoes of the students he now helps.
"My time as a law student helped me understand the ins and outs of the admissions process, and that helps me advise prospective students on their applications," said Churchill-Henry. "I also learned about the various forms of financial aid and funding options for current students, which means I can explain those opportunities to current law students."
Churchill-Henry also brings the benefit of his experience practicing law to the position and his familiarity with the important attributes lawyers need in their careers. "When speaking to people who are considering law as a career, I advise them of the pathway to becoming a lawyer, and also talk to them about the important values that a lawyer must have, such as respect, integrity, and a strong sense of accountability," he explained.
We want to make sure that we get top-quality candidates at the Faculty of Law, regardless of their economic situation. The funding we have available, combined with the Faculty's affordable tuition, means that students can attend law school with one less barrier to education.

– Rory Churchill-Henry [JD/2019], Admissions, Financial Aid & Awards Officer, Faculty of Law
As Churchill-Henry, who joined the Faculty as a new staff member this past August is learning, an Admissions Officer's job is never dull. His academic year began in August when he started preparing for incoming applications, answering inquiries from prospective students, and dealing with certain entrance scholarships that require separate applications. Some recruitment work happens in October, and November is filled with giving prospective students information. Applications to law school close annually on December 1st, along with applications for the Master of Human Rights program. Master of Laws applications are due December 15theach year.
"We regularly see hundreds of applications each year for the JD program, roughly 100 for the LLM and have seen steady growth upwards for the MHR program since its inaugural year in 2019," he said.
Each year, the JD program has approximately 100 seats to fill, the MHR accepts roughly 20 students, and the LLM program offers a thesis-based master's degree program. Each spring, the Admissions Officer sends out acceptance letters and organizes a welcome reception at the Faculty to introduce incoming students to each other and their new environs.
The next step each spring is to administer the merit-based scholarships, awards and prizes to distribute to the highest achievers in each class.
Tuition at Robson Hall remains among the most affordable of Canadian law schools, and more bursaries are available to students here than any other professional faculty at the University of Manitoba. In past years, approximately 50% of the student body received need-based financial aid from one of the Faculty's dedicated endowments funds.
Thirteen Entrance Awards are offered annually, ranging from $3,500 to $8,000. Performance and merit-based awards are distributed to students in every course, recognizing academic excellence. Dean's Honour List Students entering second year or third year, receive a substantial scholarship and are named Pitblado Scholars. The Faculty strives to ensure that all eligible students will be supported according to their needs, Churchill-Henry confirmed, saying, "We want to reduce financial stress and ensure that those who want to study law can do so."
Learn about Admissions to all three of the Faculty of Law's programs.
Complete information about scholarships and ways to fund your law school education at Robson Hall is on the Faculty's Financial Aid & Awards page.