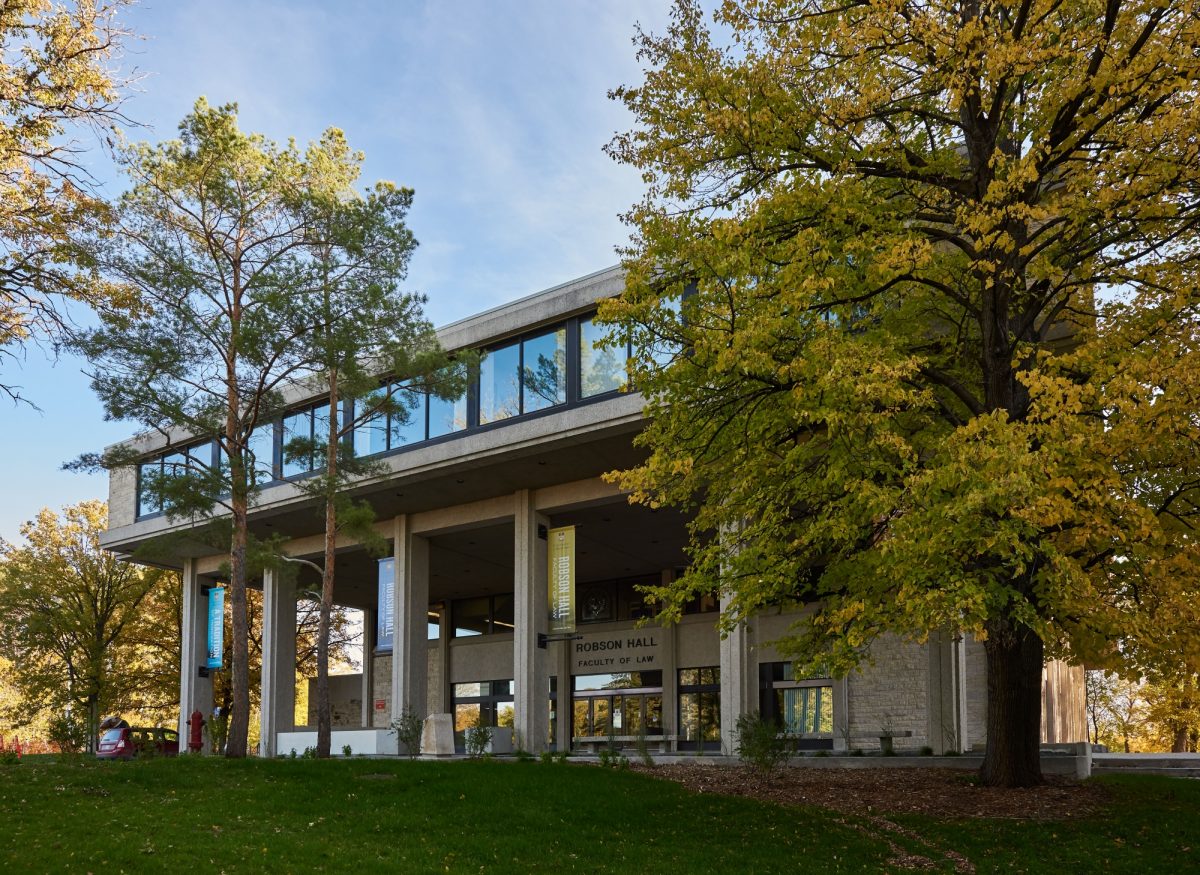 Achieving Access to Justice through language
University of Manitoba's Faculty of Law students eager to learn law in French
September 3, 2021 —
In June of 2019, the Department of Justice Canada provided the University of Manitoba's Faculty of Law with $768,372 in funding over four years (2018/19 to 2021/22) through its Access to Justice in Both Official Languages Support Fund. The purpose was to develop a common law certificate in French, making a more formal program out of what has so far consisted of a collection of bilingual course offerings. So far, two years' worth of law students have been able to take advantage of the funding, and have been working towards being able to represent French-speaking clients once they graduate as lawyers.
While a variety of bilingual course offerings have been a staple in the Faculty's course catalogue for the past eight or more years, professors Lorna Turnbull and Gerald Heckman have high hopes of seeing the collection of courses soon turned into an official program.
"It has been so amazing to work on developing this opportunity to enhance access to justice for French-speaking Manitobans and enhance the career opportunities for the students who choose to take these courses," said Turnbull. "Since we received our first Justice Canada grant in 2011 until today we have grown with input and support from then community to create courses that are responsive to the needs of a whole range of Manitobans who often go unheard. We will continue to improve the range of courses and their content to be responsive to our communities including Metis people, newcomer communities and others."
Called to the Manitoba Bar in July of 2020, alumnus Tarik Daoudi now teaches a section of the mandatory Legal Methods course for first-year law students. Currently a lawyer at the Association des juristes d'expression française du Manitoba, French is his first language and he already brings to the classroom a wealth of experience working with the French legal community in Manitoba. As a law student, he participated in a French-language moot competition, and in recent years, has acted as a judge for practices leading up to other bilingual moot competitions such as the Bastarache and the Laskin.
"The laws of Manitoba and Canada are in English and French," said Daoudi. "All of the decisions of the Supreme Court [of Canada] are published in official French and English versions. Any amount of capacity in French is a huge advantage for a lawyer working in this country and in this province in particular."
Increasing the number of French-speaking lawyers in Manitoba is essential to ensuring access to justice for the growing number of French-speaking people settling in the province, Daoudi said, citing recent immigration. "For these people, accessing justice in French is a necessity, not a preference," he said. "Lawyers in Manitoba are obligated to tell a client of their right to proceed in French where appropriate and must refer the client elsewhere if they cannot competently handle the matter in French."
Another instance in which law students developing their capacity to speak French may gain considerable advantages is where "many lawyers may conduct interviews with clients in French but file documents and make pleadings in English (with the consent of the client, of course)," said Daoudi. "Even in such a case, having a small amount of capacity in French can be a big advantage to truly understanding and thereby advocating for a client."
Third-year law student Jacqueline Pelland worked with professors Turnbull and Heckman this summer, and also obtained summer employment at the Centre canadien de francais juridique (CCFJ) in 2020 and InfoJustice this summer (2021), working entirely in French.
With French as her first language, she jumped at the chance to take some of her legal studies in French upon hearing about the opportunity within the first few weeks of law school. "I wanted to give myself increased opportunities to serve more people with my future legal practice," she said, "to maintain my existing French language skills, to facilitate learning Michif outside of my legal studies and to give myself the added challenge of learning specialized language in French throughout law school."
Pelland plans to practice Aboriginal law, Indigenous law, litigation, family law and regulatory law. "My goal is to open a legal centre in Winnipeg that provides affordable and pro bono legal services, as well as other wellness services," she said, explaining, "for example, a walk-in medical clinic, transitional housing, community gathering space, daycare, etcetera, to ensure better access to justice for community members."
Pelland, who in addition to the basic courses, also took an elective course entirely in French (Droit linguistiques with Dr. Heckman), encourages incoming law students with some knowledge of French to "at least give it an honest try, even if it seems intimidating because one's French skills are not where one wants or hopes them to be."
"My personal view is that we have our whole careers ahead of us to improve on our existing language skills, on top of the current opportunities to practice our French in the bilingual courses," said Pelland. "The extra work is worthwhile, because the result is skilled and knowledgeable law graduates who can practice in two languages and offer more people legal services and support than they would have been able to otherwise. Additionally, I think this program has the potential to set precedent to create curriculum that is bilingual in other languages, too (for example, anishinaabemowin, michif, nêhiyawêwin and English).
While Daoudi and Pelland had the advantage of having French as their langue maternelle, Chris Dick, starting his second year of law this fall, had been in French immersion from Kindergarten to Grade 9, but had not really used the language much since then, other than having the opportunity to go to Haiti on two occasions prior to starting law school.
He first heard about the opportunity to take French-language law courses at Robson Hall in an email from the Faculty's Admissions Officer sent to all incoming first-year law students. "The opportunity to improve my French and gain familiarity with legal jargon, as well as the possibility of receiving a bursary were my primary motivators," he said.
Happy with his decision, Dick said, "I believe that participating in the bilingual program could open the door to a wide range of government positions for which bilingualism is a requirement, and it gives me a competitive advantage when applying to positions in the private sector. Having proficiency in legal French will also allow me to provide legal services to Franco-Manitobans."
Because of his participation in bilingual law courses, he has also had the chance to meet with the Honourable Mélanie Joly, Member of Parliament and Minister of Economic Development and Official Languages, "which was pretty cool," he said.
"I would encourage prospective students to remember that French post-secondary studies are a privilege from which they can derive great benefit, both personally and professionally," he said. "French post-secondary studies are an investment in themselves, and any extra upfront work can pay dividends in the future and lead to opportunities currently unforeseen."
For more information on opportunities to study law in French at the University of Manitoba, please visit the bilingual course webpage.