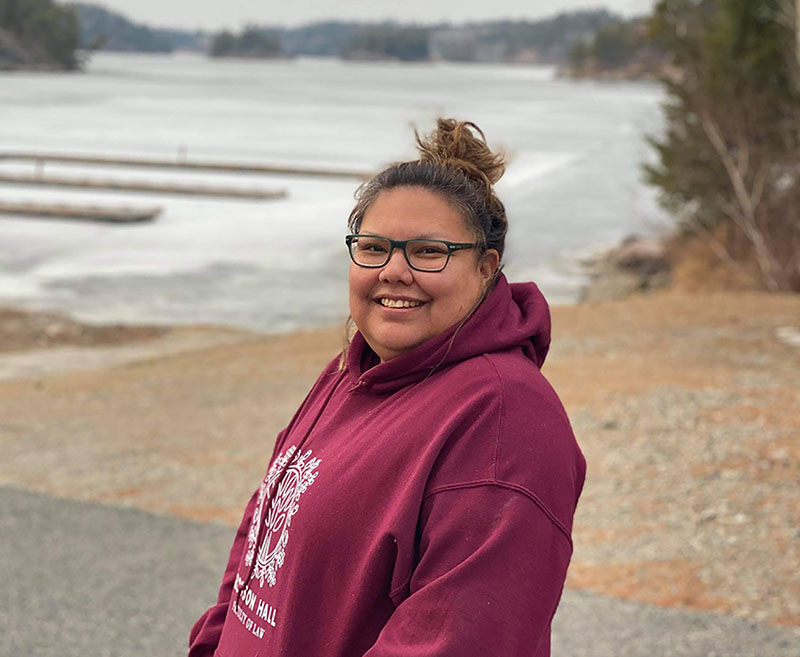 Celebrating Faculty of Law Class of 2021 Graduates
June 7, 2021 —
To celebrate the 2021 graduating class of students from all three programs housed at the Faculty of Law including the Juris Doctor (J.D.), Master of Laws (LL.M.) and Master of Human Rights (M.H.R.) degrees, we have created a series of photos and interviews for the Faculty of Law (@umanitoba_law) and Master of Human Rights program (@umanitobamhr) Instagram pages. We invited graduating students to share how they came to join the community at Robson Hall, what they learned during their time at the University of Manitoba, and what memories and lessons they will take with them into their future careers.
Below are glimpses of some of the students featured in the interviews. Please click their hyperlinked names to enjoy their full stories on Instagram.
Juris Doctor Class of 2021
Student leader Daphne Comegan, credits her undergraduate degree in Criminal Justice and a job working for Cree lawyer and Robson Hall alumnus, Kenneth B. Young [BA/67, LLB/73] as inspiring her to pursue a career in law. In her interview, Comegan advises future law students to, "Do the readings, manage your time accordingly, most importantly take care of yourself.  Love yourself. Heal yourself. Be kind to yourself."
Suraj Lakhi came from a business undergrad degree with an interest in tax law but discovered a love of property law in Lord John Irvine's class. Lakhi advises students to, "Be yourself, don't try to fake being someone else. You were accepted to law school for a reason, so this is the opportunity for the world to see the real you!"
MBA representative and student leader Braeden Cornick deviated from his path to becoming a professor to pursue law instead, where he found an affinity for advocacy. He admonishes future students, "Don't sit back and let opportunities and chances that Robson is offering come to you. Go and get them from day one and you won't regret it."
Moot competition star Amber Harms had come to law school seeking to become a knowledge worker and was transformed by courses offering practical experience including mock trials and negotiations. Advising future law students to make the most of law school, she says, "Make good friends and more importantly, good impressions. Take advantage of every educational and social opportunity that you can fit into your life, and you'll have an amazing 3 years."
Master of Laws, Class of 2021
Meghan Menzies [JD/2012] initially practiced in the area of Human Rights and Environmental Law before moving to the University of Manitoba Student Advocacy Office in 2016. Currently serving as the UM's Human Rights and Conflict Management Officer, she returned to her Alma Mater at Robson Hall to complete an LL.M., graduating this year. Menzies' thesis was on "The Right to Access to Justice: Expanding the Court's Protections Against a Complex Law."
Master of Human Rights, Inaugural Class of 2021
Fortunate enough to have spent her first year of the brand-new Master of Human Rights program in person at Robson Hall, Cara McCaskill counts being able to get to know her classmates as one of her favourite memories. "The members of this initial MHR cohort are some of the most passionate, dedicated people I know, and it has truly been a privilege to be inspired by them," she says in her Instagram interview.
Coming from a background in politics and human rights, the biggest lesson she learned in this program was resilience. McCaskill advises future MHR students that "The opportunity to gain specific knowledge related to your chosen area within the discipline of human rights is an invaluable resource if you're wanting to go out into the world and advocate for human rights on any scale. Once you're here, make the most of your time, it goes by so fast and is over before you know it."
Ashley Haller likewise counts being able to form friendships with fellow students among her favourite memories. Having studied communications and political science, Haller saw the M.H.R. program as a great way to channel her passion for meaningful social change. Overcoming imposter syndrome was one of her biggest lessons, and she advises future students to get involved, but to also take care of themselves. "Burnout is really common for those in the human rights field, so take rest when you need it."
Please follow @umanitoba_law and @umanitobamhr on Instagram to read the full interviews with more of the remarkable J.D., LL.M., and inaugural graduating class of M.H.R. students in our Faculty of Law Class of 2021.