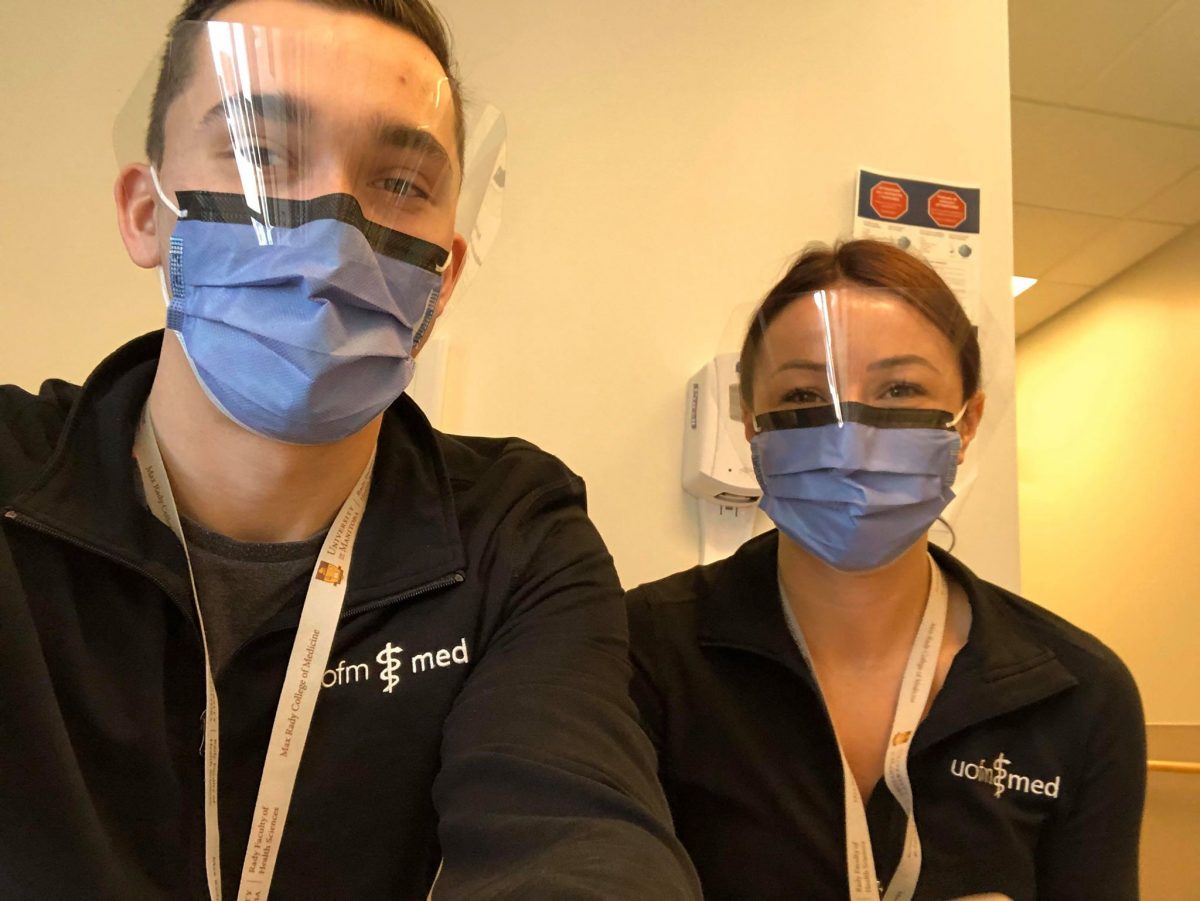 Top stories of 2020
December 22, 2020 —
A year to remember or a year to forget? The COVID-19 pandemic dominated headlines across the globe, including here at the University of Manitoba, but there was always light behind the dark clouds. Positive stories shone through. In 2020, we completed a historically successful five-year fundraising campaign that united our community. We welcomed a new president. We saw members of our community achieve incredible personal success, and witnessed many of our students, faculty, staff and alumni coming together to face the globe's biggest challenges.
It was definitely a year to remember.
Here are some of UM Today's top stories of 2020.
Front and Centre realizes largest fundraising campaign in Manitoba history
This year we wrapped up the Front and Centre campaign, the largest fundraising campaign in Manitoba history, raising $626,260,909 to move well past the $500 million goal established at its 2015 launch.
The astounding amount represents donations from 62,075 individuals, one in five of whom were graduates of the University of Manitoba, and from 48 different countries around the world, making this a truly global campaign.
Welcoming Dr. Michael Benarroch, UM's 12th President and Vice-Chancellor
On July 1, UM welcomed Dr. Michael Benarroch as our new president and vice-chancellor. Dr. Benarroch brings to the role his inspiring energy and passion for the life-changing possibilities of higher education and his dedication to the province and the UM community. He is also recognized as a warm, collegial and dedicated leader who cares deeply about the success of this university, this province and its people.
Rising to the challenge of COVID-19
No review of 2020 is complete without discussing COVID-19. Like every community around the globe, UM adapted to face the challenges brought on by the pandemic. Hundreds of UM students volunteered to help in many important roles. UM medical students worked in Winnipeg hospitals to ensure ICU patients are able to stay in touch with their families while COVID-19 restrictions were in place. One of our alums – who was instrumental in helping find a vaccine for Ebola several years ago – worked with an international team to better understand COVID-19. We even developed a new course on COVID-19 that looks at how the media has covered the pandemic.
Vice-dean of Indigenous health bridges professional work with community
In 2020, we got to know Dr. Marcia Anderson – a vital voice during the COVID-19 pandemic as the vice-dean of Indigenous health for the Rady Faculty of Health Sciences. From social media awareness videos, to weekly panel discussions through Winnipeg's Sunshine House and plenty of news citations, Dr. Anderson has been working tirelessly in 2020, sharing helpful and accessible information to the community about the virus.
Celebrating Virtual Convocation
On June 29, we celebrated the spirit of convocation and community, coming together virtually to honour the graduating class of 2020 and to confer their hard-earned degrees. It was UM's 141st Spring Convocation, and though we weren't able to celebrate in person, we were happy to recognize the Class of 2020 and their outstanding achievements.
Five Vanier Scholars call UM home in 2020
In 2020, UM proudly welcomed five Vanier Scholarship recipients to its community. The five recipients – Javad Alizadeh, Human Anatomy & Cell Science; Ashley Hayward, Peace and Conflict Studies; Sarah Turner, Community Health Sciences/Children's Hospital Research Institute of Manitoba; Rachel Nickel, Physics & Astronomy; and Belal Zia, Psychology – will each receive $150,000 over three years towards his or her research.
Kelsey Wog wins 2020 U SPORTS Female Athlete of the Year
The University of Manitoba Bisons' Kelsey Wog was awarded the 2020 Lieutenant Governor Athletic Award U SPORTS Female Athlete of the Year for the 2019-20 season. The fourth-year Agricultural and Food Sciences student-athlete has been making waves since her start at UM, capturing gold medals, setting records and representing Canada at a number of international events.
Disruption of all Forms of Racism policy approved
On August 25, the Rady Faculty of Health Sciences' Faculty Executive Council (FEC) approved the RFHS Disruption of all Forms of Racism policy, the first anti-racism policy to be passed by any faculty or post-secondary institution in Canada. The Disruption of all Forms of Racism policy was developed by the Rady Faculty's Office of Equity, Diversity and Inclusion (EDI) anti-racism working group, following extensive consultations with faculty, staff, learners and stakeholders in the university and general communities.
Forty years of high-impact collaboration, and remembering Dr. Frank Plummer
This year marked the 40th anniversary of UM's research partnership with the University of Nairobi – a remarkably productive alliance that has led to groundbreaking discoveries in the areas of HIV/AIDS and other sexually transmitted infections (STIs).
The celebration of the partnership gave way to sorrow on Feb. 4, 2020 with the sudden passing of esteemed scientist Frank Plummer [MD/76], a leading figure in the collaboration. The world-renowned infectious disease expert was 67 years old. Just days before suffering a fatal heart attack, he had spoken at the 40th-anniversary conference and enjoyed reuniting with many of the Kenyan women whose natural immunity to HIV his team had discovered in the late 1980s.
Faculty of Engineering named to honour gift from Dr. Gerry Price and family
The Faculty of Engineering at UM was given a new name in 2020, thanks to a $20 million investment from visionary philanthropists Gerry and Barb Price. The transformative donation will create seven endowed faculty member positions over ten years, greatly enhancing the capacity of the undergraduate engineering program. In recognition of their generosity, the Faculty of Engineering has been named the Price Faculty of Engineering.
Improving global health through breast milk
A $6.5 million grant was awarded to UM researcher Dr. Meghan Azad – Canada Research Chair in Developmental Origins of Chronic Disease and a research scientist at the Children's Hospital Research Institute of Manitoba (CHRIM) – by the Bill & Melinda Gates Foundation to establish a new global health initiative dedicated to breast milk: the International Milk Composition (IMiC) Consortium. The research will be critical to understanding why some breastfed infants can still develop infections or struggle to achieve optimal growth trajectories, and also for optimizing nutrition for infants who cannot be breastfed.
From our collective grief, an opportunity to help others
The year started with sadness as we grieved the tragedy of Flight 752 that crashed near Tehran, Iran and took the lives of five members of our UM community, including alumna Dr. Forough Khadem. From that tragedy, an endowed scholarship was established in Dr. Khadem's name to support international female graduate students working in the bio-medical sciences who demonstrate leadership and a desire to have an impact on the world through science. Her fiancé Kourosh Doustshenas and Dr. Khadem's family have donated $100,000 to honour her memory and celebrate her passion for science and mentorship.