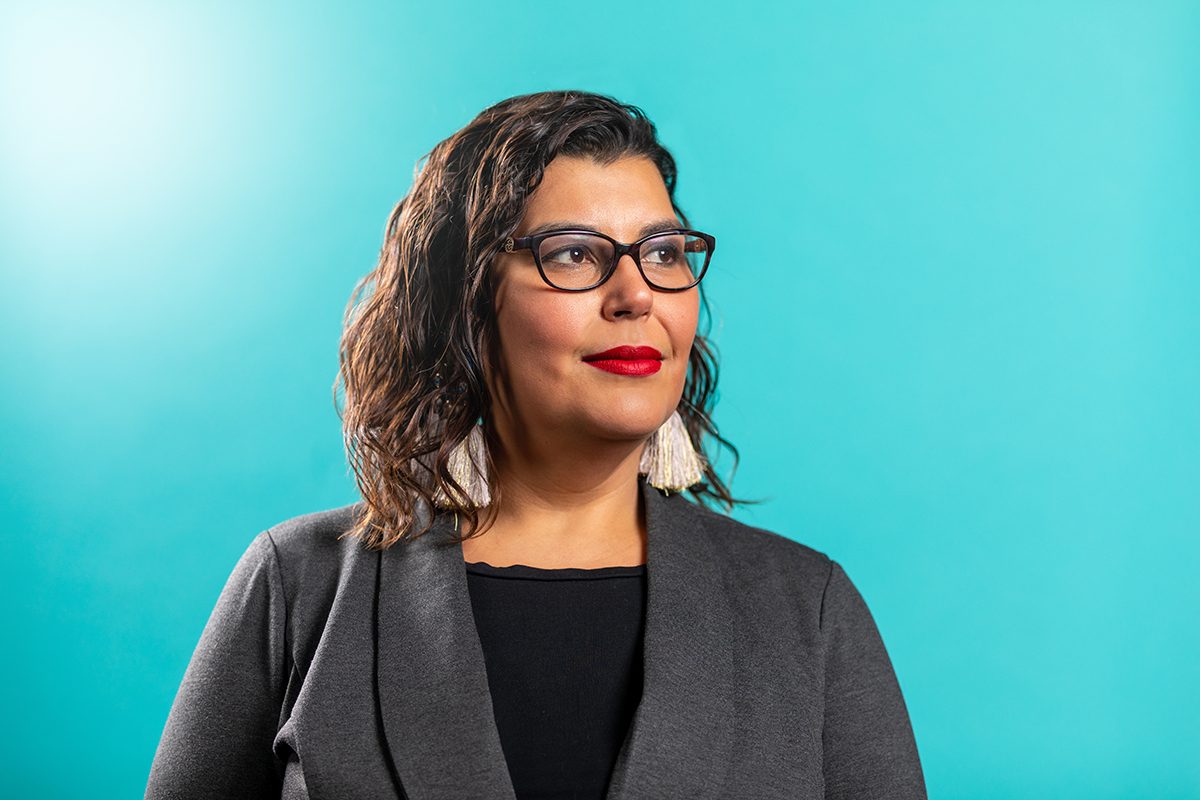 Vice-dean of Indigenous health bridges professional work with community
Meet Indigenous Scholar Dr. Marcia Anderson
May 20, 2020 —
A day-in-the-life of Dr. Marcia Anderson includes a balance of motherhood, a fierce commitment to her community and continuous work in Indigenous health and healing – and her achievements have not gone unnoticed.
At 24 years old, she was the youngest Indigenous graduate in the Max Rady College of Medicine in the Rady Faculty of Health Sciences at the University of Manitoba (UM) in her graduating year, and shortly after, she went on to become the youngest president for the Indigenous Physicians Association of Canada. In 2011, she was honoured with a National Aboriginal Achievement Award (now named Indspire). In 2018, she was recognized by the Women's Executive Network as one of the Canada's most powerful women.
Now, she is a vital voice during the pandemic as the vice-dean of Indigenous health for the Rady Faculty of Health Sciences at UM.
If you have been following COVID-19 coverage in Manitoba, chances are you have come across the work of Dr. Anderson. From social media awareness videos, to weekly panel discussions through Winnipeg's Sunshine House and plenty of news citations, Dr. Anderson has been working around the clock, sharing helpful and accessible information to the community about the virus.
"I breathe, eat and sleep all things COVID-19 right now, and a lot of other work has been put on hold so I can focus on my role as a public health physician," she shared with UM Today.
She recently led provincial equity table discussions that examine the disproportionate impacts of COVID-19 on structurally disadvantaged populations and how they might be mitigated. Dr. Anderson also participates on the Manitoba First Nations COVID-19 Pandemic Response Coordination Team led by the head of Ongomiizwin – Indigenous Institute of Health and Healing, Melanie MacKinnon.
This team was created to support First Nations community pandemic planning, work collaboratively with partners, ensure First Nations communities are receiving accurate and direct public health information, and track and observe the patterns of how the virus may be spreading in these communities. "And I am on teleconferences and Zoom meetings almost all day," she added.
On the importance of community
Outside of her ongoing work with community and public health awareness, Dr. Anderson is a mother of two. She is Cree and Anishinaabe with roots in both Norway House Cree Nation and Peguis First Nation and grew up in Winnipeg's North End. Though Dr. Anderson briefly left the city to further her education, her parents and much of her extended family remained in the North End, and she cites that as the main reason that brought her back.
"My grandparents, aunts, uncles and cousins were a major part of my upbringing and enriched my childhood," she said. "I want my daughters to have those relationships, too."
Aside from familial ties, Dr. Anderson's appreciation for the community of Winnipeg is what has kept her around since returning in 2007. "There are so many talented, brilliant and revolutionary BIPOC (Black, Indigenous, People of Colour) scholars, artist, writers, entrepreneurs, teachers, legislators, journalists and musicians here," she said. "I can't imagine being anywhere else and having the same kind of community connections I've made here."
Bringing community work to a professional role
It is clear that Dr. Anderson's connection to community is a large influence in her professional world. Her work as the executive director of Indigenous academic affairs at Ongomiizwin – and now, as vice-dean of Indigenous health – is firmly rooted in an anti-colonial and anti-racism lens. Much of her work continues to address the inequities and barriers Indigenous students may face in post-secondary institutions, starting with the process of finishing high school and preparing for the university admissions process.
Dr. Anderson acknowledges the university's and the faculty's strategic plans and commitments to addressing racism within the institution, and considers it a matter of rights, justice and fairness. She cites the importance of drawing on one another's strengths within the Ongomiizwin team, as well as mentorship from [vice-president (Indigenous]) Dr. Catherine Cook and the development of newer staff who are advancing their careers, as crucial influences that have kept her going.
The role and importance of traditional medicine and healing are also foundational in Dr. Anderson's work. She recalled a pivotal time when she worked with MacKinnon to include Grandmother Teachings as Ways of Being in a strategic plan. This presented challenges for some, as the traditional teachings replaced typical business principles and values.
"Being firmly grounded in our teachings was the foundation that all of our personal, professional and organizational growth has occurred within," she said. This includes making space for ceremony within the faculty, as well as ensuring learners have access to the traditional Medicine Garden of Indigenous Learning at the Bannatyne campus.
"Elder Margaret Lavallee and Knowledge Keeper Leslie Spillett are also guiding factors in our work and are so highly valued not just by our team, but by the UM community as a whole," she added. "I cannot imagine a life that wasn't rooted in these teachings."
On caring for yourself
Self-care is an important factor in Dr. Anderson's busy lifestyle, and she acknowledges that tending to one's needs vary from person to person. For her, coping looks like a morning routine that includes smudging and meditation, breaking for lunchtime walks outside, meeting (virtually, at this time) with friends and more recently, CrossFit.
"I have a personal theory for managing my own stress," she said. "It's important to me to have an exercise outlet that is as intense as my life. CrossFit provides that level of intensity to get me out of my head and focus on my physical well-being." She also enjoys breaking a sweat on the dancefloor with friends.
Spirituality is a big component of care for Dr. Anderson as well. She recalled a time when MacKinnon inspired her to show up to her work each day as her whole self —including her spiritual self.
"I think about how peaceful, grateful and nourished I feel when I am sitting out on the land partaking in ceremony," she said. Connecting with community teachers, Elders and Knowledge Keepers also continues to strengthen Dr. Anderson's spiritual being.
Above all, Dr. Anderson firmly believes that individuals deserve their version of happiness, and emphasizes the importance on spending time figuring out what helps achieve it.
"We all need to have a variety of things we can do that we know will nourish and restore all aspects of ourselves," she said. "Once we find that balance, we must continue to prioritize it in our lives."