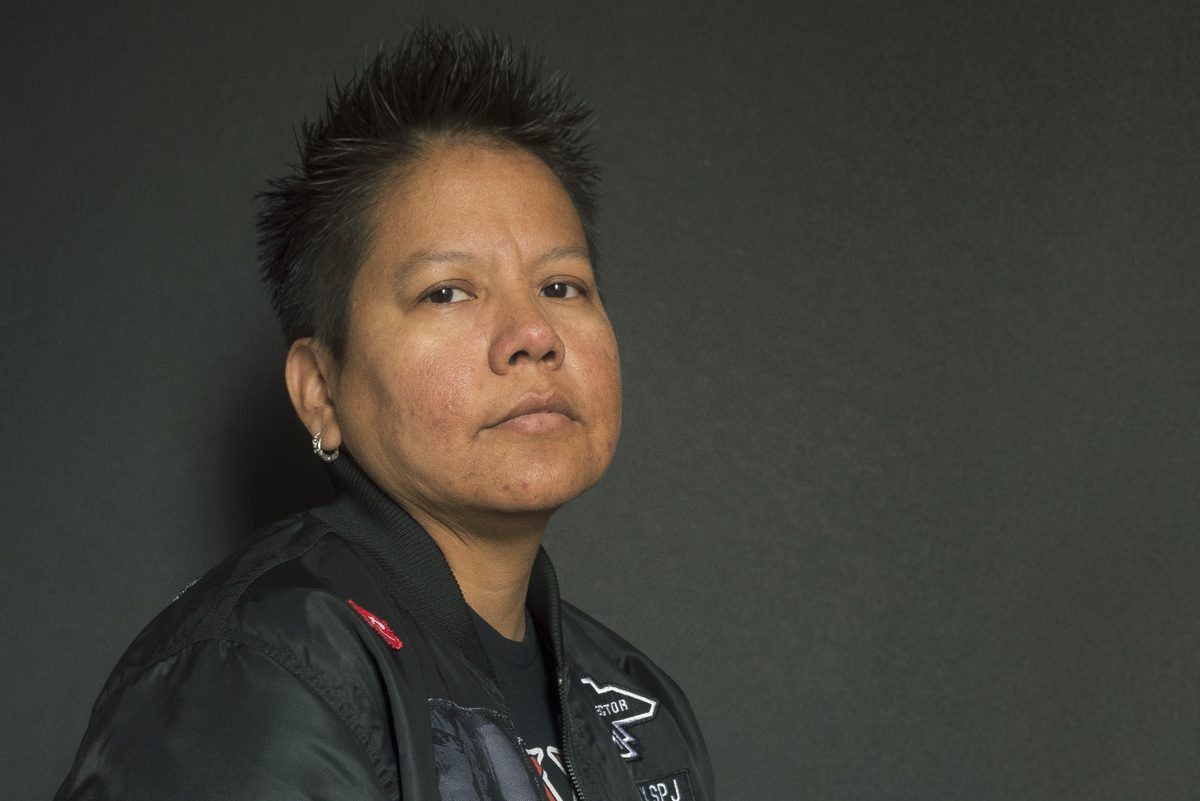 Indigenous professor brings Two-Spirit lens to Inner City Social Work Program
January 9, 2019 —
After 20 years of field experience as a social worker, HIV/AIDS trainer and a crisis counsellor, Percy Lezard's interests meet at an intersection of education, Indigenous studies, sex and gender and community health. Their academic work is concentrated on social work education through a Two-Spirit lens. UM Today talked with Lezard about their journey through school, how they came to their role in the University of Manitoba's Inner City Social Work Program and what they hope to achieve in this position.
UM Today: Tell us about your journey through post-secondary education, starting as a student to your current position today.
Percy Lezard: I was functionally illiterate when I entered university. I was more of an athlete that pushed through secondary education and won trophies and awards during those times. While working in a part-time position, I recall they started requiring accreditation, and I didn't have any. So I went back to school and I did not do well at first because I did not know how to read and write. I was then given tools by faculty to support me. I did an assessment and found out I was gifted and was provided with ways to cope with a myriad of learning disabilities. Learning that really helped me do better in school. I was able to start with my undergrad and carry on until obtaining my doctorate degree in Philosophy (at OISE/University of Toronto). From my proposal work to my course work, everything I achieved was done orally or through art pieces. I wanted to challenge the way the institution evaluated text, and the relationship to orality and text in particular, with Indigenous people, knowledges and pedagogies.
In my years as a social worker, I started noticing social work isn't really working on the ground. Why is that? I think it's because there is a lack of representation in decision-making in non-profits and on boards of directors. I thought, 'How can I change that?' and that's what led me to teaching. Dr. Lynn Lavallée introduced me to Dr. Yvonne Pompana, and I applied for a position here. I let them know that the work I do is community-based and student-centred, and that I teach critically. I made the decision to come to Winnipeg after the interview process and an offer was made.
UM Today: Your bio includes your history as a Survivor of the Residential School systems and the child removal system (Sixties Scoop). How does this inform your teaching in the classroom?
PL: My brother was the last person [in my family] to go to Residential School and he is only one year older than me. As did my parents and grandparents. The purpose of these schools was not to lift us up or celebrate us. So I went into formal education saying, 'I will not disappear. I will speak to their resiliency.' And that is the base that I work from.
UM Today: From what I've seen of your work, you seem to be very mindful of space, how we occupy it and our positionality within spaces. Can you talk about how your journey in social work has helped define that?
PL: Education is exclusionary. It is not meant to support Indigenous scholarship. We wouldn't have the instances we've had on campus, the "it's okay to be white" campaign [for example] in these spaces if they were. They only want a particular paradigm and approach. People and students like me are here persistently making sure to challenge these paradigms.
Knowledge is everything in our environment. There are multiple ways of knowing and doing. I think what the Inner City Social Work Program strives to do is challenge knowledge production, and re-evaluate the way knowledge is delivered. When Dr. Pompana (who is Dakota and original to these lands) invited me, I came already with a strong sense of self as a Sqilx ― I know who I am. I know where I am from, I know who claims me and I know where my lands are. I carry these with me everywhere.
UM Today: How does your background in Two-Spirit pedagogies, gender-based violence, and women and gender studies play out in your current role?
PL: Social work is a colonial project. The origins of social work already excluded Indigenous and Black bodies, yet we are over-represented in all aspects. I have trouble with that. Black and Indigenous children are in care. We also have no effective way to support the meth problem on these streets of Winnipeg. Women and gender studies brings critical feminism into Indigeneity. We are responsible for our communities for the next seven generations (as per Anishinaabe teachings I have had access to). These familial holistic care practices were directed by the clan mothers of our communities. It's coming to light that these women have been sterilized on the Prairies, which is pure hatred towards our women, and enacts violence and colonization on their bodies.
I want to create spaces for other folks who identify as Two-Spirit or on the gender spectrum, and remind people that we are meant to be here, and that we are meant to be a crucial part of the circle. And we have so much to offer. This fuels my fire. It is important that who I am is reflected in the classroom. There is not enough representation of Two-Spirit scholars in the academy, let alone the classroom.
UM Today: Do you think there is a shift to make space for Indigenous and Two-Spirit knowledge systems? What would an institution that is inclusive of those intersectionalties look like?
PL: It looks like having Indigenous people in positions of power as decision-makers. How are institutions supporting Indigenous faculty? How are they creating opportunities for us to actually be here for research, for publications, for the community? What does that look like to the institution and how will it be collaborative? Why is most of the labour to decolonize or Indigenize spaces done so by Indigenous staff, administration, faculty and students?
This work needs to be done by all of us. We are all impacted by colonization. There are a lot more difficult conversations that need to happen at all levels of the university. With the influx of the work from the Truth and Reconciliation Commission and those 6,000 stories of Residential School Survivors, institutions are running to reconciliation. But I think there's still a lot of truth that needs to be told.
UM Today: What kind of advice do you have for Indigenous students who are actively pursuing an education in social work?
PL: I see you, I believe in you. You are important. What you bring to this institution is something that needs to be seen and valued. I want the focus to shift to Indigenous futurisms where we are in the community where the answers are, and not in the institution.