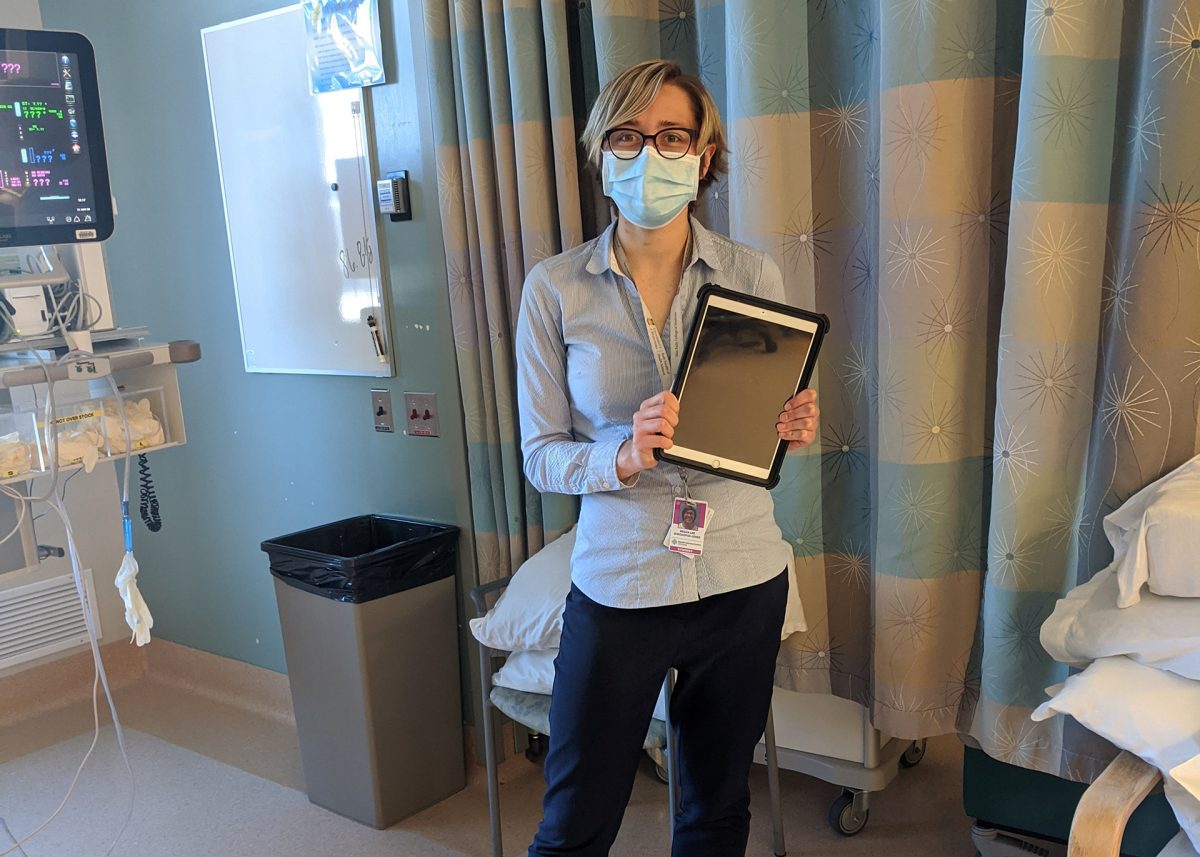 Med students connect ICU patients and families during COVID-19 lockdown
May 21, 2020 —
Third-year medical students are working in hospitals around Winnipeg to ensure ICU patients are able to stay in touch with their families while visitor restrictions due to COVID-19 are in place.
The students have been volunteering for the last month as family liaisons to facilitate video conferencing between patients and their families.
The program started when Dr. Kendiss Olafson, an ICU attending physician and assistant professor of internal medicine at the Max Rady College of Medicine, recognized that the visitor restrictions could cause a further mental health burden on patients and families and decided to reach out to the students.
Medical student Anita Gray is volunteering at St. Boniface Hospital, where between her and two other students, there is someone present seven days a week. She says the program has been very popular with patients and families.
"I wasn't sure how people would react, but it has been so positive. They haven't shied away and most people do it every day," says Gray.
Much of the students' role is to act as tech support, setting up meetings for patients with family members all over the world using donated iPads, many of which are too sick to use their own device.
"What we're fulfilling is for families to be able to lay eyes on their loved ones. There is that element of the unknown for the families and I can't imagine the anxiety," says Gray.
Megan Sorokopud-Jones, who is volunteering full-time at Grace Hospital and the Health Sciences Centre (HSC), says their level of involvement depends on the capability of the patient.
"I do a lot of lip reading and reading what people write. It's also a lot of teaching elderly people over the phone how to download to Zoom or FaceTime. A lot of them aren't familiar with the technology," she says.
Families are also a crucial link between patients and their medical team.
"A lot of patients are sedated or not in a frame of mind where they can make their own decisions. We rely heavily on communication with families to learn more about the patient," says Sorokopud-Jones.
Lucy Karp, a medical student volunteering at the HSC, says the experience helped her learn the importance of patients' social support networks.
"As a future physician, I've learned the importance of having that contact with patients and their families and developing those relationships," says Karp.
When a patient is first admitted to the ICU, the students connect with their family, offering to facilitate video conferences.
They also fill out an evidence-based questionnaire with the patient, or family member, asking questions such as what they want the team to know from a caregiver perspective and their favourite hobbies or music. The one-pager is put on the door of the patient's room so every person involved in their care knows something about them.
Through the intake form, the students also screen for families in distress or who may benefit from the involvement of spiritual services, social workers, or Indigenous health.
Sorokopud-Jones says there is a difficult side to the work, particularly when the patients aren't doing well.
"I've been present for a lot of conversations that end up being their last ones with their families. I've set up meetings where doctors have to break bad news," she says.
The third-year med students are set to resume their clerkships on May 25, and they hope to recruit second-year medical students to take over their roles.
"These conditions will still exist once the COVID-19 restrictions have been lifted. We have a large northern and rural population," says Karp.
The students hope the program will continue; making visiting more accessible to families limited by geography, disability, illness and work/life commitments.
"The other day a grandmother was able to say goodnight to her grandchildren in Nunavut," Karp recalls.
Gray says it has been fulfilling to be part of a patient's recovery, witnessing their progressions and setbacks, blinks of eyes and nods of heads, watching them come off intubators and slowly regain strength.
"There's certain patients I'm never going to forget," says Gray. "I'll never forget a patient saying to me 'you're going to be a really great doctor.' That means a lot to me."