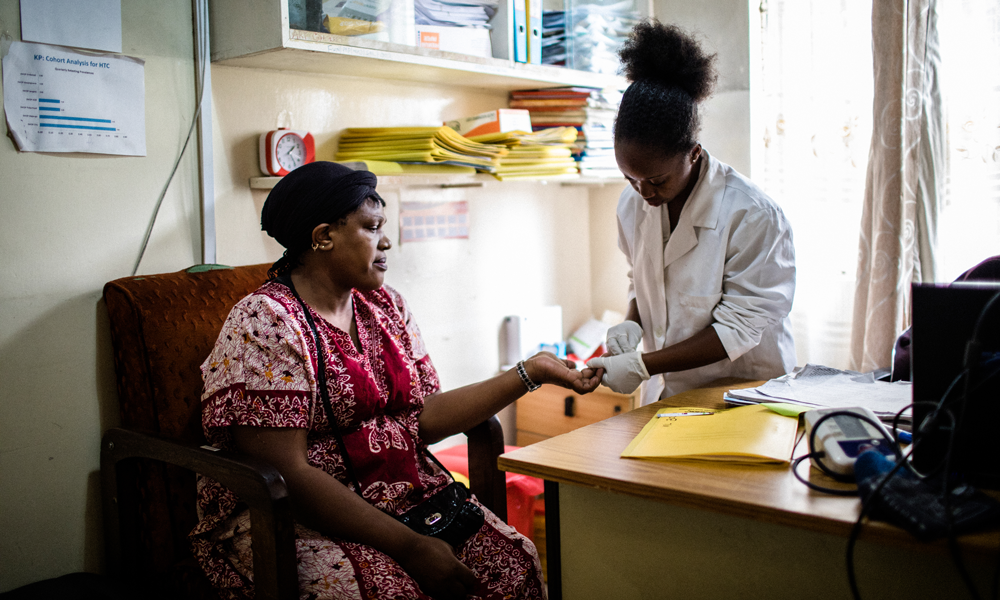 Forty years of high-impact collaboration
October 7, 2020 —
This year marks the 40th anniversary of the University of Manitoba's research partnership with the University of Nairobi – a remarkably productive alliance that has led to groundbreaking discoveries in the areas of HIV/AIDS and other sexually transmitted infections (STIs).
In January, the milestone was celebrated at an international research conference in Nairobi, Kenya.
The partnership between the two institutions has been recognized as a best-practice example of North-South research collaboration. It is regarded as a model global health initiative and has received millions of dollars in funding from the Canadian Institutes of Health Research and the Bill and Melinda Gates Foundation.
The partners' landmark discoveries include that HIV can be transmitted from mother to child through breastfeeding; that STIs such as gonorrhea and chlamydia increase susceptibility to HIV infection; and that some individuals have natural immunity to HIV.
"The collaboration has made a huge impact," said Keith Fowke [B.Sc.(Hons.)/88, PhD/95], head of medical microbiology and infectious diseases in the Max Rady College of Medicine.
"U of M has been a global leader in making cutting-edge contributions to understanding HIV and other sexually transmitted infections, thanks to this partnership."
At the conference, Dr. Ruth Nduati, professor of pediatrics at the University of Nairobi, spoke of the opportunities that the partnership has given to Kenyan scientists.
"This collaboration has been a gift to the young people of Kenya," she said. "It has given them the possibility to dream that their work can be part of transforming the world."
The collaboration began in 1980, after two doctors from opposite sides of the world met at a conference. Dr. Herbert Nzanze, head of medical microbiology at the University of Nairobi, convinced Allan Ronald [MD/61, B.Sc.(Med)/61, DSc./11], a UM research pioneer in infectious diseases, to come to Kenya to help combat sexually transmitted chancroid infections in men.
A small lab was opened in Nairobi, and Manitobans started travelling back and forth to operate it. Ronald brought in one of his star students, Frank Plummer [MD/76], and engineered links with infectious disease specialists at other institutions, including the University of Ghent in Belgium and the University of Washington in Seattle.
Seeking to track down the source of the chancroid infections, the group opened a clinic in the shantytown of Majengo to assess female sex workers. They soon brought chancroid under control. But in 1985, they were shocked to discover that a high percentage of the sex workers had HIV/AIDS. They changed their focus to the growing epidemic.
More students came to join them, not just from Manitoba but from Belgium and Seattle. Kenyan medical students started going to Winnipeg and Seattle to further their training.
In the late 1980s, Plummer led a team – including Fowke, then a graduate student – in discovering that some Kenyan women sex workers who had been exposed to HIV infection were naturally immune to it. This breakthrough provided vital new information for HIV vaccine and drug development.
In 2007, a team led by UM professor Dr. Stephen Moses demonstrated that circumcision reduces men's risk of HIV infection by as much as 60 per cent. This insight led to expanded circumcision programs throughout eastern and southern Africa.
The Manitoba-Nairobi partnership also developed HIV prevention and control strategies that included opening free clinics' educating sex workers and distributing condoms. Many of the strategies have successfully been implemented by other countries.
Today, the University of Nairobi STD/HIV/SRH Collaborative Research Group includes several other universities in addition to Manitoba, Ghent and Washington, including the University of Toronto, McMaster University and the University of California.
To mark the 40th anniversary, attendees at the conference included then UM President and Vice-Chancellor Dr. David Barnard and University of Nairobi Vice-Chancellor Dr. Stephen Kiama.
Reflecting on 40 years, co-founder Ronald, now distinguished professor emeritus in medical microbiology and infectious diseases, emphasized the links between science, public policy and clinical practice, and the priority of getting research results implemented so they can save lives.
"Global health needs to be further defined as a shared responsibility between scientific and academic leaders, governments and implementation processes that are demonstrated to the public, and to funders, as able to reduce disease burden," he said.
Kenyan professionals have been vital to the collaboration's research and clinical success. A number of Kenyan students who went abroad to study at universities affiliated with the collaboration eventually assumed health-system and research leadership roles in their home country.
Omu Anzala [PhD/97], currently director of the Kenyan AIDS Vaccine Initiative, earned his PhD at UM. Dr. Joshua Kimani, who became chief clinician for the collaboration, recalled a visit to Winnipeg that influenced his career path.
Back in 1987, Kimani was a third-year medical student when a Canadian – Dr. Frank Plummer – came to lecture his class on sexually transmitted diseases. "HIV had just come," Kimani remembered. "People didn't really understand it."
Kimani and another student were so intrigued by Plummer's talk that they volunteered at the Majengo clinic. That experience influenced them to specialize in infectious diseases. In 1989, they received funding from UM to spend three months in Winnipeg.
They did rounds at local hospitals and were awestruck to meet senior figures like Ronald, Dr. Robert Brunham and Dr. Joanne Embree, who were well-known members of the collaboration with their names on numerous research papers.
"By the time we came back home," Kimani said, "we had seen a different world and been opened up to the opportunities in public health."
Fowke, who has made more than 40 trips to Kenya in his career, said it was moving and inspiring to mark the 40th anniversary in Nairobi with an international network of colleagues and friends.
"With five generations of UM and UN researchers represented at the meeting, I felt tremendous pride in the vision of the founders, immense hope for the future – seeing the excellence of our students – and honoured to be part of this collaboration," he said.
"UM researchers and students have improved the health of Kenyans and people around the world, and we should all take a moment to celebrate that accomplishment."
LARRY KROTZ and RADYUM STAFF
Remembering Dr. Frank Plummer
The celebration of the 40-year University of Manitoba-University of Nairobi partnership gave way to sorrow on Feb. 4, 2020 with the sudden passing in Nairobi of esteemed scientist Frank Plummer [MD/76], a leading figure in the collaboration.
The world-renowned infectious disease expert was 67 years old. Just days before suffering a fatal heart attack, he had spoken at the 40th-anniversary conference and enjoyed reuniting with many of the Kenyan women whose natural immunity to HIV his team had discovered in the late 1980s.
"Frank Plummer's contributions to public health on a global scale were immense. Today we lost a giant," said Brian Postl [MD/76], dean of the Rady Faculty of Health Sciences and a medical school classmate of Plummer. "Frank distinguished himself as a true leader and visionary."
The Winnipeg-born Plummer, who joined the UM faculty in 1984, spent 17 years in Nairobi leading the collaboration. His work not only produced vital knowledge about the HIV epidemic in Africa, but led to prevention and control strategies that influenced worldwide health policy on sexually transmitted infections, saving tens of thousands of lives.
In Canada, Plummer's leadership roles included serving as scientific director general of the National Microbiology Laboratory in Winnipeg and director general of the Centre for Infectious Disease Prevention and Control in Ottawa.
He led the Canadian laboratory response to the SARS outbreak in 2003 and the H1N1 influenza outbreak in 2009. At the time of his passing, he was distinguished professor emeritus of medical microbiology and infectious diseases at UM and was working to develop an HIV vaccine.
"The work of Dr. Frank Plummer has had a tremendous impact on global public health, and he was a prime example of dedication and passion in one's profession," said Dr. David Barnard.
Plummer's many prestigious honours included the Order of Canada, the McLaughlin Medal of the Royal Society of Canada, the Prix Galien Research Award, the Canada Gairdner Wightman Award and the Flavelle Medal of the Royal Society of Canada.
"He was an outstanding, world-class researcher who was a dear colleague, mentor and friend to many of us lucky enough to work with him, and beside him," said Keith Fowke [B.Sc.(Hons.)/88, PhD/95], head of medical microbiology and infectious diseases. "He will be dearly missed by all of us in the academic and scientific community."