Convocation 2020: Honouring Indigenous graduates
June 29, 2020 —
Meet some of the incredible members of the University of Manitoba's class of 2020.
UM campuses are uniquely strengthened by Indigenous student perspectives. The Indigenous campus community includes many student leaders who continue to define new directions and move our nations, province and country forward with their ideas and passions. The following Indigenous students will graduate during UM Virtual Convocation on June 29.
Annie Beach – Bachelor of Fine Arts (Honours)
Since childhood, School of Art student Annie Beach has expressed her creativity, experimenting with different mediums with the support of family and teachers. Now, she marks murals as her medium of choice.
"I love being able to create these larger-than-life images. It feels more immersive as the artist to paint them, and more immersive for the viewer to experience the piece," says Beach, who has participated in over a dozen community mural projects since 2017.
Her work has also frequently appeared on UM campuses, including a mural at the Centre for Advancement of Teaching and Learning created with assistant professor (then graduate student) Katherine Boyer and curated by Indigenous designer-in-residence Sébastien Aubin. In the mural, Beach and Boyer used desire paths and hoop dance patterns to represent the Indigenous student experience.
"I owe so much credit to the School of Fine Art Students' Association for helping build a community on campus for student artists," says Beach, who sat on both the council and the UM Indigenous Students' Association. "I started to work with brilliant and hardworking Indigenous student leaders and that led me to so many opportunities to learn and connect with folks across campus as well as outside the city."
Building connections with the Indigenous campus community also helped her connect to her culture, adds Beach, who is Cree/Saulteaux and Ukrainian from Winnipeg, Man., with family from Peguis First Nation. In addition to events like the Annual Traditional Graduation Pow Wow, she counts experiencing her first Full Moon Ceremony and sweat on campus as highlights.
Beach hopes to continue working as an artist, teaching workshops and facilitating programming, and to explore other interests like an Indigenous doula course this summer.
"I never have the same day twice; there's always something new," she says. "I'm glad I found my passion and was able to follow it."
Dayna Bradburn – Bachelor of Nursing
Dayna Bradburn recalls an early childhood memory that helped set her future journey at UM in motion.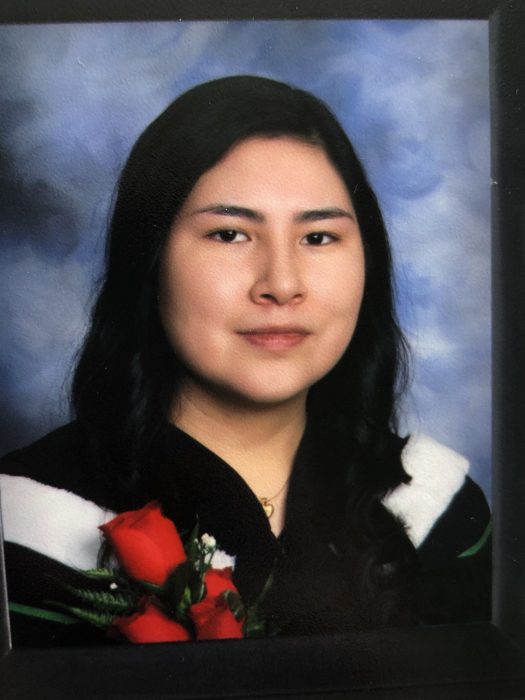 Her late grandmother mentioned that Bradburn would make a good nurse – encouragement that fostered Bradburn's interest in nursing and led to her eventual career path. "I could not imagine myself doing anything else," she says.
She began her studies with the Aboriginal Nursing Cohort Initiative Pre-Nursing Program, and is now graduating from the College of Nursing in the Rady Faculty of Health Sciences. "I chose this program at UM because I liked how integrated the Indigenous culture was on campus, and it felt right," says Bradburn, who is from Norway House Cree Nation, Man.
A personal highlight included attending conferences organized by the College. "That made a huge impact on me and opened my eyes to the endless possibilities of what nursing has to offer," she says.
Her best experiences at UM stemmed from the times when she stepped out of her comfort zone and moved past her fears. "That is when I truly made accomplishments in myself," she says. "Every exam, clinical and presentation I went through was worth it, to be where I am now – both personally and professionally."
Bradburn encourages other students to pursue their goals – "even the things that [they're] most scared of" – to build confidence in themselves. "If you fall along the way," she notes, "get back up and don't give up." She also recommends nursing students take advantage of the many resources and opportunities in the College of Nursing and at UM, like mentoring programs and writing tutors, which she calls invaluable. "Always seek guidance when needed," she advises.
Moving forward, Bradburn plans to continue to gain more clinical experience. "When the time is right, I hope to practice my passion in rural and/or northern areas in the future."
Genevieve Benoit – Juris Doctor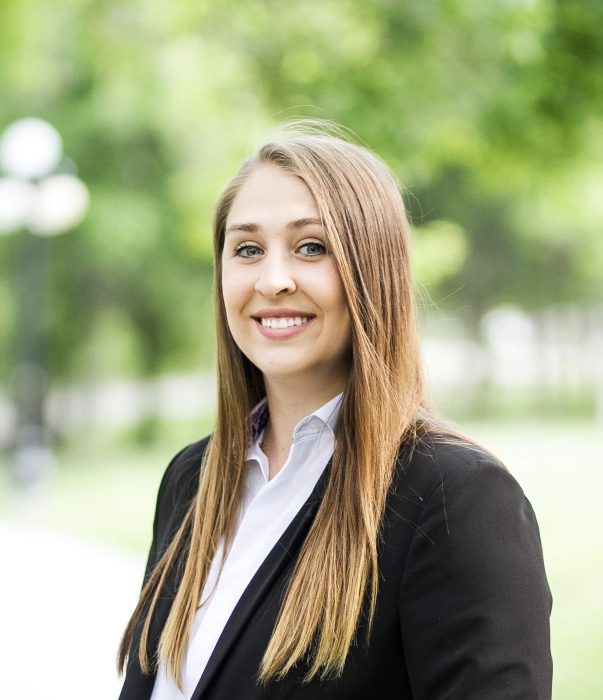 Community is at the forefront of all of Genevieve Benoit's endeavours. A Métis student from Winnipeg, Man., Benoit maintained strong ties to the Métis Nation – and the Indigenous campus community – during her time at Robson Hall Faculty of Law.
"I chose to study at Robson Hall to complete my legal education because it was close to my home, allowing me to continue my connections and relationships with my community, friends and family," says Benoit, whose recent degree follows a bachelor of arts in psychology, also at UM.
Through her studies, Benoit served in several roles on the Manitoba Indigenous Law Students' Association executive, one of which included advocating for Indigenous students in the faculty to ensure Indigenous voices were heard and students felt safe in the classroom. She also remains involved in numerous Indigenous and law initiatives across Manitoba, Canada and even internationally, recently interning at the Supreme Court of the Navajo Nation in Arizona.
Some of her personal highlights at UM included guest lectures like those from Métis lawyers Jean Teillet and Jason Madden. "It was inspiring to listen to individuals from my Nation lecture about the current state of Métis law in Canada," she says.
Her best moments at Robson Hall stemmed from taking risks, she notes – advice she passes along to new and current students.
"In my first and second-year summers during law school, I moved to Toronto to work at a law firm that specialized in Aboriginal law," she says. "The idea of moving for four months initially seemed daunting, but the skills and knowledge I was able to obtain as a result of the real-life experience was well worth it."
Now in her articling year, Benoit hopes to continue her legal career working for the Métis community in some capacity once she receives her call to the bar in 2021.
Carly McLellan – M.D. Doctor of Medicine
Growing up in Thompson, Man., Carly McLellan never had a stable family physician due to high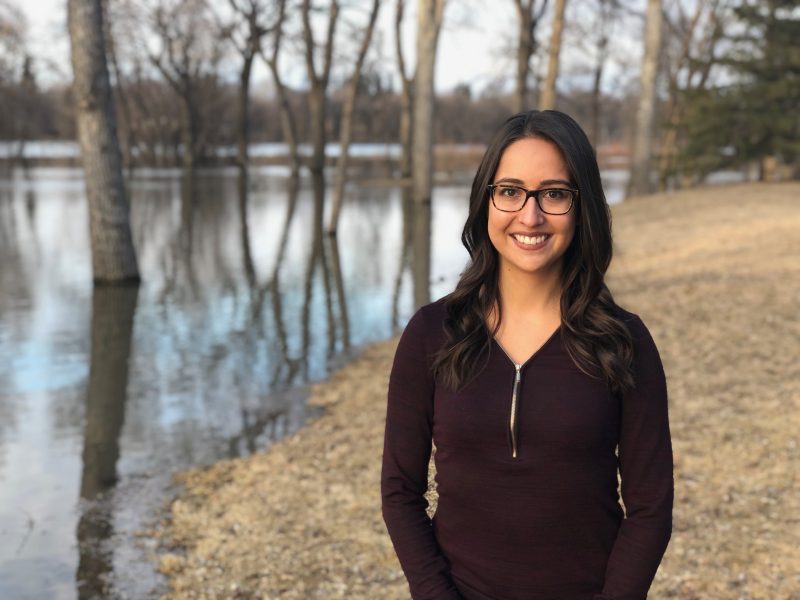 physician turnover in her community. She was interested in a health-related career, but it wasn't until she attended the Health Career Quest Summer Camp as a high school student that she met an Indigenous physician for the first time. The UM program had a profound impact on her – she decided to pursue a career in medicine, a goal from which she has not wavered.
"I felt that cultural competency and a continuum of care would positively affect the health of my community, and decided that maybe if I became a physician, I could help improve the health-care situation," she says.
The Cree and Métis student joined the Health Careers Access Program and is now graduating from the Max Rady College of Medicine, her second UM degree after receiving a bachelor of arts in Native studies, a highlight of her UM experience. "It was perhaps an unconventional path to medicine, but I can't think of a better knowledge base to start medicine with," says McLellan, who also counts receiving an Indigenous Award of Excellence as a highlight.
McLellan encourages students to place equal value on extracurricular activities and academics, and to take advantage of experiences like the Indigenous Circle of Empowerment during their time at UM.
Her next steps? She will complete her post-graduate medical education at UM and hopes to practice as a family physician in northern or rural communities.
"I will always remember my time at UM fondly; my experience here has shaped me into the person I am today," she says. "To any Indigenous youth who are considering post-secondary education – you do belong in these institutions. There are a lot of fantastic people working really hard to create an environment where you never have to question that. We believe in you and we need you."
Kristi Perrin – Bachelor of Commerce (Honours)
Kristi Perrin always knew she wanted to study business. "I feel like I had the personality for it," says Perrin, who was described as energetic and passionate when she won a Manitoba Aboriginal Youth Achievement Award in 2017.
Through her studies at UM, the Métis student from Portage la Prairie, Man. was heavily involved in campus programming. Upon learning about the Indigenous Business Education Partners (IBEP) prior to starting university, she knew it was a program she wanted to be a part of. In addition to roles on the Commerce Students' Association, she also volunteered with the Indigenous Commerce Students (UMICS) group, of which she served as president in her graduating year.
"The IBEP/UMICS community is absolutely second to none. I knew I had found lifelong friends very early into my experience with the program," she says. "Seeing the community of Indigenous students grow [in the faculty] is so rewarding, and I hope each student leans into being involved with IBEP/UMICS going forward. It truly enriched my university experience beyond measure."
Perrin, who majored in marketing and human resources management, also credits the Asper Co-op Program for developing her skills and facilitating invaluable connections – including one that led to her new role as a business development representative for Philip Morris International. "I couldn't have asked for a better fit to my skillset and career interests."
She counts the people she met at UM as a personal highlight. "To the Indigenous graduates especially, thank you for coming on this journey with me and accepting me in your community," she says. "And thank you to all of the faculty at Asper for making this experience what it was for me."
Her advice to new and current students is to get involved: "Find something that interests you and really sink into it."
At its 2020 UM Virtual Convocation, the University of Manitoba will confer degrees, diplomas and certificates on 4,255 graduates. Don't forget to check our UM Student Instagram to learn more about some of the students graduating on June 29, 2020. You can also join the 'Convocation conversation' on social media by following #umanitoba2020.