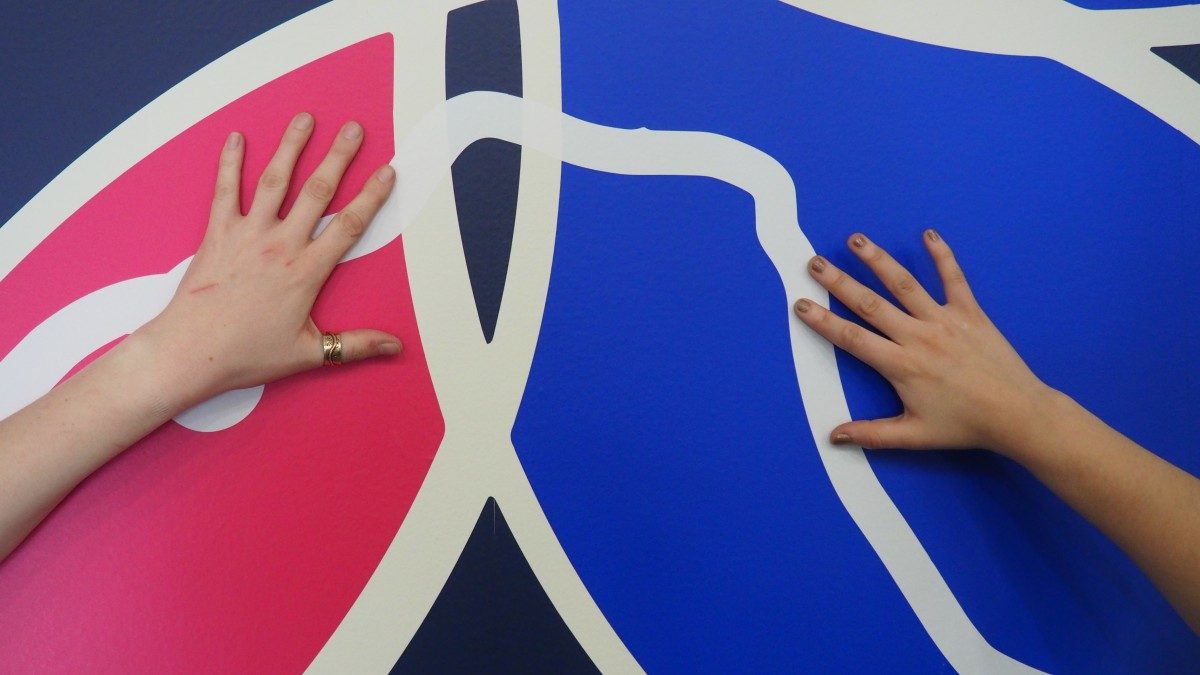 New mural connecting Indigenous knowledges and The Centre for the Advancement of Teaching and Learning
'Hoops for now' featured at the Centre for the Advancement of Teaching and Learning at 65 Dafoe Road
April 18, 2018 —
As part of an initiative to create connections between faculty and Indigenous knowledges, the Center for the Advancement of Teaching and Learning unveiled their commissioned art mural created by two talented Indigenous students. Both artists were mentored by Sebastin Aubin, Indigenous Designer in Residence and brought together to create the art mural located at the front entrance to The Centre.
The mural title 'Hoops for now' brings forward the ideas of unlearning and relearning Indigenous student experience at the University of Manitoba's Fort Garry campus.
Desiring to tell a story with lines
"The concept for the mural came from our own ideas of what learning can be like on campus when we tie in Indigenous ideas and knowledge, such as using storytelling as teaching, and how that method is utilized in indigenous cultures," explained Annie Beach, artist and third year Bachelor of Arts student with the School of Art.
"I was looking for something on campus that represented a learning and unlearning, which I personally tied to indigenization of institutions," said Katherine Boyer, artist and Graduate student with the School of Art. "I was watching green spaces, and the Duckworth quad in the center of campus specifically, for the desire lines that form from people walking through that space."
Desire lines are created by people walking a path that was not prescribed by an architect, a concrete sidewalk, or anything that has already being pre-established.
"I really saw desire lines as being a good metaphor for both student-led initiatives and individual lead initiatives," said Boyer.
"We came up with integrating the ideas that, everyone has a story to tell and their experiences here on campus tell that story with the lines that you see," said Beach.
Bringing worlds together
"I think one of the main goals of Sebastian's residency was to connect people across campus," said Boyer. "I think his intention was to bring all these different forces together and Sebastian was a really good communicator between all these forces."
In bringing together those forces, Sebastian also introduced both Beach and Boyer to each other, as neither artist had worked with the other before the mural project at The Centre.
"I think this worked well with each of us having our individual components and overlaying that," said Beach. "But I think having that common theme started us off; it very naturally connected both our ideas."
"Annie's component is really good at bringing attention to the negative space, so the actual segments of color are the negative spaces in the hoops," said Boyer. "I think we really played well with each other back and forth, because the Duckworth quad is kind of the negative space of the pre-established path. The actual desire lines that are created by people walking through there play with that space. That's where both of our worlds came together"
Hoops for now'… another vision for tomorrow
"The mural is design in a way that's not overdone," said Beach. "That it's temporary, then in the future, if they should continue this project then a couple of new students can represent their own vision."
"I think that the nature of Indigenization will be changing as it moves forward, so I think that the mural's temporary nature lends itself to that," said Boyer. "To represent these ideas in public forums is something that we have intrinsically signed up for by just being artists. It is what we are both graduating to do. As a fundamental principle of being an artist, that's exactly what we should be doing. The ability to implement it on such a scale is important. And is exactly how institutions should approach artists and Indigenous people."