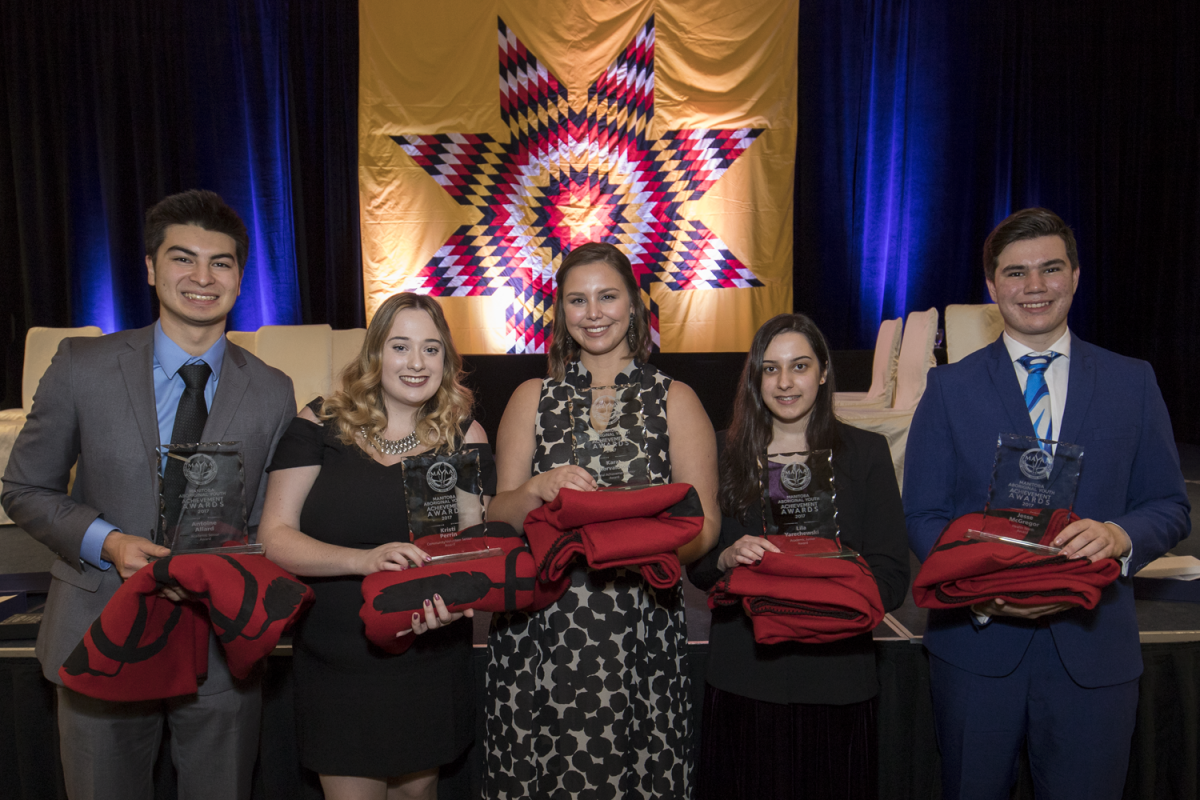 Five U of M students receive Manitoba Aboriginal Youth Achievement Awards
November 29, 2017 —
On November 23, 16 deserving Indigenous students were honoured with Manitoba Aboriginal Youth Achievement Awards (MAYAA).
The annual awards were formed in 1994 and recognize Manitoba Indigenous youth between the ages of 16 and 24 in areas including academic accomplishment, community involvement, culture, business and athletics. The MAYAA selection process is unique in that recipients are chosen by committees consisting of Aboriginal youth from the community.
Among the group were five individuals currently enrolled at the University of Manitoba.
---
Lila Yarechewski – Asper School of Business/IBEP – academic senior
Lila joined Indigenous Business Education Partners (IBEP) this past summer, after she graduated from high school and was accepted into the Asper School of Business. Among all of the direct entry students, Lila has presented the greatest high school average, having earned a 96.1% throughout her entire high school career. Lila even obtained a number of advanced placement courses, which allowed her to transfer her credits towards her university degree, which is yet another example of her academic strength.
Apart from being a disciplined student, Lila is deeply committed to giving back to the community in which she lives. She has been a mentor to Indigenous elementary school students for two years, a volunteer pre-calculus mentor for two years and a kindergarten class assistant for one year. In addition to these academically-oriented volunteer efforts, Lila has also volunteered and has been involved with student groups including Youth in Philanthropy, Charitable Ideas, Winnipeg Harvest and Siloam Mission, among many others.
Due to her leadership in academics and community involvement, Lila has received numerous scholarships, including the University of Manitoba President's Scholarship as well as IBEP's Outstanding Achievement Scholarship, which was the first time the award was offered to a direct entry student since the award's inception six years ago.
Antoine Allard – Asper School of Business/IBEP – academic senior
Antoine is in his fourth year in the Asper School of Business. He is a member of the Asper Co-op Program where he has completed one work term with Parks Canada working in their Marketing department. Antoine is the current Vice President of Marketing for the University of Manitoba Indigenous Commerce Students (UMICS) as well as the Executive Coordinator of the Metis University Students Association (MUSA) where the group works to encourage, preserve and discover Metis culture with Metis and non-Metis students. Antoine off-campus also spends time supporting the development of youth through coaching volleyball.
Kara Thorvaldson – Asper School of Business/IBEP – personal achievement senior
In April 2015, Kara was involved in a serious car accident that broke her back and pelvis in two places. Despite a difficult eight-month recovery period, Kara maintained a positive attitude and continues to approach life with great optimism, serving as a source of inspiration to other students with whom she interacts. She began university the following fall and earned a spot on the University One Honour Roll. She is also the current Vice President of Operations for the University of Manitoba Indigenous Commerce Students (UMICS).
Kara has also volunteered her time to IBEP to help with events such as the Evening of Excellence. Kara has also been a member of the Métis University Students Association (MUSA) where she regularly volunteers at their events. Once Kara completes her Bachelor of Commerce Honours Degree (Marketing and International Business majors) she intends to become an entrepreneur and start her own business.
Kristi Perrin – Asper School of Business/IBEP – community/volunteer senior
Kristi is entering her third year within the Asper School of Business and is energetic and passionate, being known amongst her peers as one of the most determined and caring individuals in the IBEP community. She is always willing to volunteer her time to help others, which can be shown by her continual involvement with the Rotary Club, offering her time at fundraising events and helping exchange students who come to Portage La Prairie. Kristi serves as the Commerce Students' Association (CSA) Special Events Coordinator. In this capacity, she plans events that provide Asper students an enhanced university experience.
Kristi is a motivated student who truly wants to enhance Indigenous culture within the I.H. Asper School of Business.  She is accomplishing this by volunteering her time as a member of the University of Manitoba Indigenous Commerce Students (UMICS) by attending member meetings and is often the first person to volunteer when asked for help at student groupevents.  Kristi also has on many occasions volunteered at IBEP events such as the Evening of Excellence helping to showcase business as a possible career path for Indigenous students. Further, she has emceed two university events – the Mawareness day and the IBEP graduation.
Jesse McGregor – University 1/ACCESS – health north
Jesse's long-term goal is to work in the healthcare field. He's been heavily influenced by family, as two of his aunts are doctors, while his mother is the director of patient services back home at Norway House. McGregor – who is currently in his first year at the U of M – was one of three high school students to receive a BMO Financial Group Indigenous Leader of Tomorrow (ILOT) scholarship this past March, which highlights exceptional high school graduates who combine outstanding leadership potential, academic giftedness and continuing community involvement.
---
UM Today also caught up with Allard and McGregor to discus their experiences and what earning a MAYAA means to them.
Allard
UM Today: You're the current Vice-President of marketing for University of Manitoba Indigenous Commerce Students (UMICS), as well as the Executive Coordinator for the Metis University Students Association. How do you manage both of these jobs, and in your eyes, what value do these roles have?
Allard: Funny enough, I actually ran for MUSA and UMICS at the same time, because I wasn't sure if I was going to get either of the positions. Obviously I was ecstatic about both, but I was a little worried about my time-management. As of now, it's been really great. I've been able to manage time and school – and I work part time – but I've been able to manage it all sufficiently. It's nice, because for UMICS, we're more of a member-focused group, so we really try and just focus on our members and see what we can do for them. And for MUSA, we're really trying to promote being Metis at university and trying to make sure that people understand what their culture is, and make people find out what it is for them.
Tell us about the opportunities you've had with Asper's Co-Op Program.
So there's three work terms. The first term this past summer, I worked at Parks Canada as a marketing assistant. When they posted the job when we were job interviewing last February, I was like wow, that's an organization that's Canada-wide, it's somewhere that I would really like to work for, and it's been great so far. I was a travel trade assistant and worked with people around the world, doing a bunch of market research on different products. I enjoyed it so much that I'm going back there for my second work term and I'm super excited about that. I'll be back there in the winter. I'm also currently working for Parks Canada part time once a week staying afloat with the finances until returning in the winter.
 What kind of impact has IBEP had on you?
I joined the program in my second year, and right away, all the students were so welcoming. I went into the lounge obviously a bit nervous because I didn't know anyone, but people were so welcoming and I made friends so quickly. On the academic side, they provide any tutoring and advice that you need, and they even have a special job fair for us, so that's obviously really great. I really can't say enough good things about them. I've gotten so many great opportunities through IBEP, I've made so many great friends, and that's a big reason why I'm on UMICS right now, is because they've given me so much, and I love to give back.
What does being recognized with this award mean to you?
I've never thought of myself as that genius-type person, so when I got the nomination for academic senior, I was surprised. I've gotten to this point because I've managed my time really well, I've worked really hard on everything I do and I've really just poured my heart and soul into school and everything else that I do. Receiving this award is just something that means so much to me, because it means that someone recognized me for my hard work. Even though I'm not the smartest person in the room, like I said in my speech, I feel like you can still be recognized and you can still do whatever you want to do, as long as you work hard enough and put your mind to it.
What are you goals going into the future?
Short term, obviously I want to finish my degree. I also want to make sure that MUSA continues even after we're gone here from the university. The fact that there are so many Metis students and they don't really feel like there's a place for them on campus, obviously that's something we should keep focusing on, and making sure, in the short term, that that's something that improves. Long term, I just want to make sure that I'm staying involved with the community and make sure that I stay within my culture and stay proud of it. I also want to become a marketing manager somewhere, where I can make a difference in the lives of others.
---
McGregor
UM Today: What did earning an ILOT scholarship mean to you?
McGregor: There's so many different benefits coming from an award like this. For me, I've gotten interviews for job opportunities, I've been invited to press conferences, and I've met so many different people around the University of Manitoba. It's really made my transition from high school to university a way easier process.
How has the ACCESS/Aboriginal Focus Program program aided in your transition to university?
I wouldn't be doing this interview today without the ACCESS program. The classes are designated for the students who are in those programs, so there's only 30 people. I have a great study group that helps me out with all my classes. We also have five free hours of tutoring that I take advantage of dearly, because I need it. Those are things you wouldn't get unless you were part of the ACCESS program. They come to you and provide the services, it's not something you have to find or stress about. It's a lot of help.
Can you talk about the significance of winning a MAYAA?
I know I just got it recently, but at the same time, it had a huge significance to me, because of course we're getting to the time of the year in school where stress is high. I've had a hard time personally with my courses recently, but receiving the award was just a message to me to keep going and to keep pursuing my dreams. I also want to use my accomplishments to inspire those back home to pursue their dreams instead of just staying home. There's a whole world to see outside of the reserve, and coming to the University of Manitoba was one of the best decisions I've ever made.
What realm of medicine would you like to pursue?
I know medicine isn't an easy career to pursue. There's a lot of years behind it and it's going to be stressful, but there's so many people that I want to make proud. I'm looking into family practice, physical therapy or paediatrics. My ultimate goal as a future doctor hopefully, is to go back to the reserve and to help out where I came from and where they built me up. Healthcare is always a major issue in many reserves, and I know back home we have a pretty strong health system already, but they always need family practitioners and things like that to aid the community of course.