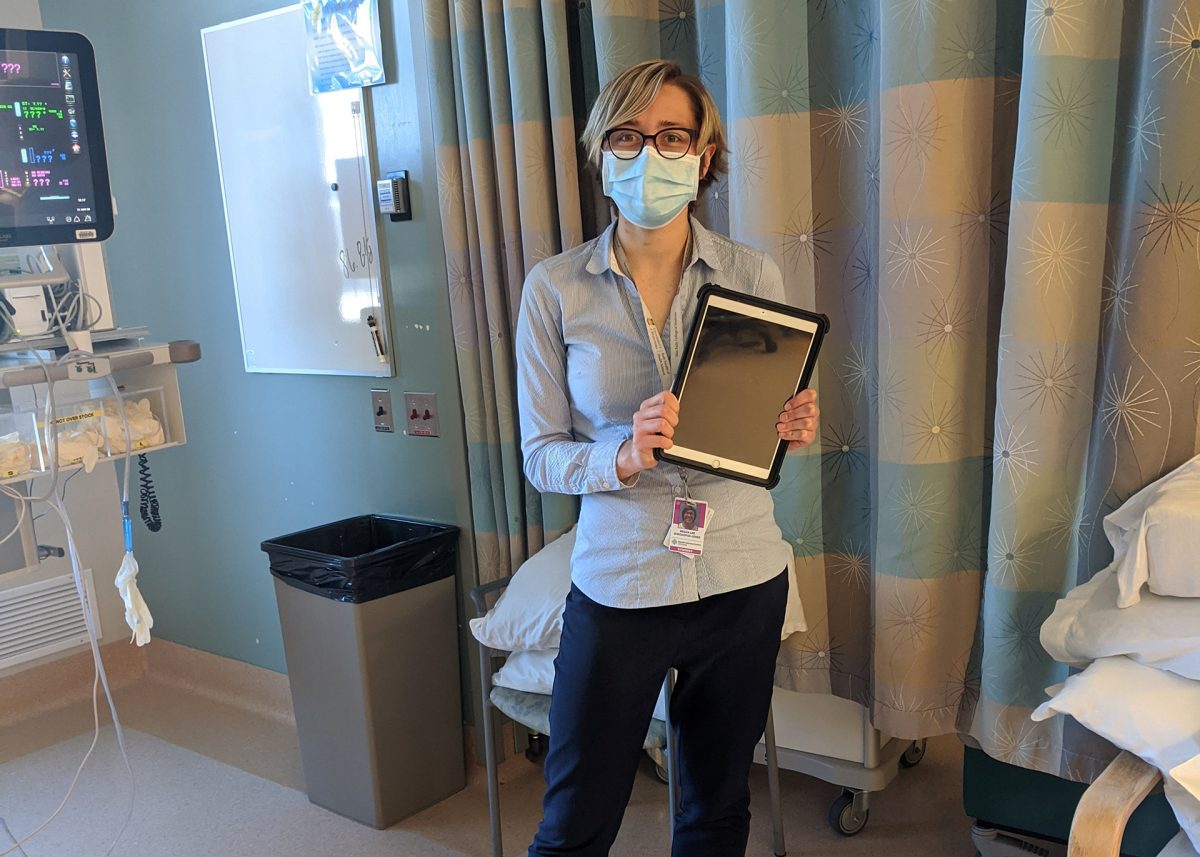 UM community adapts to face COVID-19 challenges
Researchers, alumni, donors, faculty and students respond with leadership
February 5, 2021 —
On Jan. 29, 2021, media giant CNN ran a story about whether the Tokyo Olympic Games should be held at all this year. The first expert quoted was UM virologist Dr. Jason Kindrachuk, whose knowledge and insight into the COVID-19 pandemic are much valued around the world. His ability to explain epidemiology concepts to a lay audience makes him a valuable resource for media seeking to cover the "story of the century."
Kindrachuk, assistant professor of medical microbiology and infectious diseases in the Max Rady College of Medicine, Canada Research Chair in Molecular Pathogenesis of Emerging and Re-emerging Viruses, and researcher with the Children's Hospital Research Institute of Manitoba (CHRIM), has done more than 400 interviews about COVID-19 with TV, radio, print media outlets. But he's only one of dozens of UM community members who have been studying or assisting with the fight against the deadly disease.
From the very beginning of the pandemic, UM researchers, educators and students have been applying their knowledge and training to managing or dealing with the effects of COVID-19. Since then, the degree to which the UM community has stepped up to aid in the global effort against the pandemic has ranged from research to selfless voluntarism.
Like every community around the globe, UM adapted to face the challenges brought on by the pandemic. Hundreds of UM students volunteered to help in many important roles. UM medical students worked in Winnipeg hospitals to ensure patients in intensive care units (ICUs) were able to stay in touch with their families while COVID-19 restrictions were in place.
One of our alumni, who was instrumental in helping to find a vaccine for Ebola several years ago, worked with an international team to better understand COVID-19. We even developed a new course on COVID-19 that looks at how the media has covered the pandemic.
As the world realized N95 masks were in short supply, physicians and faculty members in the Max Rady College of Medicine worked with scientists at the National Microbiology Laboratory to test whether N95 masks could be effectively sterilized for reuse. Dr. Anand Kumar, professor of internal medicine, medical microbiology and infectious diseases and pharmacology and therapeutics, quickly published a paper advising health professionals of the findings.
During the past year, UM researchers were successful in receiving government funding for many COVID-related projects in both the sciences and the humanities. A team led by Dr. Jorg Stetefeld, Canada Research Chair in Structural Biology and Biophysics, received $950,000 from the Canada Foundation for Innovation (CFI) to use cryo-electron microscopy to guide rapid development of novel therapeutic strategies and improved diagnostics for COVID-19.
Dr. Stephanie Chesser, Kinesiology and Recreation Management, with co-investigator Dr. Michelle Porter of the Centre on Aging, was awarded $24,821 from the Social Sciences and Humanities Research Council to explore public messaging about COVID-19 and its impact among older people. And Dr. Kendra Nixon from Social Work, director of RESOLVE, received $24,780 from CFI for her project investigating COVID-19 and the experiences of intimate partner violence survivors and service providers.
In September alone, Research Manitoba announced $3.8M in research funding to support recipients of the Manitoba COVID-19 Rapid Response Grant Competition and eight Manitoba clinical trials related to COVID-19 and applied health research. All recipients are UM researchers in the Faculty of Agricultural and Food Sciences, Rady Faculty of Health Sciences and the Faculty of Arts.
And while vaccines from Pfizer and Moderna are better known, UM has two of its own COVID-19 vaccines under development in the labs of Dr. Xiao-Jian Yao, professor of medical microbiology and infectious diseases in the Max Rady College of Medicine and researcher with CHRIM. Both vaccines are in the pre-clinical stage. One uses coronavirus proteins in the form of virus-like particles, which "look like" a virus to the immune system. The other is a viral vector vaccine, which uses a "carrier" virus to transport coronavirus genes into the body.
The battle against COVID-19 is fought not just in labs but on the front lines and among those infected by the virus. Students and staff from the UM community have been stepping up to help where they can, from hospital ICUs to screening centres.
Over 100 fourth-year UM nursing students had to unexpectedly leave their three-week community health clinical placements in mid-March 2020 when the COVID-19 pandemic hit Manitoba, but they soon found themselves working directly in the fight against the spread of the coronavirus as screeners for Health Links – Info Santé.
Courtney Masson, 22, was at her clinical placement at Main Street Project on March 13, 2020, and days later was answering calls at the 24/7 phone-based nursing triage system based out of Misericordia Health Centre.
"I was surprised by the number of calls. They had 3,000 calls in one day," she said. "That's a lot of people asking questions, a lot who were sick with a cold and they don't know if it's COVID-19 or not. We were trying to help people feel safe and guide them on where to go if needed."
UM graduates are also prominent leaders in management of the pandemic. Two outstanding UM alumni, Manitoba's Chief Medical Officer Brent Roussin [BSc/96, MD/00, JD/09, MPH/11] and Chief Nursing Officer Lanette Siragusa [BN/95, MN/08], have been in the public eye almost since the beginning of the pandemic, setting policy and advising Manitobans on health orders, and providing statistics on the spread of the disease.
As well, through $3.1 million from the Manitoba government's Manitoba Scholarship and Bursary Initiative and the generosity of UM alumni and donors, an additional $4 million in bursary support will be made available to provide immediate financial assistance to over 5,000 UM students. Donors have also partnered with UM to help eligible students acquire financial support for needed technology through the COVID-19 UM Student Technology Fund, which has raised $245,000 to offer meaningful support to students in continuing their studies remotely.
From the front lines fighting against COVID-19 infections to research on ways to combat the disease, to innovation in education and knowledge transfer, members of the UM community have been and will continue to be leaders for the benefit of all Manitobans.