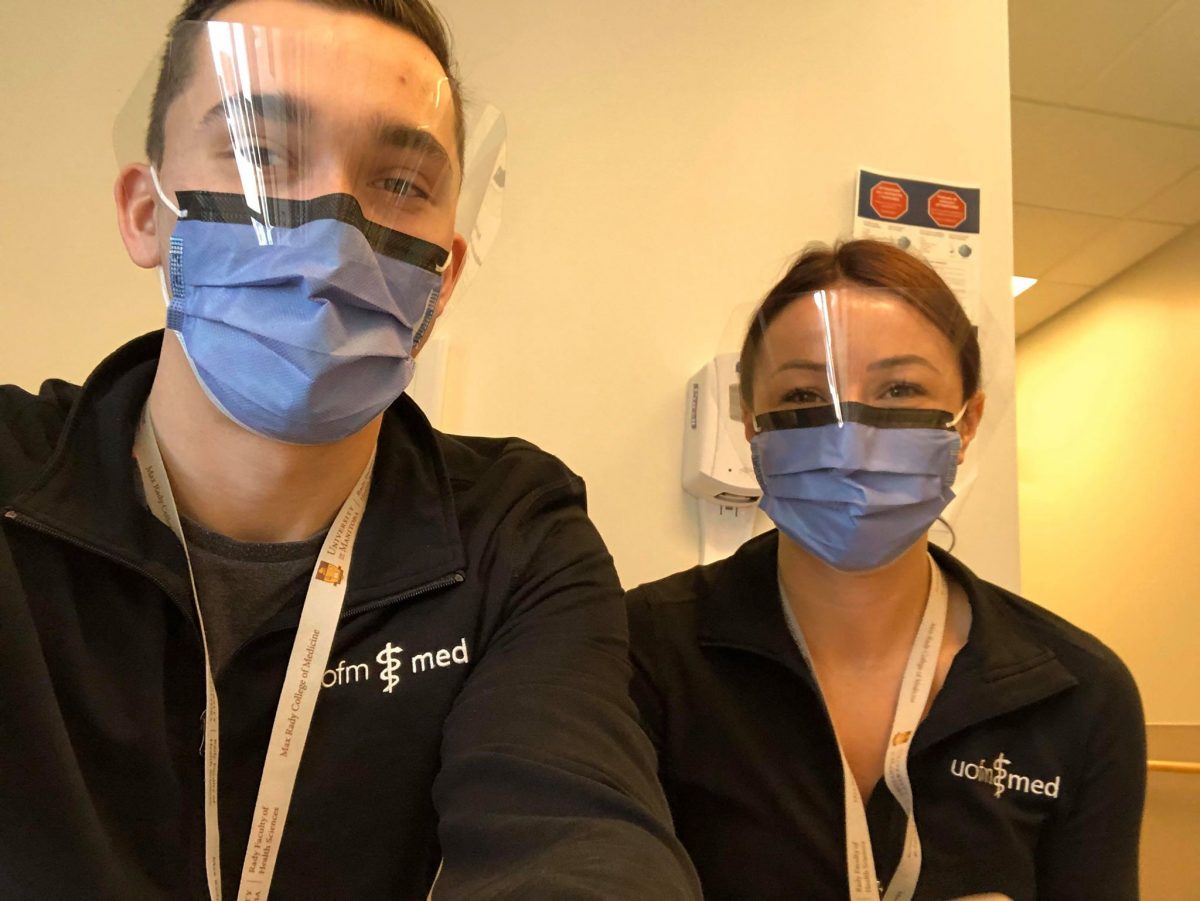 Alumni eNews: A year in review
Find out what 2020 stories shaped our year!
January 5, 2021 —
We've collected twelve of our most popular stories from 2020 that act as highlights of the year. While we could have shared a full newsletter of COVID-19 related stories, and the University of Manitoba's response on that alone, we take the opportunity to share with you a broader range of news stories from our community throughout the year.
From the wrap of the Front and Centre Campaign to the welcome of our new President and Vice-Chancellor —they summarize a year like no other at the University of Manitoba. Thank you for continuing to stay in touch with us and we wish you a happy and healthy 2021.
Faculty of Engineering named in honour of monumental donation by Dr. Gerry Price and family
The Faculty of Engineering at the University of Manitoba bears a new name, thanks to a transformative $20 million investment from visionary philanthropists Gerry and Barb Price. Read more.
UM mourns victims of plane crash in Iran
The University of Manitoba was deeply saddened by the news of Ukraine International Airlines flight PS752 that crashed near Tehran on Jan. 8, 2020 with UM alumni and students on board. Read more.
Mourning the loss of Dr. Francis Plummer, OC OM FRSC, (MD/76)
Dr. Francis Plummer, a world-renowned scientist, academic and HIV/AIDS researcher, passed away at the age of 67 in Nairobi, Kenya, where he was visiting in celebration of the 40th anniversary of the Manitoba/Kenya research collaboration. Read more.
Rady students step up to help with COVID-19 response in Manitoba
In the early days of the pandemic over 600 students across the Rady Faculty of Health Sciences stepped up to assist with COVID-19 response efforts. Read more.
WATCH: Front and Centre Campaign Celebration
Together we made history! At the heart of the Front and Centre campaign are the 62,075 donors – including 25,806 alumni – who took their place to transform the University of Manitoba. Watch how we celebrated.
Vice-dean of Indigenous health bridges professional work with community
A day-in-the-life of Dr. Marcia Anderson includes a balance of motherhood, a fierce commitment to her community and continuous work in Indigenous health and healing – and her achievements have not gone unnoticed. Read more.
Welcoming Dr. Michael Benarroch, UM's 12th President & Vice-Chancellor
In July, we welcomed Dr. Michael Benarroch back home to Manitoba to lead the University of Manitoba as our 12th President and Vice-Chancellor. Read more.
Disruption of all Forms of Racism policy approved
This fall, the Rady Faculty of Health Sciences' Faculty Executive Council approved the RFHS Disruption of all Forms of Racism policy: the first anti-racism policy to be passed by any faculty or post-secondary institution in Canada. Read more.
Calm in crisis: Dr. Brent Roussin on leading Manitoba's pandemic response
There was not much time for Dr. Brent Roussin to acclimatize to his new job as Manitoba's Chief Public Health Officer, which began on June 3, 211 days before the Chinese authorities announced they were treating dozens of strange medical cases that were later reported to be a novel coronavirus. Read more.
What happens when you act on your passion?
These are the stories of people who saw new ways of doing things, who overcame, who are bold with their ideas and moved by their passion. Introducing the 2020 recipients of the University of Manitoba Distinguished Alumni Awards. Read more.
Technology now a vital tool for pandemic learning
For some UM students, COVID-19 not only cost them their jobs, it very nearly forced them to put their education on hold too. With access to on-campus computers severely restricted, and most courses delivered online, they suddenly found themselves without access to a computer and unable to afford their own – at a time when they needed it most. Read more.
Three UM researchers among most powerful women in Canada
Three professors at UM have been named among Canada's Top 100 Most Powerful Women in 2020, by Women's Executive Network (WXN). Read more.