faculty research News Archive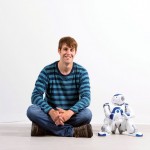 September 15, 2015 —
If we want to get along with robots, we need to make them more like us, says James Young.
+
April 29, 2015 —
The $12,000 award goes to academic researchers in the early stages of their careers who display exceptional innovation, leadership and promise.
+
March 2, 2015 —
Northern Social Work Program's Collaborative Research on Homelessness in Thompson, Manitoba.
+