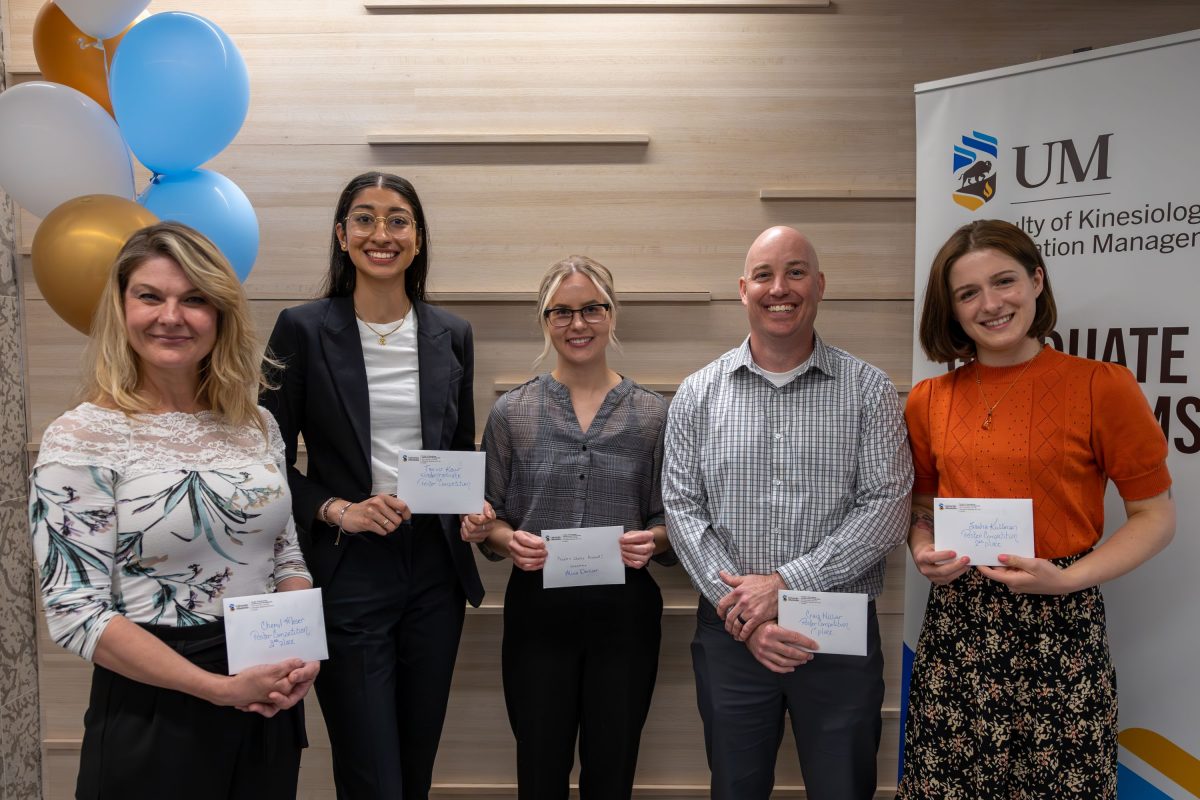 Research Day is expanding horizons
The annual event allows students the chance to connect with other researchers across FKRM and beyond.
May 25, 2023 —
On Wednesday, May 10, the Active Living Centre Agora was packed with students and faculty to celebrate the annual Research Day. The annual event celebrates the variety of research happening throughout FKRM. It is an opportunity for guests to celebrate ideas, gain insight, and be inspired.
Not without its healthy dose of competition, Research Day also hosts the annual Poster Competition, a chance for graduate students to present their research. They answer questions, and a winner is selected based on the poster's content, quality of research, originality, and presentation.
"I'm really glad our faculty puts something like this together and lets students network and showcase their work," said Sasha Kullman, who came second in the poster competition.
Kullman said the opportunity for knowledge sharing and the chance to broaden your horizons is one of the reasons why events like Research Day are so important. There were three speakers throughout the day to allow guests to explore some of these new horizons.
FKRM's Gordon Giesbrecht presented "What is Research Day," a session exploring the importance of research and talking to people about that research. The talk looked back at the retiring professor's career and the ever-important first step of getting your voice heard.
Tina Chen, a history professor with UM's Faculty of Arts, presented "Equity, Anti-Oppression, Empowerment and Community as Research Praxis: Reflections from Figure Skating." Her session looked at sports activism and research and the importance of intertwining theory and action to transform institutions and cultures, drawing on her past sports experiences.
Before the afternoon poster competition, a mentorship session was held with keynote speaker Janelle Joseph, an internationally recognized and award-winning scholar from the University of Toronto.
Tanvir Kaur, an undergraduate student participating in the Poster Competition, said it was inspiring to hear from the speakers, like Joseph, about the roadblock they faced in their careers and how not everything was a smooth path.
"It's really cool to hear that they started in the same place as me one time," said Kaur. "Like I'm not the only one who is struggling."
Alina Derksen, another competitor in the Poster Competition, echoed Kaur's belief. She said that as a student, you can often feel overwhelmed looking at your degree path, but events like Research Day are an opportunity to see the successes and achievements of those on the same path.
"Everybody starts somewhere," said Derksen. "It is a very big motivator."
The afternoon Poster Competition allowed guests and participants to explore the extensive research happening across the faculty. Thirteen presenters entered the competition, and there were five prizes.
The day ended with Joesph's keynote talk, "The Politics of Storytelling: Research for Resistance and Re-existence in Sport and Physical Culture."
The session focused on narrative justice, digital storytelling, the power relationship between private and public realms, and how it is revealed through storytelling. The talk drew on black feminist philosophers, griots, artists, activists, academics, and ancestors, putting sport and the moving of bodies at the center.
Joseph said that events like Research Day are a "give and a take," allowing participants the chance to have their voices and research heard and hear from others and learn.
"When you get to bring people with a variety of experiences and expertise, even staff and faculty and student roles in the same place, there is bound to be magic that happens," said Joseph.
Following the keynote, the winners of the Poster Competition were announced. The five winners were:
1st – Craig Hillier (advisor: Ben Schellenberg)

Building Champions: A Savouring Intervention Feasibility Study with Elite Adolescent Tennis Athletes

2nd – Sasha Kullman (advisor: Shaelyn Strachan)

Engaging Patients and Community Partners in Developing the Calm Hearts Intervention

3rd – Cheryl Moser (advisors: Kathryn Sibley and Cheryl Glazebrook)

A Qualitative Descriptive Exploration of Physiotherapists' Experiences with Integrated Knowledge Translation Research Collaborations Related to Balance Measurement Practices in Canada

Undergraduate poster winner – Tanvir Kaur (advisor: Rodrigo Villar)

The Effects of Postural Transitions on Physiological Responses in Young Males and Females

People's choice winner – Alina Derksen (advisor: Rodrigo Villar)

Reliability and Agreement af Heart Rate Variability Between Garmin Vivosmart®4 and Electrocardiogram in People Living with Frailty: A Pilot Study
The winners reflected on something Gordon Giesbrecht mentioned during his earlier session. He told the audience always to try and walk away from any research event with one new idea.
Craig Hillier said his takeaway was that the next step of any of the research presented could affect real change at higher levels, and thanks to events like Research Day, he has a better idea of how he will do that.