Graduates News Archive
April 16, 2022 —
On Saturday, April 30th, the halls of ARTlab will come to life with students, their families, guests and community members checking out the artistic achievements of students in the 2022 Bachelor of Fine Arts Honours Exhibition. ARTlab will be transformed from a school to an exhibition centre where the hallways, studios and even classrooms will showcase works ranging from paintings, drawings and prints to sculpture, installations and video projects.
+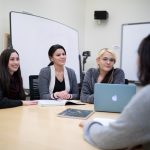 April 4, 2022 —
Are you looking for a career that provides exciting potential and immense satisfaction in developing and serving your community? Become part of the transformation of libraries and information services by pursuing a career in librarianship.
+