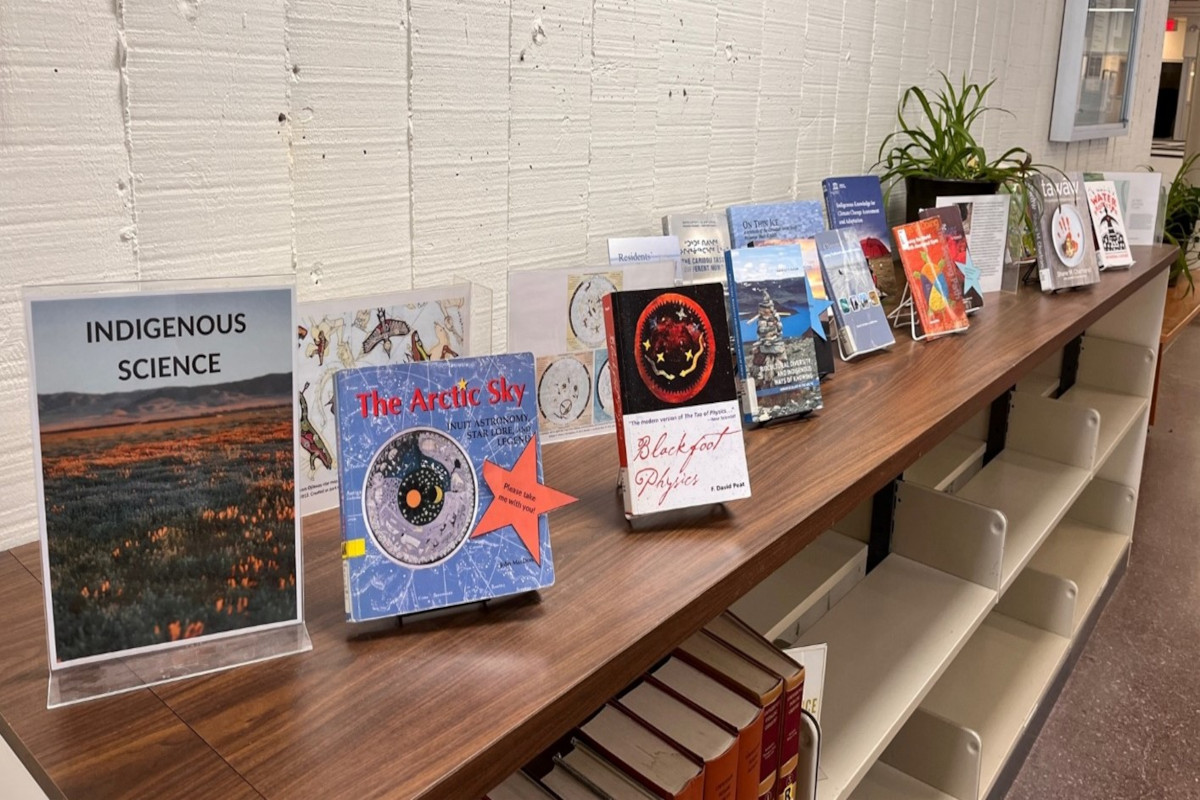 Indigenous science book display in UM Libraries
Librarian Intern finds importance in Indigenous library work
March 31, 2023 —
Stop by the Jim Peebles Science and Technology Library in Machray Hall to take a look at our new Indigenous science book display.
UM Libraries staff Shirley Delorme Russell and Justin Fuhr selected books, images, and excerpts to display to Science Library patrons as they enter the library. Books by Indigenous and non-Indigenous authors were selected, and topics include Indigenous research methodology, astronomy, physics, environmental science, ecology, and food sciences.
Titles include Blackfoot Physics by F. David Peat, Science and Sustainability: Learning from Indigenous Wisdom by Joy Hendry, Pollution is Colonialism by Max Liboiron, and tawâw: Progressive Indigenous Cuisine (various authors). See the full list of books on display in Primo here. To showcase UM's undergraduate sciences research, a poster by a recent graduate of the Faculty of Science's Wawatay program was added to the display.
On the first day of the display, several books were checked out — students still read the occasional physical book!
Justin and Shirley are also collaborating on an Indigenous Science subject guide, which will be incorporated into other guides for the sciences, engineering, agriculture, food science, and environment, earth, and resources.
Shirley, an Indigenous Librarian Intern working with the Jim Peebles Science and Technology Library, was tasked to identify Indigenous-authored science books.
Along the way, Shirley discovered many difficulties that students might encounter when searching; searching science terminology with "Indigenous" was not a guaranteed hit. Often the terms had to be interchanged with First Nations, Métis, Inuit, Aboriginal, and even Indian to get resource hits. Resources most often found when searching "Indian" were from the United States; Australian and New Zealand resources came up when searching "Aboriginal." It required quite a bit of time and patience to find relevant resources.
Shirley is a well-educated and experienced Métis and Anisinaabe woman, so finding items in a university library catalogue in 2023 that still said "Indian" was shocking and hurtful to her. For example, when searching the UM Libraries for books such as Braiding Sweetgrass by Robin Kimmerer, the descriptive information includes subjects like "Indian philosophy," while Native Science: Natural Laws of Interdependence by Gregory Cajete includes "Indians–Science" and "Ethnoscience."
By working with the UM Cataloguing & Metadata Librarian, Shirley was better able to learn and understand why items in our library are described as they are and what path is being taken with descriptive metadata practices to more accurately and respectfully represent Indigenous peoples in institutions like libraries. Her experience with this project taught her more about problem-solving and the importance of Indigenous library work in identifying and correcting the use of inappropriate references in order to move our institutions forward along the path of truth and reconciliation.
UM Libraries is committed to creating pathways to Indigenous achievement and one of the ways is to encourage a more Indigenous graduates to consider pursuing the Library and Information Studies profession. UM Libraries has two Indigenous Librarian Internship positions which provides tuition for pursuing a Master's degree and a paid part-time position in UM Libraries while doing so.
Learn more about the Indigenous Librarian Internship session on April 17.