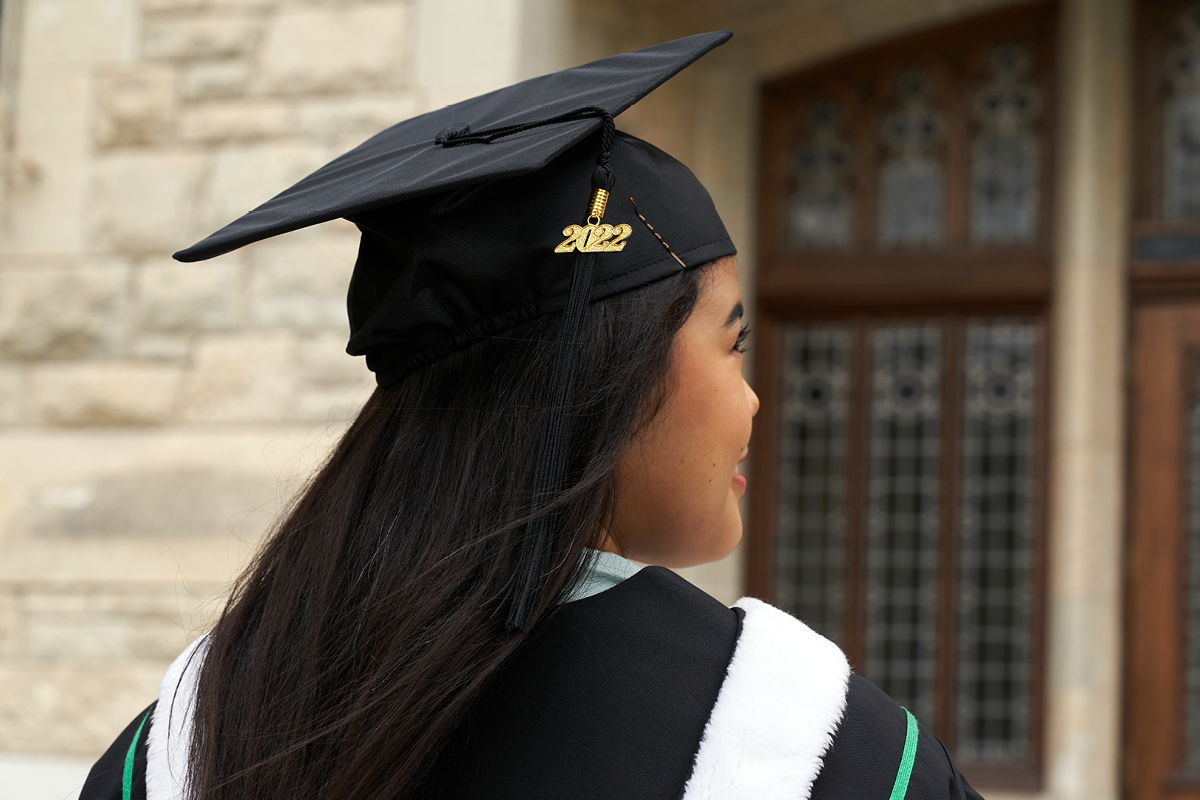 Spring Convocation 2022: Introducing the Governor General's medal recipients
June 3, 2022 —
Meet some of the most exceptional members of the University of Manitoba's class of 2022! These scholars have consistently shown excellence and determination, and they will lead our world into a better future.
These students will be awarded the Governor General's academic medals, for outstanding achievement at their level of study. They will graduate during Spring Convocation, June 7-10. Congratulations all of our graduates!
Brooke Elizabeth Beatie, Faculty of Graduate Studies (Arts)
Governor General's Gold Medal – Awarded for outstanding achievement at the PhD level
Representing the next generation of mental health care professionals, Brooke Beatie is set on making a significant and important impact on the community. With a master's degree and now a PhD in clinical psychology, her expertise lies at the intersection of research and clinical work in a variety of mental health domains such as trauma, anxiety, psychosis, mood and health psychology.
Her graduate training consisted of over 1000 hours of clinical work in community and hospital settings focusing on assessment and intervention services for patients with complex mental health needs. This included a pre-doctoral residency at the Royal Ottawa Mental Health Centre.
Beatie's background in academic research has resulted in 14 peer-reviewed publications and 26 peer-reviewed conference presentations in the areas of mental health help-seeking and service utilization, geropsychology, and health psychology in community and clinical populations and more. Her research has largely focused on the social nature around mental health service utilization and aims to inform the world's knowledge on barriers to mental health services faced by different demographics.
Although her list of achievements is already nothing short of excellent, the work isn't done yet. Beatie is in the process of obtaining registration as a clinical and health psychologist. She recently accepted a hospital-based psychologist position at St. Boniface Hospital in which she will provide clinical psychology services on medical and mental health hospital units. Beyond practicing her profession in a hospital, she is also an assistant professor in the department of clinical health psychology at UM where she will continue delving into clinically-relevant research in the field.
Being an accomplished scholar comes at a cost yet Beatie will never fail to appreciate life lessons learned during her university experience. As she explains, "life is going to continue to evolve and unravel alongside and within graduate school. It can be painful, incredible and mundane, all in one. Finding your people to share in the ride makes the hard times a little less hard, and the joyful moments that much sweeter."
Danielle Cherpako, Faculty of Graduate Studies (Arts)
Governor General's Gold Medal – Awarded for outstanding achievement at the master's level
Danielle Cherpako naturally gravitated towards political studies as her major. She's constantly fascinated by how politics and power relations impact every aspect of life and in turn, makes for a very dynamic career path. Improving Canadian policies particularly through the lens of increasing transparency and encouraging more public consultation has been at the core of Cherpako's academic research on sanctions.
Cherpako completed her bachelor of arts in political studies at UM and went on to pursue a master of arts in political studies while maintaining various positions as she completed her studies.
She has worked with many distinguished organizations and taken part in influential projects. These include her position with Trent University's North American and Arctic Defense Security Network and Transport Canada. Cherpako has volunteered and interned with United Nations projects and departments, one of which ultimately led her to her current position.
Cherpako looks forward to continuing her work and making meaningful change while applying the most valuable skills she gained from the university experience. "I learned the importance of two key skills: critical thinking or questioning what you know, and asking questions to clarify, gather information, or out of genuine curiosity," she says.
She is currently working as an associate political affairs officer with the United Nations Department of Peace Operations, Evaluation Team. Her work focuses on improving accountability in peacekeeping. By conducting integrated planning and performance assessments of peacekeeping missions, the data they collect creates a foundation for more evidence-based decision making.
Maxim Piche, Faculty of Science
Governor General's Silver Medal – Awarded for outstanding achievement at the undergraduate level (within a degree program at least four years in length)
Program Medal for Science, Honours Degree – Awarded for highest standing in a faculty, school or college program
While everyone in Maxim Piche's life can attest to his perseverance and determination, his success is also rooted in his passion for mathematics and on a broader scale, lifelong learning. In his academic and professional career, this translates into completing a bachelor of science in statistics and actuarial mathematics.
A heavy course load didn't stop Piche from making the best of his undergraduate years. Whether it's through internships, volunteer work, summer research or student groups, Piche was committed to his growth as a student and as a person. His wide range of experiences in professional development include working as a statistics teaching assistant at UM, completing three actuarial internships with different insurance companies and undertaking an undergraduate statistics research project.
He also filled the position of secretary for the University of Manitoba Actuarial Club, which he considers a major part of his support system throughout his degree. Above all, he is grateful for his parents who have raised him to prioritize education and helped him develop a strong work ethic.
He explains: "No one wakes up one day and is surprised that suddenly they've achieved all of their goals. Instead, goals are achieved through consistent effort over time."
Piche is moving to New York City in the summer and starting his actuarial career in the life insurance sector. At the same time, he will continue taking Society of Actuaries examinations until he obtains his Associate of the Society of Actuaries (ASA) and Fellow of the Society of Actuaries (FSA) designations.
Guneet Uppal, Faculty of Science
Governor General's Silver Medal – Awarded for outstanding achievement at the undergraduate level (within a degree program less than four years in length)
Program Medal for Science, General Degree – Awarded for highest standing in a faculty, school or college program
Hoping to find a career that incorporates health care, research and education, Guneet Uppal is dedicated to giving back to the community. A bachelor of science general degree is merely the beginning for Uppal; it's the first step that will bring her closer to reaching this goal.
As a first-generation immigrant, she is familiar with limitations that affect marginalized populations and thus, the importance of fostering meaningful change is not lost on her. The best part of her education is the ability to use the skills and knowledge she's learned as a student to help improve the lives of those in need.
Uppal served as the President of STEM Fellowship, a position that allowed her to coordinate STEM-related opportunities for UM students not only to develop their skillset but also to promote a sense of community.
She fondly looks back at her undergraduate experience with gratitude for the lessons, skills, and new perspectives she's learned over the years. "University is a time of immense change and new experiences, and it's easy to let them fly by without thinking about how they impact us, and how they should drive future decision-making," says Uppal.
Uppal is thrilled to take her next steps in the Max Rady College of Medicine in pursuit of a doctor of medicine degree.
Sharmaine Carlos, Dr. Gerald Niznick College of Dentistry
Governor General's Bronze Medal – Awarded for highest standing in a diploma program of at least two years other than the diploma in Agriculture
Program Medal for Dental Hygiene – Awarded for highest standing in a faculty, school or college program

Graduating with a dental hygiene diploma from the School of Dental Hygiene, Sharmaine Carlos can confidently say that she's found a rewarding career. The rigorous program has challenged her in every way possible, but she has always made sure to cherish the most fulfilling parts of this experience. For Carlos, it's the clinical terms where she's worked with and provided dental hygiene care for patients of different ages and backgrounds.
Being able to provide patient-centered care based on their needs, making a difference in their oral health and improving their quality of life all while learning from their unique stories is a privilege she feels grateful to have.
She credits her personal support system for their immeasurable support over the past two years. "I wouldn't have made it without the support of my family and friends from the dental hygiene program," says Carlos. "My mom would always try to lessen the burden of school from me whenever she could, and I can't thank her enough for that."
In the near future, Carlos plans to join the workforce in a private practice but is looking forward to taking a well-deserved break, and perhaps travel, in the meantime.
Kevin Jungbluth, Faculty of Agricultural and Food Sciences
Governor General's Bronze Medal – Awarded for highest standing in the two-year diploma program in Agriculture
Growing up in Altona, Manitoba, Kevin Jungbluth's family has decades worth of firsthand experience in the agriculture industry. Their farm in Morris, Manitoba is synonymous to the family legacy, directly connecting Jungbluth to a vast spectrum of careers in agriculture.
The family farm supports local communities in the area, benefitting local economies and other families that the Jungbluths have grown to know over time. Completing a diploma in agriculture then opens the doors for Jungbluth to train and excel in the sector while remaining grounded in his family's traditions.
Since his education took up most if not all of his time, he often looked forward to working on the farm full-time during the summer months and being immersed in the field. Combining his formal training with personal experiences will allow Jungbluth to use the knowledge and practices he found most helpful in his studies, to bring a new perspective to the family operation.
He explains his personal philosophy after completing his diploma: "The basis of everything that's done in farming starts with the soil, so we need to use it and manage it so that we're economically, environmentally, and socially sustainable on our farms."
As he learnt more from the program, Jungbluth developed a new appreciation for the processes responsible for productivity on the farm from soil fertility, to grain marketing and other aspects of agricultural economics.
After graduating, Jungbluth is eager to return to the family farm where he will continue the family legacy with his father and brother. His education has set him up to lead the farm into the future, and with time, Jungbluth will successfully pass the family farm onto the next generation.