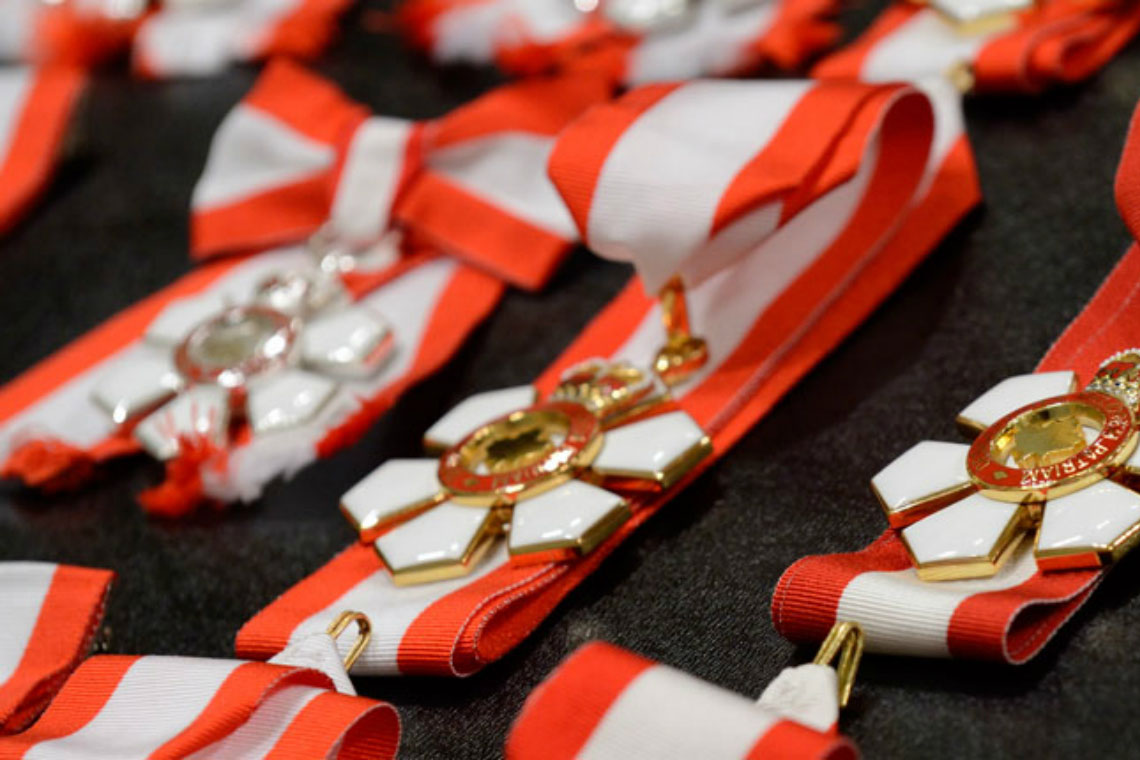 Alumni achievements of 2017
December 20, 2017 —
The University of Manitoba celebrated its 140th anniversary, showing once again the growing strength of the U of M's alumni year after year. In 2017, graduates from many different faculties were honoured for their hard work, dedication and professional success. Here are some of their stories.
Alumni appointed to Order of Canada
On Dec. 30, 2016, Gov. Gen. David Johnston announced 100 new appointments to the Order of Canada. The new list includes six graduates of the U of M. Read more.
Ahead of the country's sesquicentennial on Jun. 30, 2017, three U of M grads were appointed to the Order of Canada and three more were promoted within the Order. Read more.
Business and Arts grads receive Governor General awards
Two University of Manitoba alumni—both stewards of Canada's art scene—received prestigious Governor General's Awards. Philip Monk, renowned curator and contemporary art critic, won the Governor General's Award in Visual and Media Arts in the category of Outstanding Contribution. Winnipeg entrepreneur and arts philanthropist William H. Loewen earned the 2017 Ramon John Hnatyshyn Award for Voluntarism in the Performing Arts. Read more.
Canada's first female Indigenous dentist appointed to Senate
Alumna Dr. Mary Jane McCallum has been named to Canada's Senate. Her appointment to the Red Chamber came from Prime Minister Justin Trudeau on Dec. 4, 2017. Read more.
Young alumni recognized
U of M alumni Ben B. Almond and Liam R. Brunham are among those honoured by the Business News Network as Canada's Top 40 under 40 for 2017. Read more.
Computer Science alumnus Matthew Brzezinki named to Canadian Business' 30 under 30 software developers. Read more.
Gregory Lewis, from the Desautels Faculty of Music, was named to CBC's list of upcoming classical musicians. Read more.
Alumni contribute to work garnering Nobel Prizes in Physics, Economic Science
Alumnus Dr. Michael Landry played a pivotal role in detecting gravitational waves, a discovery that won this year's Nobel Prize in Physics. Read more.
Meanwhile, alumnus Hersh Shefrin is one of only two economists named in this year's Nobel Prize in Economic Science citation for the recipient Dick Thaler. Read more.
Law grad to sit on International Criminal Court
U of M law school graduate Kimberly Prost has been elected as one of six judges to preside over international cases of genocide and crimes against humanity. Read more.
Billionaire alumnus featured on cover of Forbes, named top CEO
Bruce Flatt is an accountant leads Brookfield Asset Management, earned his degree at the U of M, in a quiet Toronto neighborhood and often commutes by subway. Brookfield quietly owns entire city skylines in places like Toronto and Sydney. It's the biggest office landlord in London and downtown Los Angeles. Read more.
He might be Canada's least ostentatious billionaire who transformed his company into a stock market star. Read more.
Alumni selected for Order of Manitoba
Twelve Manitobans, whose contributions encompass a broad range of endeavours and accomplishments, were invested into the Order of Manitoba at a special ceremony on July 13, 2017. Four of these remarkable individuals are graduates of the U of M. Read more.
Alumni, faculty, students recognized as future leaders
The CBC Manitoba's Future 40 focuses on some of the province's brightest young minds and significant change-makers working to make Manitoba better. U of M students, alumni and staff made the cut. Read more.
At 25, Laryssa Sawchuk has already produced a substantial body of work. A U of M graduate in genetic sciences and adult education was named a Future Leader of Manitoba in the 20-25 category for her volunteer work in health sciences. Read more.
Indigenous student advisor Tiffany Monkman and U of M alumna shared her story at the Indigenize the Senate youth forum in Ottawa this summer. She was one of 10 young Indigenous leaders from across the country at the Indigenize the Senate youth forum to mark Canada 150 celebrations and Aboriginal History Month. Read more.
Henry G. Friesen appointed Distinguished Fellow, Canadian Academy of Health Sciences
Dr. Friesen discovered and successfully isolated and purified the human pituitary hormone prolactin and determined that excessive circulating prolactin caused infertility. This observation laid the groundwork for other investigators and resulted in the development of an antagonist drug, bromocriptine, to treat this cause of infertility. But his influence on academic medicine has gone far beyond his own field of research. Read more.