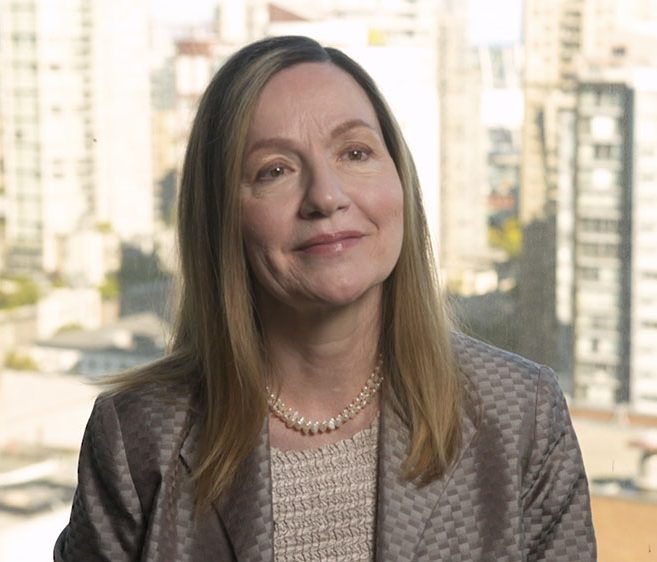 UM Law alumna Marcia V.J. Kran re-elected to UN Human Rights Committee
October 8, 2020 —
Marcia V. J. Kran [LLB/80] was re-elected to the United Nations Human Rights Committee this fall, and will continue to provide a Canadian voice in this much-needed venue over the next four years. The Committee is tasked with monitoring implementation of the International Covenant on Civil and Political Rights by State parties that have signed the Covenant. Committee members are independent experts, each with recognized competence in the field of human rights, working on a pro-bono basis.
Weathering out the COVID-19 pandemic at home in Vancouver, Kran looks forward to continuing her work on the Committee: "Countries around the world are taking steps to counter the spread of COVID-19 and renew their economies. I am keen to continue working with my colleagues on the Human Rights Committee, in collaboration with States, to recommend ways forward that are rooted in human rights principles."
Kran's path to the United Nations is an example of unexpected and fascinating places a UM alumnus's career can lead. Not content with a law degree alone, Kran completed a Bachelor of Arts degree in History and Psychology at UM. She articled and worked as a Crown Prosecutor in Manitoba for six years, before heading to Sweden to complete a Diploma in Social Sciences at the International Graduate School of the University of Stockholm, where her thesis focused on Sweden's human rights record in the European Court of Human Rights. She received a Master of Arts degree in Political Science from the University of Toronto in 1989.
With these multidisciplinary credentials, she joined Justice Canada as Legal Policy Counsel in the Criminal Law Policy Section where she advised on changes to Canadian criminal law to bring it in line with proposed international obligations. Her exposure to international law then took her to Vienna to serve at the UN, in the (then) Crime Prevention and Criminal Justice Branch.
That was just the beginning of Kran's unique career trajectory.
From then on, her curriculum vitae reads like a travelogue, as she continued to work in the field of international legal reform, teaching, leading and directing programs from Vancouver to Geneva to Budapest, then Bratislava, and Bangkok, the first position at the Open Society Institute and these last two positions at the United Nations Development Programme Regional Centres for Europe and Asia-Pacific, respectively. From these hubs, she worked on human rights, sustainable development, and access to justice in well over forty countries. She and teams she led provided advice at the request of many governments on pragmatic ways of achieving international standards. As one example, she was on the ground in Georgia when the Communist government was voted out, designing support for democratic governance initiatives in the country. As another, she was one of three lawyers on the first UN human rights assistance mission to Turkmenistan to find ways to support the government with efforts to advance human rights.
She was awarded the Walter S. Tarnopolsky Prize in 2005 by the International Commission of Jurists (Canada) in recognition of her outstanding contributions to international human rights, which was in retrospect, a very fitting honour, since the award's namesake was Canada's first member of the Human Rights Committee, serving from 1977 to 1983. In 2006 the Faculty of Arts at the University of Manitoba presented her with a Celebrated Alumnus Award.
In 2009, as a recognized expert on the interplay between sustainable development and human rights, Kran was appointed Director of the Research and Right to Development Division at the Office of the UN High Commissioner for Human Rights in Geneva. In this role, she led the development of UN policies and positions on a broad range of human rights and advocated for human rights improvements on behalf of the High Commissioner in various countries. For instance, she travelled to Myanmar to launch discussions with national officials on the need to set up a UN Human rights office in the country.
"I invite you to think about how the body of international human rights law that has been developed so far, and how these norms and standards can be used in your future practice of law."
During her term as Director in 2013, she returned to Robson Hall to share some of her experiences with students, drawing attention to ways they could use UN human rights standards and mechanisms in their future work. "I invite you to think about how the body of international human rights law that has been developed so far, and how these norms and standards can be used in your future practice of law," she told students at the time.[1]
Driving Kran onward over 40 years since she left Robson Hall is a strong desire to see human rights respected in practise and changes to achieve this implemented and applied. Kran has put to good use, her in-depth knowledge of international human rights law and extensive experience of advising countries on applying international human rights standards acquired in a number of capacities over the years.
As an individual skilled in making things happen, Kran serves as the Special Rapporteur on follow-up to recommendations made by the Committee. In a December 2019 story of the Committee's rankings of countries that earned the top five marks for implementing recommendations, Kran said, "Implementation of the human rights obligations that States have agreed to under UN treaties is critical in order to ensure the fulfilment of human rights in people's lives. Achieving that goal includes creating ongoing dialogue with States and other stakeholders through the evaluation of human rights implementation."[2]
The Committee adopted a follow-up procedure in 2013, which Kran highlighted in a November, 2019 article for OpenGlobalRights.org, titled "Following up—the key to seeing states act on treaty body recommendations."This procedure encourages and monitors states' progress in implementing the Committee's recommendations on the ground. Kran's involvement in this aspect of the Committee's role demonstrates her dedication to encouraging forward movement towards protecting human rights.
"Implementation of the human rights obligations that states have agreed to under UN treaties is critical in order to ensure the fulfillment of human rights in people's lives," she stated in the article.
"The guidance provided to governments though the Committee's recommendations has tremendous value. However, it needs to be applied in order for the human rights situation to improve. I would like to see UN human rights bodies regularly send Follow Up Rapporteurs to the countries they engage with, to explore how the recommendations can be pragmatically implemented, and make a tangible difference to peoples' enjoyment of their rights. "
This depth of expertise made her the ideal candidate to have been elected – and now re-elected – to the UN Human Rights Committee, which consists of 18 independent experts who review countries' records on civil and political rights as required by the International Covenant on Civil and Political Rights. The experts serve on a pro bono basis and are "persons of high moral character and recognized competence in the field of human rights. [3] After being nominated by the Government of Canada, Kran's election by 91 states in 2016 marked the first time in two decades that a Canadian served on any of the ten UN human rights bodies.[4] At the time Prime Minister Justin Trudeau tweeted, "Canada is back on the UN Human Rights Committee. Congrats Marcia Kran on winning the support of your colleagues from around the world."
In her speech to congratulate Kran on her election to the Committee, Senator Marilou McPhedran from Manitoba said, "In short, Canada told the world that Marcia, as its candidate, understood what it takes to make positive change happen."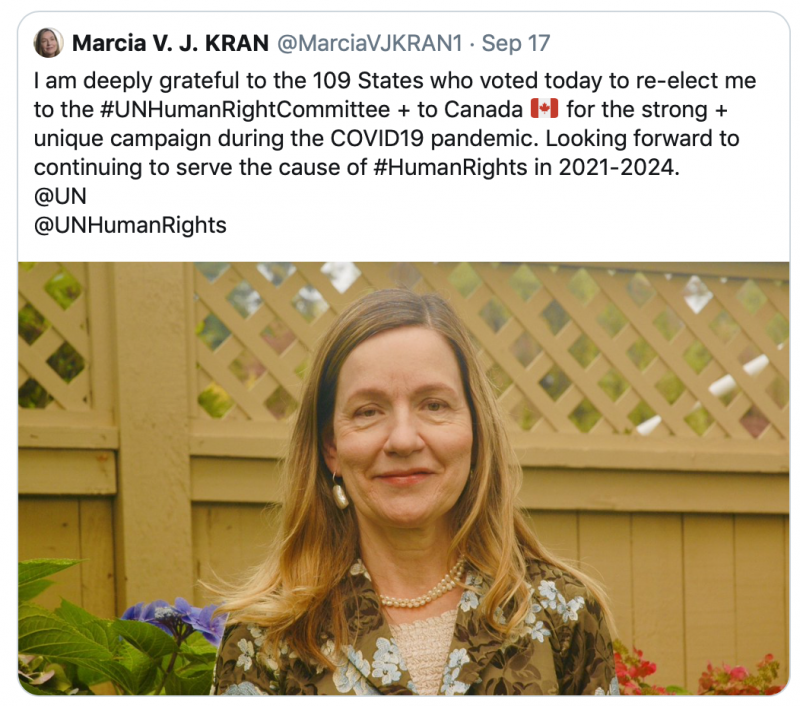 In September 2020, Kran was re-elected with votes from 109 countries.[5] Canada's Global Affairs Minister Champagne tweeted: "Félicitations @MarciaVJKRAN1! You make team Canada proud today by being re-elected to the #UNHumanRightsCommittee. Thank you for your tireless advocacy on important issues such as the protection of human rights. Bon succès pour votre nouveau mandat!"
Soon to begin her second four-year term, Kran is working remotely. In July and October, 2020, the Committee decided individual complaints of civil and political rights violations and adopted a General Comment providing guidance for countries on the Right to Peaceful Assembly via an online platform at UN Office in Geneva.[6]When travel resumes, she will again join the Committee three times per year in Geneva.
As the University's new inter-disciplinary and inter-faculty Master of Human Rights program was being conceived, Kran was one of those who wrote in strong support of the concept. In 2019, when her alma mater the UM Faculty of Law inaugurated the program with a number of graduate students from Nigeria participating in the first year. Kran continued to take interest.
"We all know that the challenges to human rights in the world have grown exponentially in recent times. Young people who are keen and committed defenders of human rights are our best hope for the future. I am delighted that that the Faculty of Law where I studied is offering a Master of Human Rights program and am fully supportive of it. I am confident that the program will equip scholars to find innovative inter-disciplinary approaches and solutions to the significant human rights challenges of today and going forward."
When not in Geneva, Kran lives with her husband, Luis Molina, in West Vancouver and consults for the UN.
---
[1] Linklater, Kevin. "United Nations director discusses international human rights with faculty of law: Marcia Kran gives guest lecture at her alma mater," The Manitoban, 25 November 2013 (http://www.themanitoban.com/2013/11/united-nations-director-discusses-international-human-rights-faculty-law/17827/)
[2] "Human Rights Committee gives top grades for follow-up to five countries" United Nations Human Rights Office of the High Commissioner 13 December 2019
[3] United Nations Office of the Human Rights Commissioner – Human Rights Committee
[4] Marks, Jacob. "Robson Hall alum elected to UN Human Rights Committee" UM Today News, Faculty of Law June 30, 2016
[5] https://www.ohchr.org/EN/HRBodies/CCPR/Pages/Elections38.aspx
[6] UN Human Rights Committee publishes interpretation on the right of peaceful assembly