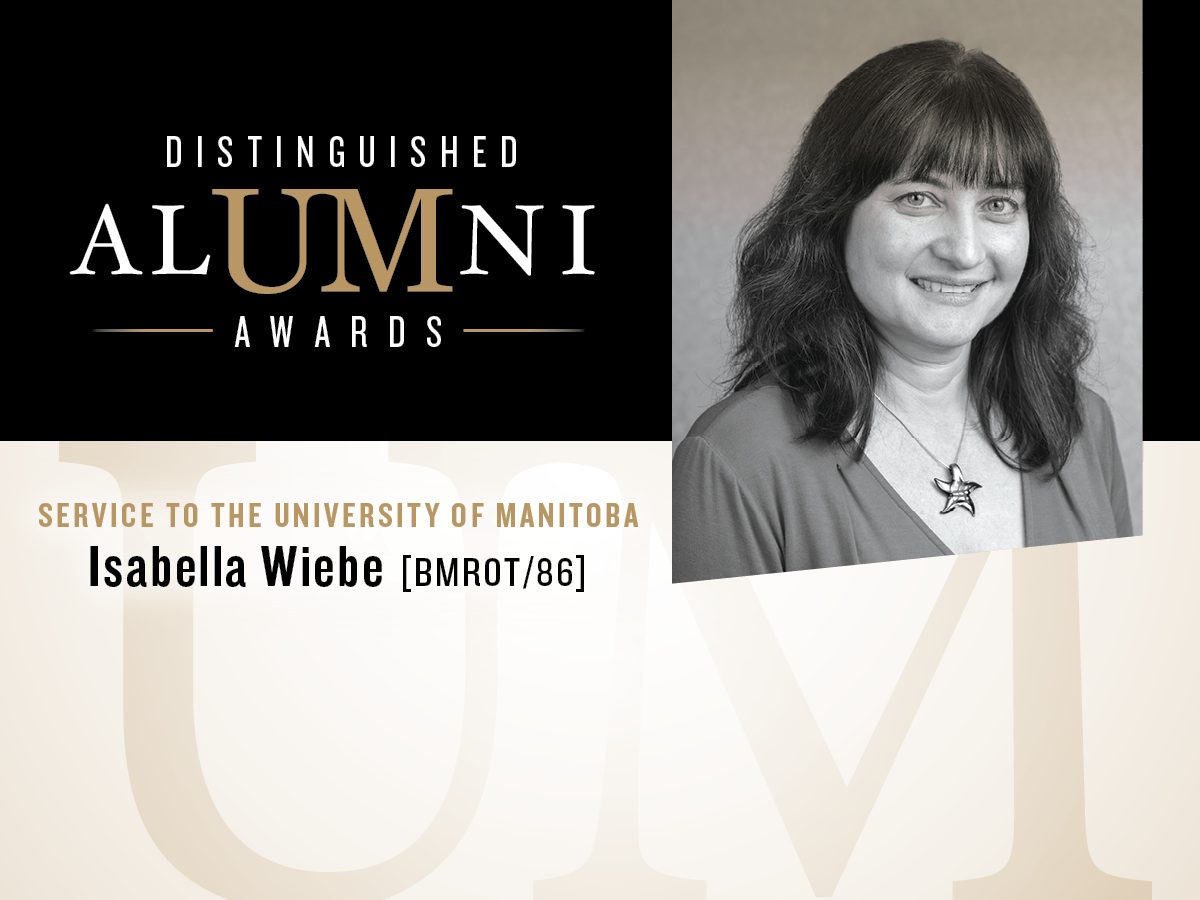 The 2017 Distinguished Alumni Award Recipient for Service to the University of Manitoba is Isabella Wiebe
March 7, 2017 —
The recipients of the 2017 University of Manitoba Distinguished Alumni Awards have been selected, representing graduates who are outstanding in their professional and personal lives. These honourees encompass a wide range of achievement, innovation and community service and inspire fellow alumni, current students and the community.
Help us celebrate Isabella's achievements at this year's Distinguished Alumni Awards Celebration of Excellence. Get your tickets here.
Service to the University of Manitoba
Isabella Wiebe [BMROT/86] has dedicated her career to young people on the cusp of self-discovery. As an occupational therapist, working mainly with young women with eating disorders, she provides the map from self-harm to self-worth.
Wiebe is a tireless advocate for her field and her alma mater. She engages alumni of the university's Master program and has accepted leadership positions in local and national associations and most recently, with the Health Sciences Centre. She has volunteered with the university's Career Mentor Program for 20 years, and has met with more students than any other of its 700 mentors.
Within the hectic health-care system, Wiebe teaches her OT students to take their time. Her many interns cite her enthusiasm, honesty and steadfastness and call her an exemplary role model.
In Her Own Words
Isabella Wiebe had a chance to tell us about her time at the U of M, how her career chose her and other thoughts, memories and musings that make this 2017 Distinguished Alumni Award recipient tick.
When I was at university, I was totally my own person. I loved meeting new people. You could sit with new people, if you didn't connect, you could sit with other people. There were always new people.
I had the best of intentions, but wow, it took me years to love Winnipeg. Actually, it wasn't until university. I loved university so much.
From the time I was 6 years old, I really, really wanted to be two things: a teacher and a mom. I come from a long line of teachers, there are many in my family.
I wanted to be a teacher, but my parents are very practical people and they said there were no jobs in teaching when I was ready to enter university. I was a people pleaser so when my dad suggested things, I didn't have it in me to go against him.
This was in the mid-80s; they only graduated 20 of us. We didn't have to go job hunting; my whole Occupational Therapy class pretty much had jobs by the time we graduated.
I'm a bit impatient, my clock seems to run a bit faster than most.
I'm such a planner, I plan everything, and the one thing I didn't plan—my career—found me every step of the way. Somehow I ended up doing what I absolutely love to do!
It's remarkable how it's all come around. I didn't choose my career path, but yet it fits perfectly into what I wanted to do.
I've been blessed. I couldn't have planned it better if I'd planned it!
I'm originally from Brooklyn. When my dad was drafted, he went to Germany. He was there with Elvis, actually, which is cool. He didn't know him, but he knew he was around.
We didn't know anything about Winnipeg. I was excited to come to Canada, because I was taking French in school, and I had it in my head that I'd be fluent as soon as I got up here. We were shocked about the cold. We had snow and wind in Chicago, but this was unimaginable.
I often have problems with paying attention, so I think people who tell personable stories are great, and humour is so important. I try to do that too, it makes it easier to stay focused.
My background, my Italian culture, influences how I am with students. They always say, "Thanks for being open," but I never really think I am, it's just who I am.
It's always interesting here, you never know what will come up. I'm never bored, I never know what I'm stepping into. I like to be prepared, but I just don't have the opportunity to be that here.
Helping people to reach their potential, and going on their journey with these people is really incredible.
As a society, we're so destination focused. The older I get, I realize that's not the point. Your life is the journey going there, and that's what matters. Once you reach an outcome, it's often not as good as the whole journey of dreaming, learning, meeting people.
Every day is different, I love the variety. The diagnosis may be the same, but each person is different with a unique personality and skills.
I've learned a great deal from my patients. Every hobby I have has been inspired by my patients.
Our society does not help women. It's really harsh, it's not realistic and it puts a lot of pressure on us. Very few people present the truth, which is unfortunate because that really does set us free.
When you don't like yourself, it's hard to function.
You have to be comfortable in your truth and who you are. But when that sense of self is missing, you're strongly affected by outside messaging, and that's not very good.
When you take in a student, you learn so much about your own practice. So much of what we do is so automatic, it's second nature. But mentoring makes you reflect and pay attention to your own practice.
To teach someone, you learn. I gain another perspective, not cynical, it's a fresh eye. They're enthusiastic, which is so contagious.
They're always worried they're going to say the wrong thing, but I always say, "If you're being kind, there is no wrong thing."
---
Related Stories
Advocates, Designers, Providers, Artists and a 'Destroyer' among recipients of the 2017 University of Manitoba Distinguished Alumni Awards
The 2017 Distinguished Alumni Award Recipients for Lifetime Achievement are John and Patricia Patkau
The 2017 Distinguished Alumni Award Recipient for Professional Achievement is Reva Stone
The 2017 Distinguished Alumni Award Recipient for Community Service is Lesley Sacouman
The 2017 Distinguished Alumni Award recipient for Outstanding Young Alumni is Desiree Scott