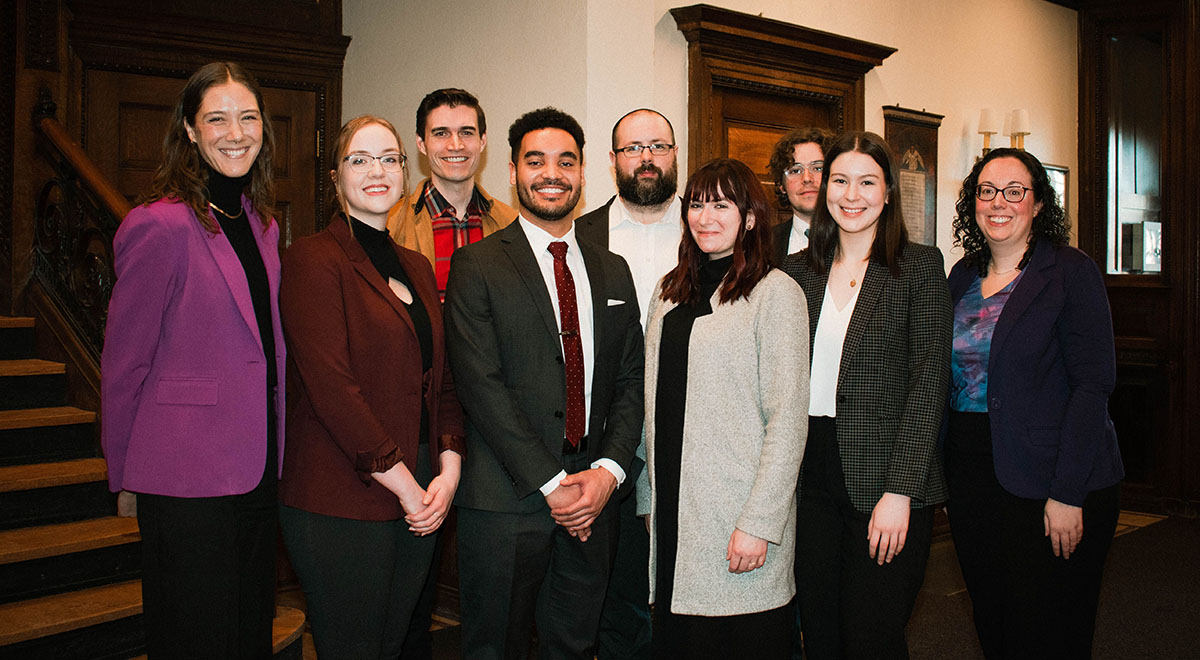 Moot Report 2023: Success at Canadian National Negotiation Competition
Manitoba Teams place in both French and English streams
March 3, 2023 —
Three University of Manitoba Faculty of Law teams from Robson Hall put in extremely strong performances at the seventh annual Canadian National Negotiation Competition (CNNC). The team of Chris Dick and Kennedy Pinette won second place in the inaugural French stream of the competition, an accomplishment that is all the more significant given the fact that four out of the six teams participating in French were from Québec. In the English stream, Ramsay Hall and Samantha Harvey placed third, and Benjamin Leahy and Jodi Plenert also performed at an extremely high level in a very talented field of 18 teams. This year, the CNNC was held at McGill University, Faculty of Law in Montreal on February 24 and 25, 2023.
All of the Robson Hall students found the experience of competing very worthwhile. Pinette said, "Participating in the very first French section of the CNNC was a very rewarding experience! Negotiating is such a practical skill for lawyers and I am happy to have had the opportunity to practice those skills in my second language."
"The competition was an incredible experience and the negotiations tips and advice received from our coaches will be something that will benefit me throughout my career," said Harvey. "I especially appreciated our coaches non-stop support and willingness to be there for us at any time and put their very busy lives on hold. We were also incredibly fortunate to travel with an amazing team and to learn some great skills and tactics from not only our coaches but the talented students competing in the competition."
Jodi Plenert added, "We were so fortunate to not only participate in the competition, but to have such incredible coaches and teammates. It really makes the experience that much more fun and meaningful when you are not only learning a lot but laughing a lot, too!"
Hall had the following sage advice for future negotiators: "I think it's normal for students to be nervous about negotiating: not only is it a form of public speaking where you are being judged on what you say, but it can also be stressful to be sitting directly across from your competition. However, as with anything, the best way to become more comfortable with something is to practice it, and by the end of the competition it felt almost routine to sit down at the negotiating table."
One tip I have for future competitors: when you begin speaking and the opposing counsel picks up a pen to take notes, take a look at their hands. Their hands are usually shaking uncontrollably, and it may be reassuring to know that you are not the only person who is nervous! – Ramsay Hall, 3L
The Manitoba teams were expertly coached by three Robson Hall alumni practising in Winnipeg: Andrea Doyle, a lawyer engaged in a broad practice at Thompson Dorfman Sweatman LLP; Andrew Torbiak, who practises Estates and Trusts with Tradition Law; and Heather Wadsworth, who practises family law at Hague Law. The coaches were filled with praise for the students' performances.
Andrea Doyle, who was the coach for the French team, said, "I was honoured to coach these dedicated students. Kennedy and Chris worked very well as a team and spent considerable time preparing their strategies for each of the three negotiation rounds as well as practising their negotiation skills. Their complementary negotiating styles benefited them well. It was rewarding to see their confidence increase in further developing their negotiation strategies in French.
The judges were impressed with Chris and Kennedy's preparation, application of negotiation skills and strategies in French as well as their excellent teamwork. I am very proud of Chris and Kennedy's accomplishment! – Andrea Doyle, coach
"This was a special year, and not just because we were back to an in-person competition. To hear the University of Manitoba's name called not once but twice during the award ceremony was very special," said Andrew Torbiak. "I'd like to congratulate all six Robson Hall students for their accomplishments, and their dedication leading up to the competition. On a Friday night in Montreal, all six students were back in the hotel preparing for their second and third rounds of negotiations the next morning and afternoon. From a coach's perspective, it is so gratifying to see that kind of motivation."
Robson Hall will continue to enjoy a reputation of strong student negotiators thanks to the performance put in by Jodi, Ben, Chris, Kennedy, Ramsay and Samantha. – Andrew Torbiak, coach
The admiration went both ways, as the students were also filled with praise for the coaches. Pinette stated, "Many thanks to our coach, Andrea Doyle, for helping us perfect our strategy and practice our French. We could not have done it all without her."
In speaking about Wadsworth and Torbiak, Harvey described "how absolutely incredible our coaches are and how fortunate each year the negotiations teams are to have them."
Other local lawyers generously gave of their time to coach the students, including the late Andrew Slough, and Shimon Leibl, who together won the International Negotiation Competition on behalf of Robson Hall in 2015, and subsequently competed in Ireland. Slough recently and tragically passed away last month. Wadsworth, Torbiak, and Doyle wanted to recognize his involvement in preparing the Robson Hall teams for the CNNC. They stated, "A week prior to his untimely passing, Andrew Slough spent considerable time with the teams providing insightful and helpful comments to the students, which comments were continually referred to in the preparation for the competition. His knowledgeable and valuable comments were indispensable to the success of the Robson Hall teams at the CNNC."
A Bit More About the CNCC
Seven years ago, the University of Manitoba's Faculty of Law hosted the inaugural national negotiation competition at Robson Hall, which has been run annually since then. The size of the competition has been growing each year, both in terms of number of teams participating and number of law schools represented.
The 2023 competition returned to an in-person format after being on-line for the past two pandemic years. This year, it involved three rounds of negotiation taking place over two days. Teams of two law students, each representing opposing parties to a fictitious business deal related to the purchase and sale of a wildlife sanctuary for a commercial tourism development, met in an attempt to negotiate an agreement, with each team possessing confidential details about client circumstances and settlement preferences. The first two rounds were bi-party, with the last round involving a more complex three-party negotiation. All of the negotiating took place under the scrutiny of judges, who scored each team's negotiation skills. At the end of each session, the judges provided detailed feedback to each team about what they did well, and potential areas for improvement.
French Stream New This Year
This year was the first time that a parallel French stream was introduced to the CNCC. Teams competed in French, using the same problems (which were translated) as the English stream.
The timing of the introduction of the French stream is fortunate, as Robson Hall has recently enhanced its bilingual program, and the two members of our French team (Dick and Pinette) are students in that program, which allows students to develop their legal skills in French with the goal of improving access to justice in French. Incidentally, Hall and Harvey are also students of that program, and all four took the Négociation juridique course taught by Andrea Doyle last year.
Professor Lorna Turnbull, who is a Co-Director of the bilingual program along with Professor Gerald Heckman, stated, "The University of Manitoba's Faculty of Law has for the past decade offered students the opportunity to pursue part of their legal education in French. Beginning in the Fall of 2022, Robson Hall introduced the Concentration in Access to Justice in French thanks to generous support from Justice Canada's Access to Justice in Both Official Languages Fund."
"To place so highly in English and in French is a testament to the quality and hard work of both the students and their teacher and coach, Andrea herself," Turnbull added.
"We wish to thank the organizers of the CNNC for implementing a French stream to the competition this year," said Doyle. "Kennedy and Chris found that participating in the CNNC was a valuable learning experience demonstrating their ability to represent clients in French.
"Our participation in the French stream of the CNNC would not have been possible without the support of the Robson Hall community, including Dean [Richard] Jochelson, Professor [Bruce] Curran and Professors Turnbull and Heckman, the co-directors of the bilingual program. We also appreciated being able to spend time preparing with the Robson Hall teams participating in the CNNC in English and their coaches, Andrew Torbiak and Heather Wadsworth. We are thankful for everyone's support in this endeavour."