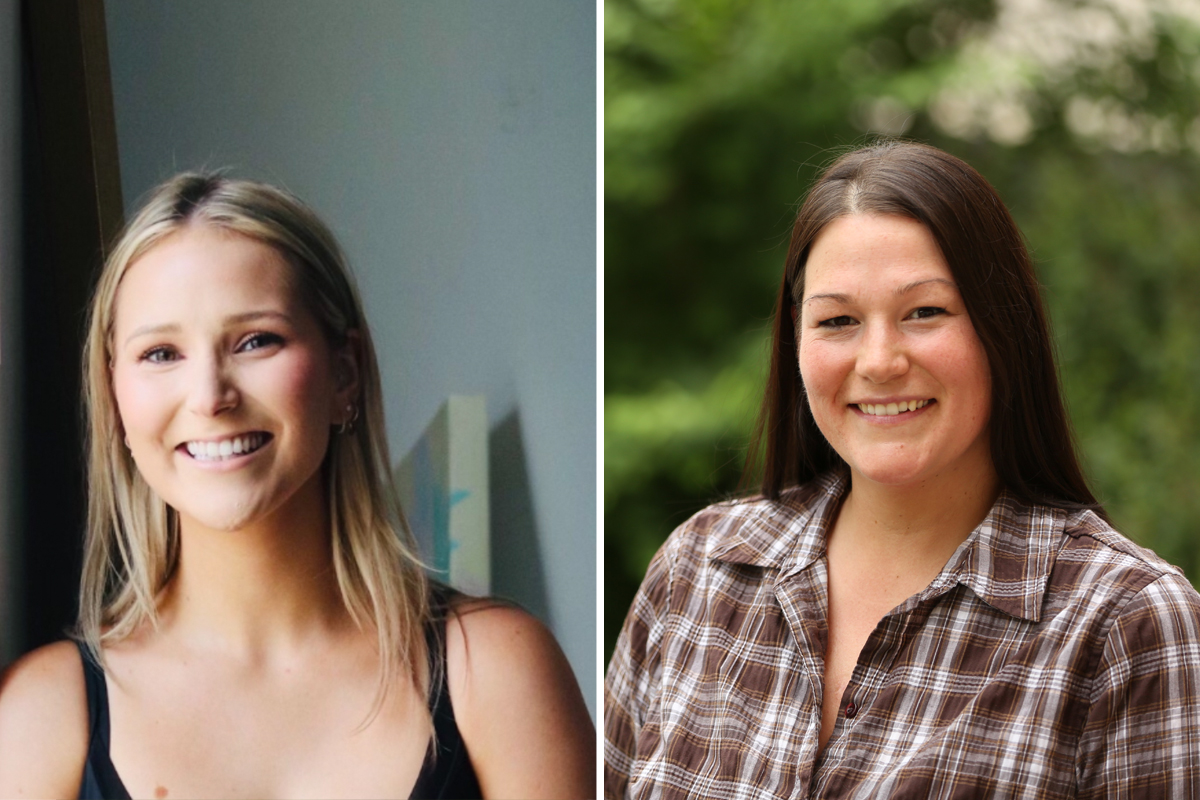 Meet the recipients of the inaugural Indigenous Doctoral Program Fellowships
May 5, 2022 —
Hope Ace and Monica Cyr have been selected for the inaugural Indigenous Doctoral Program Fellowships. The two recipients are leading the next generation of UM students shaping the future of Indigenous-led research.
The Indigenous Doctoral Program Fellowships celebrate the academic achievements and contributions of Canadian Indigenous graduate students who are pursuing their doctoral degrees at the University of Manitoba, awarding fellowships valued at $20,000 to each selected student. The Faculty of Graduate Studies launched this fellowship for the 2021-2022 year and will continue every year moving forward while funds are available.
Hope Ace, from the department of Indigenous studies, is focusing her research on ways to create spaces where Indigenous governance and legal systems subvert colonial systems, in order to reframe political climates with Indigenous sovereignty and treaties. She is particularly interested in resisting the colonial heteronormative patriarchy, and the area of political dispossession and disappearance.
Beyond her role in academic research, Ace embraces her part in connecting academia to the community – in turning knowledge into action. "I recognize the privilege I have to be in an academic setting and to learn from other scholars," says Ace. "I'm grounded, and by extension, my work is also grounded in my responsibilities to my community, my nation and all my relations. My work is always for community."
With this fellowship, Ace looks forward to traveling and allowing her research to take root in her home community of M'Chigeeng First Nation on Manitoulin Island. She'll continue to learn about Anishinaabe legal and political practices, gender identities outside the colonial binary systems, responsibilities towards kinship, treaty understandings, and embodiments of sovereignty.
Monica Cyr [BSc(HNS)/15, MSC(HNS)/18] , from the department of community health sciences, is studying the perceptions of body image through the eyes of Indigenous women before, during, and after delivery. By analyzing self-image prior to giving birth and after, she hopes to explore how social, cultural and economic positions affect these stages of motherhood.
As an Indigenous dietitian, Cyr's passions lie in food sovereignty and Indigenous research methodologies. Extending her expertise into this topic was a natural step in the progression of her career.
"I've had a number of exceptionally strong women blanket me with support and love, who have wanted to guide this next phase in my life's pursuit," says Cyr. "To learn more, help more, and to add to the existing discourse of body positivity, free of shame, stigma and Western concepts of beauty."
Cyr is especially grateful to use the fellowship funding towards community support initiatives embedded in her field of work and study, as well as giving gifts to research participants that are not usually covered by typical funding budgets. Her work will continue to revolve around health care leadership, advocating for Indigenous rights-based change related to dietetics and physician care.
Learn more about the Indigenous Doctoral Program Fellowships and all funding, awards and financial aid opportunities for graduate students at UM.