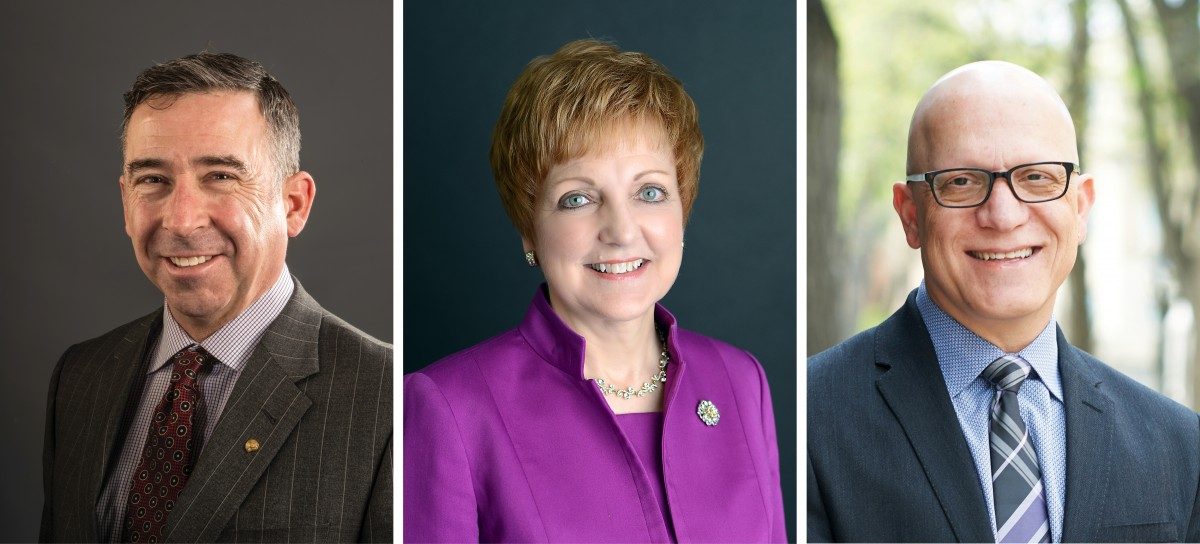 Dean announcements
May 7, 2018 —
The University of Manitoba is proud to announce the reappointment of the dean Faculty of Kinesiology and Recreation Management and the appointment of a new dean for the I.H., Asper School of Business and the College of Nursing in the Rady Faculty of Health Sciences.
Dr. Douglas Brown
Dean, Faculty of Kinesiology and Recreation Management
A celebrated scholar on identity, ethnicity and human agency within sport, Dr. Douglas Brown's term as dean of the Faculty of Kinesiology and Recreation Management has been extended to August 31, 2024. Dr. Brown holds a PhD in Sport History from the University of Western Ontario. In his first term as dean he made history of his own when he helped successfully open the Active Living Centre—a hallmark building that has become a hub of exciting research, and a gathering space for the community. He has led the faculty through a period of significant academic growth and renewal. Throughout his tenure, Dr. Brown has focused on furthering his Faculty's commitment to Indigenous Achievement, hosting the first-ever Sport and Reconciliation Gathering that explored how the Faculty, and U of M, can achieve nine specific Calls to Action put forth by the Truth and Reconciliation Commission of Canada. The University is honoured to have Dr. Brown continue to help students, faculty, and staff thrive.
Dr. Netha Dyck
Dean, College of Nursing, Rady Faculty of Health Sciences
An acclaimed leader in nursing administration and education, Dr. Netha Dyck has been appointed dean, College of Nursing, Rady Faculty of Health Sciences, for the period February 1, 2018 to January 31, 2023. An alumna of the University of Manitoba's nursing program, Dr. Dyck returns to her alma mater after serving as dean of the School of Nursing and School of Health Sciences at Saskatchewan Polytechnic. There, she developed Polytechnic's first independent degree program—the Bachelor of Psychiatric Nursing—and established eight international partnerships for faculty and students. Dr. Dyck earned a Doctor of Education in Higher Education Leadership from the University of Calgary and has proven herself an exemplary leader, earning awards from provincial, national, and international bodies, including the Ethel Johns Award from the Canadian Association of Schools of Nursing in 2016. The University of Manitoba welcomes her home and looks forward to celebrating her future accomplishments.
Dr. Gady Jacoby
Dean, I.H. Asper School of Business
With his renowned acumen and financial expertise, Dr. Gady Jacoby will lead the I.H. Asper School of Business as its new dean, for the period April 1, 2018 until June 30, 2023. A faculty member from 1998 until 2010, Dr. Jacoby then briefly left for the Stillman School of Business in New Jersey before rejoining the U of M in 2013. He has since served the Asper School as professor and Bryce Douglas Professor in Finance, the associate dean of research and graduate programs, and acting dean. Dr. Jacoby spearheaded the creation of both the Finance PhD and Master of Finance programs. He also raised the profile of graduate education and research by implementing new strategies that support graduate students and faculty alike, as well as strengthening community outreach programs. We look forward to his continued leadership in the Asper School.