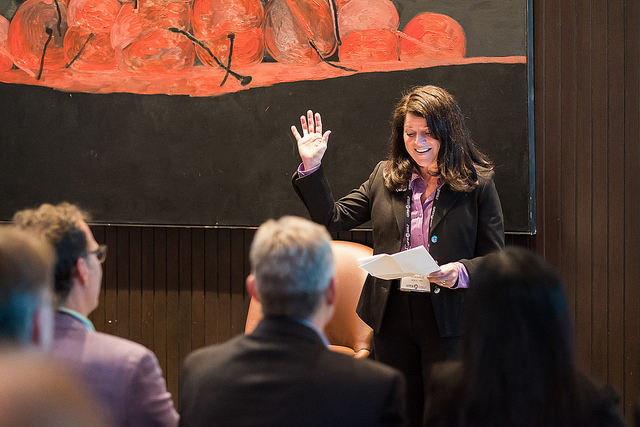 Calgary Alumni Reception recap
April 21, 2016 —
Nearly 50 Asper alumni enjoyed an evening of networking and inspiration at the annual Calgary Alumni Reception, which took place at Teatro's Opera Room on April 12.
Rosanne Hill Blaisdell [MBA/91], managing director and vice president of leasing at Harvard Developments Inc., was the evening's distinguished alumni speaker.
After sharing some reflections on the challenges she faced while pursuing her degree, and the positive influence of Dr. Ross Henderson, Blaisdell spoke about a project near to her heart: the redevelopment of Calgary's historic Eau Claire Market Mall, and surrounding land, into mixed-use urban villages.
Downtown Calgary has always struggled to attract residents, and Blaisdell believes the new development will revitalize the area and strengthening its connections to surrounding neighbourhoods.
Harvard Developments is a longstanding real estate company headquartered in Regina, Saskatchewan. Blaisdell joined the firm in 1997 after working in commercial banking for several years. Today she heads the leasing and asset management of the company's Canadian commercial real estate portfolio. Her development projects total close to 3 million square feet of land in Western Canada.
Find out more
Upcoming Asper Alumni reunions and events
Globe and Mail: "Timing 'perfect' for redevelopment of Calgary's Eau Claire Market Mall"
Photos from the event