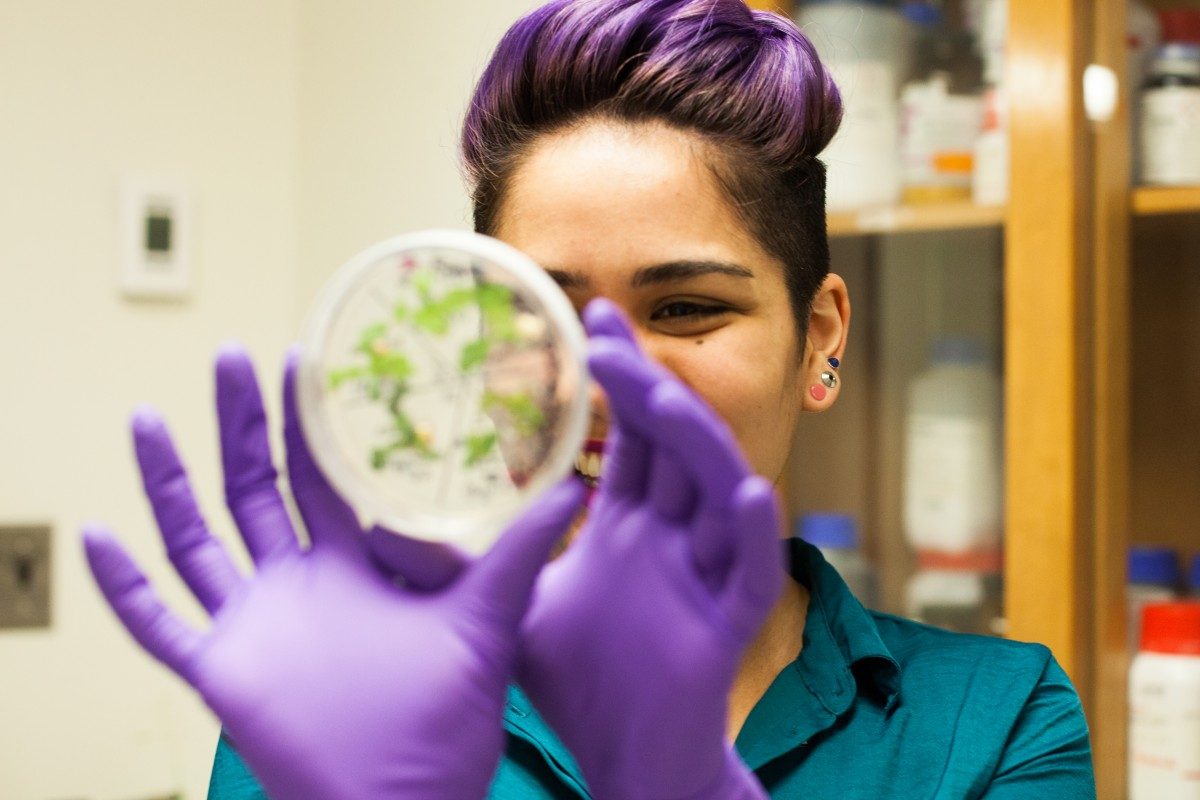 Women in Science
September 5, 2017 —
The Faculty of Science is pleased to host a special homecoming event, Women in Science Luncheon, on Tuesday, September 12 at Marshall McLuhan Hall.
Featuring presentations from seven female scientists at the U of M, the primary goal is to showcase breakthroughs in science, but a discussion about gender inequality for women in the areas of science, technology, engineering and mathematics (STEM) cannot be avoided.
By showcasing what women are accomplishing here at the University of Manitoba we hope to continue to inspire future generations to pursue STEM careers.
Current data reveals that although more women are graduating with university degrees, the majority of those graduating with STEM degrees are men. Data from Statistics Canada has barely changed in 30 years. In 1987, women made up 20 per cent of the STEM workforce. Today, that number is 22 per cent.
This is despite the fact that women have proven themselves no less capable than their male counterparts for generations. One of the earliest examples is Hypatia of ancient Greece, an astronomer, philosopher, and inventor. She invented the astrolabe for ship navigation and devices for measuring the density of fluids. Marie Currie, a physicist and chemist best known for her work on radioactivity, discovered the elements polonium and radium.
Then there's Yvonne Brill, [BSc/45 (Chemistry & Mathematics)], a rocket scientist who pioneered the electro thermal hydrazine thruster and was involved in a broad range of national space programs in the United States, including NASA and the International Maritime Satellite Organization. Brill received numerous awards; in 2010 she was inducted into the National Inventors Hall of Fame and in 2011 President Barak Obama presented her with the National Medal of Technology and Innovation. These are but a few examples of the significant contributions women have made and continue to make to science.
Still, the disparity remains. Canada's Minister of Science, Kirsty Duncan, wrote about her personal struggles recently in the Globe and Mail, and quoted the journal Nature, explaining that "science remains institutionally sexist. Despite some progress, women scientists are still paid less, promoted less frequently, win fewer grants and are more likely to leave research than similarly qualified men."
Calling the public's attention to these inequalities is important, says Stefi Baum, Dean of the Faculty of Science who is also a mother of four and an accomplished astrophysicist who has worked on both the Hubble Space Telescope and the James Webb Space Telescope."It's fantastic to host an event that showcases the excellent work going on and the diversity of research expertise here in the Faculty of Science," she says.
The research presentations include:
The event will also feature a special presentation by Dr. Annemieke Farenhorst, P.Ag, NSERC Chair for Women in Science and Engineering – Prairie Region. Dr. Farenhorst will be there to discuss her role and premiere the new HoWS video series – How can women be scientists?
As Dr. Farenhorst explains,"the video series features undergraduate and graduate students, and promotes a positive "we can do it" approach, while also displaying the realities of what students are thinking about and how they go-about learning how "we can do it."
Dean Baum adds, "Science is for everyone, and it's wonderful that the event has received such a positive response. We can't wait to meet our many alumni and friends and their children (those just beginning university). We've received requests from alumni and high school teachers who recognize the opportunity to expose students to the many opportunities available to them early on, and of course we are delighted they can join us. We look forward to hosting an informative and inspiring event."
What: Women in Science, Faculty of Science Homecoming Luncheon
Date: Tuesday, September 12, 2017
Time: 12:00 – 1:30 pm
Location: Marshall McLuhan Hall, University Centre
Space is limited. The event is free and open to alumni and friends. Please register to attend.
For more information on this and other Homecoming events, visit umanitoba.ca/homecoming