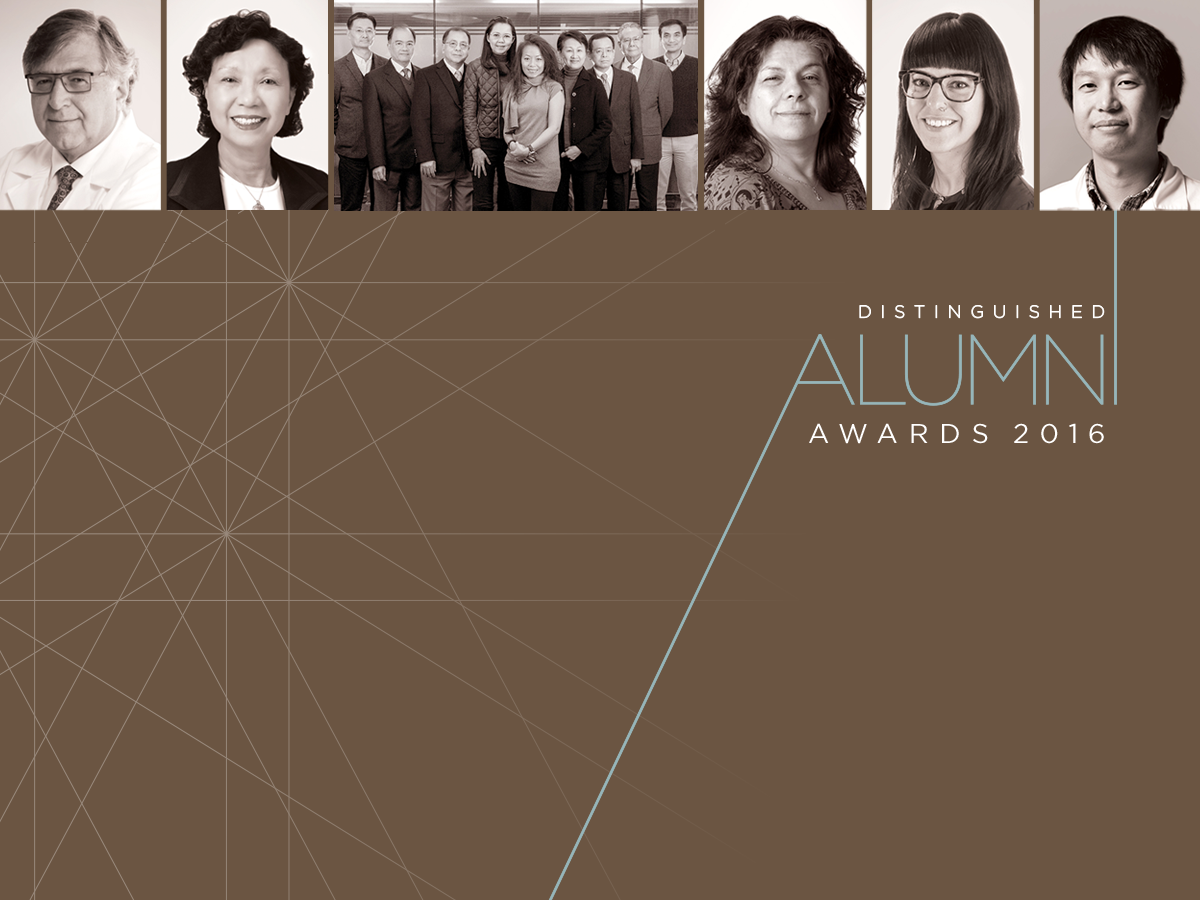 Visionaries, pioneers and innovators among the 2016 Distinguished Alumni Award recipients
U of M graduates making a real difference in the lives of people around the globe
March 8, 2016 —
The recipients of the 2016 annual University of Manitoba Distinguished Alumni Awards have been selected and the honorees encompass a wide range of achievement, innovation and community service.
The Distinguished Alumni Awards recognize graduates who are outstanding in their professional and personal lives, and who have been an inspiration to fellow alumni, current students and the community.
"I am constantly impressed by the accomplishments of our graduates," says David Barnard, President and Vice-Chancellor of the University of Manitoba. "The alumni recognized this year are some of the most dedicated pioneers and innovators ever to hail from the University of Manitoba, whose efforts have generated positive change in the lives of people not only here in Manitoba, but around the globe."
The 2016 Distinguished Alumni Award recipients are:
LIFETIME ACHIEVEMENT
Edward Lyons, OC [BSc/63, BSc(Med)/68, MD/68] Doctor. Renowned researcher. Visionary.
Dr. Edward Lyons helped to make ultrasound one of modern medicine's most widely used diagnostic tools. As a U of M medical student in the 1960s, he was among the first to use the technology to detect blood clots and brain tumours, and in the decades since became a global expert. His groundbreaking work also helped to show ultrasound is safe for fetuses and mothers, influencing hospitals around the world to adopt the technology. The renowned radiologist worked with manufacturers and shaped the evolution of ultrasound machines—once the size of refrigerator and now no larger than a cell phone. Lyons was inducted as an Officer of the Order of Canada in 2007.
---
PROFESSIONAL ACHIEVEMENT
Emmie Leung [BComm(Hons)/76] Entrepreneur. Industry leader. Pioneer.
A pioneer in the waste and recycling industry, Emmie Leung sees possibility everywhere—even in garbage bins. With her University of Manitoba commerce degree, she started a one-woman recycling operation and grew it into a $100 million family of companies that's shaped how we protect the planet for future generations. Coming to Winnipeg from Hong Kong on her own as a young student, Leung forged her own path, surviving off rice and Cheese Whiz. Now, Emterra Group employs close to 1,000 people and sells more than 500,000 tonnes of recycled commodities annually.
---
SERVICE TO THE UNIVERSITY OF MANITOBA
The Hong Kong Alumni Association
Community builders. Volunteers. Mentors.
To its members, this alumni association feels like family. For more than three decades the group in Hong Kong—home to one of the largest alumni populations outside of North America—has celebrated their alma mater and the ways the University has shaped them. The Association brings together generations of alumni and fosters meaningful, long-lasting connections to the U of M and to one other. They are dedicated mentors to new alumni returning to Hong Kong, offering guidance and a network of expertise from which graduates begin successful careers. The tight-knit community also enriches the international student population, encouraging the best and brightest to experience the U of M, and then supporting them on their journey.
---
COMMUNITY SERVICE
Karen Beaudin, OM [BA/92, BSW/11] Métis Leader. Advocate. Defender.
Karen Beaudin strengthens community wherever she goes. As a tireless volunteer and proud Métis woman, Beaudin champions Indigenous youth, believing in their potential and shared right to opportunity. She brings her positivity to everyone she meets—whether she's coaching soccer or teaching square dancing to Indigenous kids. With University of Manitoba degrees in arts and social work, Beaudin supports downtown and Elmwood neighbourhoods as a community resource coordinator for the City of Winnipeg. Both personally and professionally, she steps forward to help the city's most vulnerable. Beaudin received the Order of Manitoba in 2015.
Read more.
---
OUTSTANDING YOUNG ALUMNI
Diana Nicholson [BSc(BioE)/06] Engineer. Global partner. Innovator.
Diana Nicholson is unafraid to go where she's needed most and work with people in crisis, including those surrounded by disease, disaster and armed conflict. Partnering with Doctors Without Borders, the engineer has been to turbulent refugee camps in Chad, South Sudan and the Central African Republic, and to the frontlines of the Ebola outbreak in Sierra Leone. As a water sanitation specialist Nicholson designed and built structures to bring clean water—along with hope and dignity—to communities in turmoil. She's spent a combined two years overseas, building latrines, assembling piping networks—even building a water treatment plant in only a few days to serve 50,000 refugees.
---
OUTSTANDING YOUNG ALUMNI
Gary Wong [PhD/14] Scientist. Disease fighter. Trailblazer.
As a U of M graduate student, Wong was part of a Winnipeg team that discovered a treatment for Ebola and saved lives during the outbreak in West Africa. It was Wong who first showed the effectiveness of antibodies derived from the tobacco plant. Fellow scientists say his intuition and diligence in the lab has revolutionized the treatment of infectious diseases. His findings not only conquered Ebola but inspired the development of antibody therapies for other deadly viruses, including HIV. Wong is now lending his expertise to China, helping the country set up their own infectious disease network.
---
Kim Metcalfe, President of the University of Manitoba Alumni Association, notes: "With more than 132,000 alumni worldwide, their impact is being felt each and every day. The alumni recognized this year represent only a fraction of the tens of thousands of our graduates whose passion and dedication are making a real difference in people's lives."
The awards will be presented at the Distinguished Alumni Awards Celebration of Excellence on May 5, 2016. The inspiring evening will feature performances by students, alumni and faculty, followed by a reception.
Thank you to our generous sponsor: The Personal