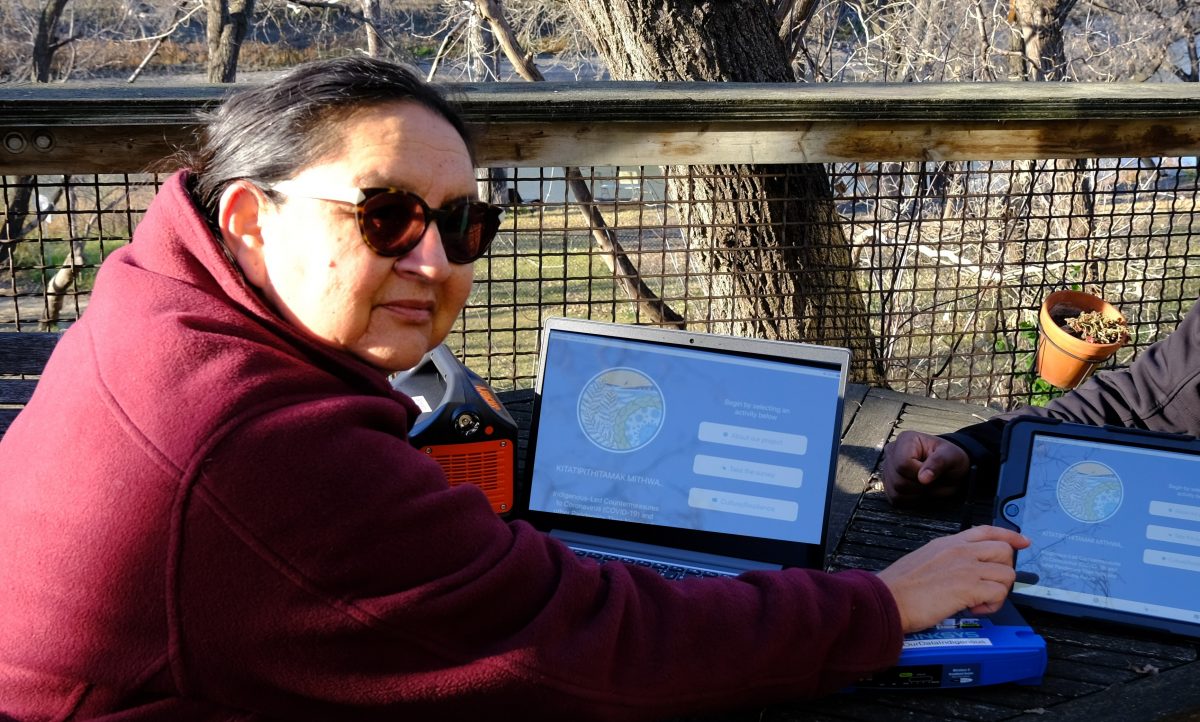 UM researcher honoured for bringing unique app to communities
November 24, 2021 —
Alumnus Dr. Moneca Sinclaire, a member of the Opaskwayak Cree Nation and a researcher in the department of environment and geography at UM, helped develop a unique mobile app that empowers Indigenous communities to survey their populations about key health and social issues. For this work she is being honoured with the Mitacs Award for Outstanding Innovation—Indigenous, which is given by Mitacs, a non-profit national innovation organization that works with academic institutions.
The app was originally created to help communities address COVID-19 and has since grown to cover other pressing social concerns.
"Due to past historical events, many of the chiefs and council members have questions about who's going to own the data and what's going to be done with it," Sinclaire [B.H.ECOL/89, MSc/97] says. "A big part of our role is to assure them that we're trying to do research differently, not from the same Western perspective but research that's for Indigenous people, by Indigenous people."
Sinclaire, who was celebrated at last year's Indigenous Awards of Excellence with a community building award, continues to find new ways to make an impact.
As an outreach coordinator on this app project, Sinclaire works with chiefs and councils to introduce them to the web-based app and explain how it can be used to collect self-reported, real-time data from community members, and how communities can be trained to analyse and present research findings so that the information collected can be used to strengthen decision making at a community level, as well as gain funding for new community initiatives.
To date, the app is being used by hundreds of people within five Indigenous communities in Manitoba and B.C., with questions ranging from How do you feel about COVID-19, to What language does your household speak? When the researchers leave, the equipment and the data stay with the community.
"It does my heart good to know that the work I've done has opened the door for more Indigenous people to be able to do research that will be beneficial for our communities, helping to find innovative ways for us to work with industry and change the way our communities are run," says Sinclaire. "We still have a lot of communities dealing with flood damage, a lack of running water or high teen suicide rates. Now that we have a tool that allows them to ask 'What can we do about that?' it gives me hope that things will begin to change."
Sinclaire is one of eight Mitacs award winners nationally, chosen from thousands of researchers who take part in Mitacs programs each year. She received her award on November 23 at a ceremony held online and in person at the National Arts Centre in Ottawa.