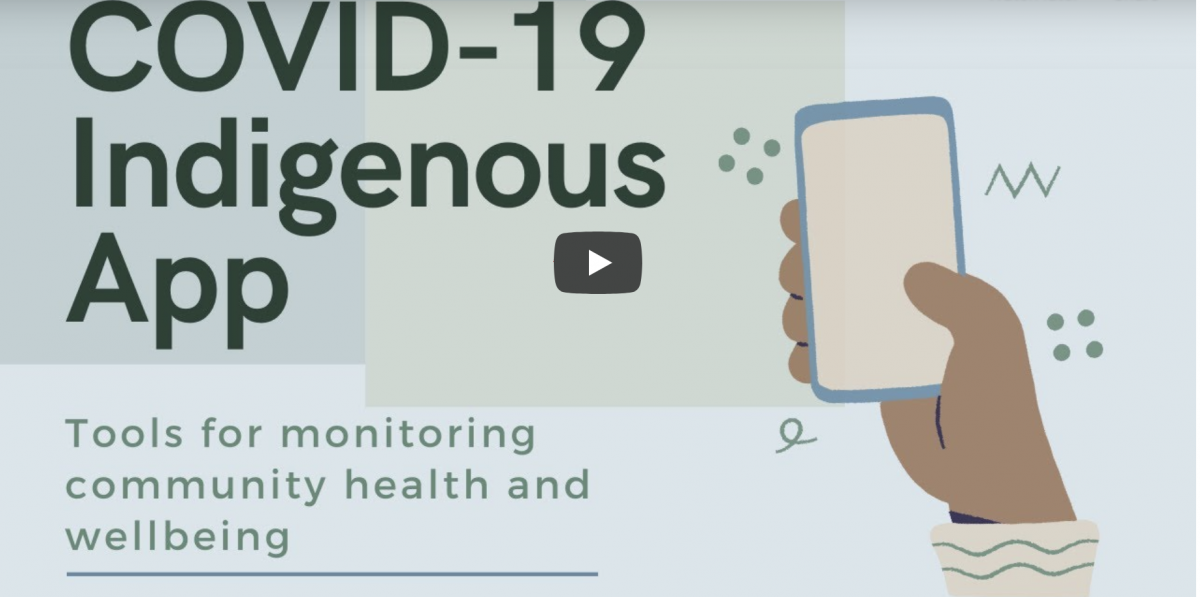 UM helps launch first-of-its-kind COVID-19 Indigenous app
Supports Indigenous communities as they respond to COVID-19
February 12, 2021 —
A groundbreaking app created by University of Manitoba researchers in close collaboration with Indigenous partners will help support Indigenous communities around the world as they act to caretake their own health and well-being.
The COVID-19 Indigenous app facilitates community responses, recovery, and resiliency. It is grounded in Indigenous cultures and values of knowing, being and doing. Through the app, questions are posed that are critical for understanding and acting on the emotional, spiritual, mental and physical health of participating community members.
The COVID-19 Indigenous app (available on iOS and Android) has been designed to be easily adapted to the diverse needs and priorities of individual communities while adhering to the principles of data sovereignty and community ownership, control, access and possession of information. No one outside of any given community will have access to these data without their express permission.
"We know that one-size-fits-all does not work for Indigenous communities," says Dr. Myrle Ballard, a University of Manitoba researcher from Lake St. Martin First Nation in Manitoba. She is one of the co-leads on the COVID-19 Indigenous app initiative.
The web and mobile apps were designed to maximize community control at every phase of the process so that local health workers can decide what are the important questions to ask.
The information gathered through the questionnaires on the COVID-19 Indigenous app will help local Health Directors and leadership in rolling out effective programming for their communities, including COVID-19 vaccination programmes if they so desire.
The information collected can also be used by communities to advocate for changes in policy-making regarding COVID-19 and is an example of how digital tools can be used effectively to support and promote Indigenous health and data sovereignty.
"This app is a game-changer," says Stephane McLachlan, a UM professor of environment and geography who is the other co-lead on the digital app initiative. "It will provide information that can help support Indigenous communities as they work towards health sovereignty, and as they strive to address the many systemic and ongoing gaps in government funding and support regarding health."
McLachlan adds that this app is the first of its kind, anywhere. "Yes, digital apps have seen some use in supporting Indigenous groups as they work to address health concerns," he says. "However, most are urban-centred and have yet to be implemented in rural and remote settings. And, for sure, none has ever been used to further community control over health and well-being in the centre of an ongoing global pandemic crisis."
The app also provides a way for community members to stay connected while staying safe by allowing users to share and celebrate their stories of hope and resilience in the culture and resilience subsections of the app.
"Lots of times in Indigenous communities, many members feel that they're alone," says Evan Chamakese of Pelican Lake First Nation, Saskatchewan, and the Digital Health Outreach Coordinator for the digital app initiative. "The app gives the community members a voice in times of isolation."
The COVID-19 Indigenous app is one of a number of initiatives undertaken in response to the SARS-CoV-2 pandemic by the larger research project named Kitatipithitamak Mithwayawinin; loosely translated from Cree to "hold ownership and control over the health and well-being of our own." The larger project is conducted in partnership with 11 First Nations communities and organizations in Manitoba and Ontario. The digital health initiative, as well as the larger project, have emerged in direct response to requests by Indigenous communities seeking improved ways to manage the emerging and changing needs of the pandemic crisis in 2020 and into the future.
Although the COVID-19 Indigenous app has been primarily developed with, and for, Canadian Indigenous communities, those from the US and elsewhere will also likely find the app to be of use and are welcome to join the webinar and the digital health initiative.
Communities interested in finding out more about this app or the Digital Health Initiative can contact Evan Chamakese at evan [at] covid19indigenous [dot] ca.
SUPPORT SCIENCE – MAKE A GIFT!
This app is made possible thanks to funding from a CIHR COVID Rapid Response grant.
Related stories
COVID-19 Rapid Response Program funding for studies in Indigenous populations