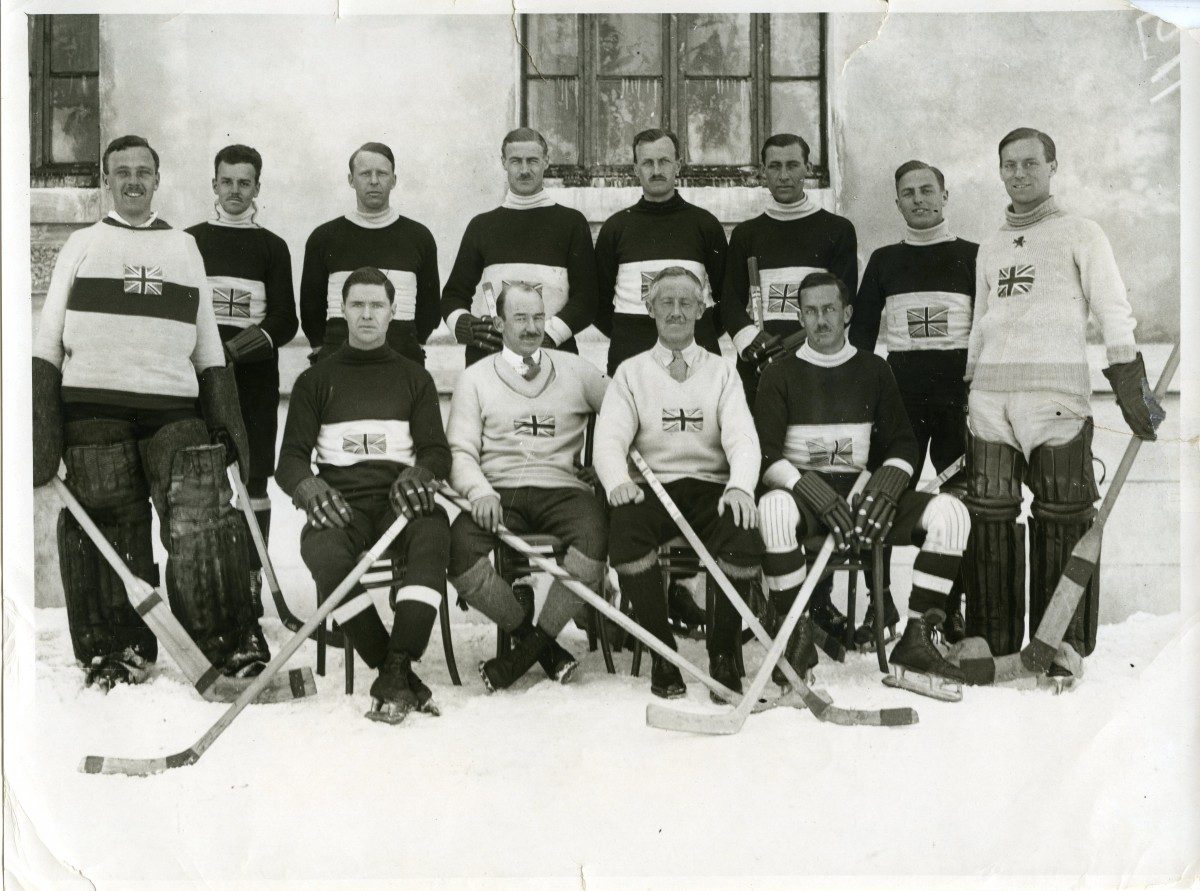 U of M's Olympians of yesteryear
February 19, 2018 —
To celebrate the 2018 Olympic Games in Pyeongchang, South Korea, we decided to scour the University's archives to find alumni who competed in Winter Olympics throughout the decades.
Victor H. Tait
Victor H. Tait [BSc (EE)/1914], hockey player, was born in Winnipeg but played for—and coached—the British ice hockey team at the 1928 Winter Olympics in St. Moritz, Switzerland.
Born in 1892, he graduated with a Bachelor of Science in electrical engineering in 1914, then joined the Royal Flying Corps, specializing in navigation and wireless duties. After World War One, he became a navigation instructor and pilot in the Royal Air Force, his travels taking him through Europe and the Middle East. Midway through his career, at age 35, he competed in the Olympics, playing seven games and landing in fourth place overall.
Returning from the Games, Tait became senior advisor on the British military mission in Egypt, where he helped create the Egyptian Army Air Force. Tait rose to the equivalent of lieutenant-colonel and, in 1937, King Farouk appointed him a Commander of the Order of the Nile.
As head of radar and signals for the British Air Ministry during World War Two, Air Vice-Marshal Tait led the team that destroyed the Germans' radar stations prior to the Allied forces' invasion of Normandy in 1944. For this, he was knighted and became Sir Victor Tait.
After the war, he worked with the British Overseas Airway Corp. and other organizations to make flying safer. He remained committed to hockey, serving 13 years as president of the British Ice Hockey Association. Tait was married three times and died in 1988 at age 96.
Edward B. Pitblado
Edward B. Pitblado [BA/20, LLB/26], hockey player, was a Scots-Canadian from Winnipeg who won bronze in men's ice hockey at the 1924 Winter Olympics in Chamonix, France.
The son of Isaac Pitblado—also a UM grad—he served with the Royal Air Force in World War One but was sent home before the war's end after suffering serious wounds in a crash.
At U of M, he played hockey, football, and basketball while pursuing a Bachelor of Arts in French and political economy. After graduation, he worked briefly in his father's law firm, then attended Oxford University on a Rhodes Scholarship. While there, he captained the ice hockey club, the "Oxford Dark Blues," and played lacrosse. As with his predecessor, Victor Tait, Pitblado represented Great Britain at the Olympics, scoring a hat trick in the first match.
Returning to Canada, he convocated with a law degree the same day his father, as chair of the Board of Governors, received an honourary Doctor of Laws. Like his father, Pitblado became a distinguished Winnipeg lawyer and community supporter. He was president of the Alumni Association, the Manitoba Game and Fish Association, and, later, the Law Society of Manitoba. He also played a key role in founding Ducks Unlimited Canada; subsequently, he was inducted into the Manitoba Order of the Buffalo Hunt for his conservation efforts.
Pitblado died in 1977 at age 80.
Errick F. Willis
Errick F. Willis [LLB/23, LLD/62], curler, was already a politician in his mid-thirties when he and his Canadian curling team won gold at the 1932 Winter Olympics in Lake Placid, New York.
Born in Boissevain in 1896, Willis was sent by his politician father, R.G. Willis, to study law and enter politics. Willis did all this and more. He practised law for several years, and in 1930 was elected to the province's Conservative government. In 1932, he took a break to compete at the Olympics, where curling was a demonstration sport. Canada and the United States each entered four teams; Willis's team won all four of its 16-end games.
Afterwards, Willis gave up law to farm, though a few years later, he was re-elected provincially, rising to the rank of cabinet minister and deputy premier. He led Manitoba's Conservative Party for almost 20 years and was the province's first Manitoba-born Lieutenant-Governor.
Willis continued to support curling; in 1950, he captained a Canadian team that toured Scotland. He was inducted posthumously into the Canadian Curling Hall of Fame in 1974. The University of Manitoba awarded him an honourary degree in recognition of his many accomplishments.
Willis died in 1967 at age 70.
Doreen A. Botterill
Doreen A. Botterill (née McCannell) [BPE/69, CertEd/71], speedskater, competed for Canada at the 1964 Winter Olympics in Innsbruck, Austria, and at the 1968 games in Grenoble, France.
Born in Winnipeg in 1947, Botterill started figure skating at age four but switched to speed skating at 11. Within a short time, she sped to the top of her class. By the time she reached the Olympics, at age 16, she already had been named Manitoba's outstanding junior athlete. Botterill was one of only four Canadian skaters in Innsbruck, and the youngest competitor in her field. She placed eighth in the 2,000 metre event and went on to win the North American Senior Ladies Championship in 1966, along with a slew of medals in the inaugural Canada Winter Games the following year. In the 1968 Olympic Games, Botterill ranked 24th.
The holder of 31 Canadian records, Botterill was inducted into the Canadian Amateur Speed Skating Association Hall of Fame and the Manitoba Sports Hall of Fame. Olympic-level talent runs in her family: Her sister, Donna (McCannell) Keating [BPE/72, CertEd/73, PB CertEd/91], competed in speed skating at the 1972 Winter Olympics in Sapporo, Japan, placing 25th in the 500-metre event.
Doreen is married to Cal Botterill [BPE/68], a sports performance psychologist who played on the national men's hockey team from 1967 to 1969. Their daughter, Jennifer Botterill, is a three-time Olympic gold medallist in women's hockey, while their son, Jason Botterill, played with the NHL and is now general manager of the Buffalo Sabres.
Gayle Graham
Gayle Graham (nee Gordon) [BPE/78], speedskater, competed with teammate Donna McCannell (see above) at the 1972 Winter Olympics in Sapporo, Japan. She was just 16 and had won two gold medals at the Canada Winter Games. In 1970, she was the Canadian junior indoor speed skating champion.
Now Chief Executive Officer of the YMCA in Owen Sound, ON, Graham recalled skating in Winnipeg on an outdoor oval that was a running track in summer and an ice rink in winter. She trained in Europe, and her one-piece uniform was made of jersey, she told the Owen Sound Sun Times. Graham raced again in the 1976 Games at Innsbruck, Austria, placing 23rd in the 3,000-metre event—her best Olympic finish.
Kathy A. Gregg
Kathy A. Gregg (nee Vogt) [BPE/82], speedskater, competed in both the 1976 and 1980 Winter Olympics.
Born in Elkhart, Indiana, and raised in Winnipeg, she won all four junior events in the North American Outdoor Speed skating competition at age 15. At the Olympics, her best result was a 16th-place finish in the women's 1,500-metre event in Lake Placid, New York.
While there, she met her future husband, Randy Gregg, captain of the Canadian men's hockey team. Two of their children, Jamie and Jessica Gregg, are former Olympic speed skaters, while another daughter, Sarah Gregg, is a former junior long-track champion. Today, Kathy Gregg is an elementary school teacher, coach, and speed skating volunteer in Edmonton.
Lorna E.P. Daudrich
Lorna E.P. Daudrich (nee Sasseville) [BPE/82], cross-country skier, competed in both the 1988 and 1992 Winter Olympics.
The Winnipeg-born Nordic skier surprised even her coaches by finishing as the top Canadian woman in the first two races at the Calgary Games in 1988. She placed 26th out of 53 in the 5-kilometre race—a tie for the best-ever finish by a Canadian woman. In the 4 x 5-km relay, her team placed ninth.
Daudrich won three national cross-country ski titles before going on to the Olympic Games in Albertville, France in 1992. She skied the 15-km event and the mass start 30-km event. She now resides in Canmore, AB.