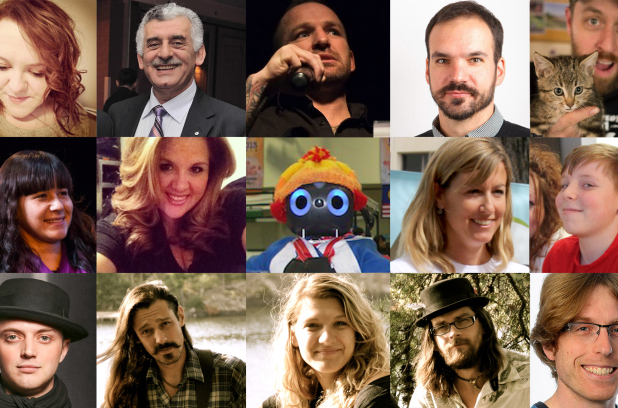 U of M names rank high in Metro's "Manitoba's 100 Most Fascinating People"
December 11, 2013 —
Last Friday, Metro came out with Ace Burpee's list of "Manitoba's 100 Most Fascinating People."
Of the 100 stars on the list, there were many with a U of M connection. Here are the ones we found, starting with #99.
#99
Katherena Vermette
Metro: The 2013 recipient of the Governor General's Literary Award for Poetry, for her collection North End Love Songs. It's brilliant. I own it. The
book is an ode to Winnipeg's North End, where Ms. Vermette grew up, where her Métis brother went missing, and the neighbourhood to which she returned after becoming a mother.
U of M connection: Katherena Vermette is an affiliate with the U of M's Centre for Creative
Writing and Oral Culture (CCWOC). UM Today spoke with Vermette just before she was about to receive her award. See story and interview with Vermette here.
#95
ABDO (Albert) El Tassi
Metro: Easily one of the coolest people you will ever meet. Admittedly, there is no way I should have waited so long to include him on this list. Mr. El Tassi has been honoured with the Order of Manitoba, the Order of Canada and the Queen's Golden Jubilee Medal in recognition of his communal work and achievements. He founded the Islamic Social Services Association in Winnipeg, the Winnipeg Central Mosque and AlHijra Schools, the first Islamic school in Manitoba. He serves on the Board of the Winnipeg Foundation, the Addictions Foundation of Manitoba, the Winnipeg Islamic Chamber of Commerce and the Canadian Federation of Bridge Builders. Mere weeks ago he was recognized as Outstanding Philanthropist 2013 by the Association of Fundraising Professionals. He's just a beauty and is also tons of fun.
U of M connection: He was awarded an Honourary Degree at the fall 2013 Convocation; he also sits on the board of the Arthur Mauro Centre for Peace and Justice.
From the citation: Compassion can so often be a fleeting thing. For Mr. Abdo El Tassi, though, compassion is a daily practice and his lifetime devoted to selfless acts has transformed communities around the globe. He embodies the spirit of the University of Manitoba:  hard work, ingenuity, service, global perspective and borderless outreach. This is why the University of Manitoba is proud to award Abdo El Tassi an Honorary Doctor of Laws.
Mr. El Tassi was born in Lebanon, where he became a schoolteacher and principal. He came to Winnipeg in 1969 and his first job was loading trucks in the shipping department of Peerless Garments. In 1978, he was appointed their General Manager and by 2003, he had become President and CEO.  Since that time he has increased the company's annual sales from $3 to $45 million. He brings this drive to the many boards on which he sits, including the Arthur V. Mauro Centre for Peace and Justice in St. Paul's College.
#93
Emily Richard
Metro: A 4.5 GPA at U of M, the youngest head coach and board member for Rhythmic Gymnastics Manitoba, co-founder of the Wasichana Fund (providing Kenyan girls with sanitary napkins and offers female-only health classes), volunteer with Downtown Biz Change for the Better project… and rightfully so, recipient of the 2013 Young Woman of Distinction Award by the YM-YWCA."
U of M connection: Emily Richard is currently enrolled in the faculty of social work at the University of Manitoba, with plans to use her education to facilitate positive change in the lives of individuals in her own community. An elite rhythmic gymnast and social work student who had a maximum 4.5 GPA in every one of her 2011-12 courses. She competed nationally and internationally for several years and paid that knowledge forward by becoming the youngest head coach and board member with Rhythmic Gymnastics Manitoba and is head rhythmic gymnastics instructor at the U of M's Bison summer camps.
#90
Juan-David Hincapie-Ramos
Metro: He may just be a guy with a super awesome, super long name… but more likely he might be a genius. He's a Post-Doctoral researcher at the HCI Lab at  U of M, having received a PhD from Denmark's IT University of Copenhagen. He creates mobile devices, transparent displays, tabletops, public displays, and social and technical infrastructure. I don't even know what most of that means, but I do know for a fact that he also invented an app that lets you safely walk and text, which may seem ridiculous until you have walked into a pole while texting, something I most certainly have done.
U of M connection: Working with associate professor of computer science, Pourang Irani, whose research is in the areas of human-computer interaction and information visualization, Hincapie-Ramos is a post-doctoral fellow at the U of M.
#86
Matt Henderson
Metro: A teacher at St. John's Ravenscourt, and the 2013 recipient of the Canada's History Society Governor General's History Award for Excellence in Teaching. Also helped pull off an exceptionally well run TEDxYouth@FortGarry talk.
U of M connection: Henderson is an alumnus of the Faculty of Education at the U of M. Here's more on his award from the Faculty of Education's blog:
Matt Henderson, BEd program '08, MEd student (Curriculum, Teaching & Learning ), and teacher at St. John's-Ravenscourt School, is one of six teachers in Canada to receive a 2013 Governor General's History Award. He was selected to receive this honour by the Winnipeg-based, Canada's History Society for his classroom work related to Aboriginal issues in Canada.
The Governor General's History Award honours excellence in educational and public programming about Canada's history and heritage and celebrates the very best in Canadian achievements to ensure Canada's national past has a vibrant presence in our society today.
In 2012, Henderson's Grade 11 class of 20 students examined the history of the Red River between 1738 and 1869. This was a time of European invasions, the rise of the HBC and Northwest Company, the birth of the Métis Nation, and a time when the federal Dominion of Canada was formed. Under the guidance of Henderson, the students experienced this history in relation to the Idle No More movement. Their efforts and refreshed understanding of Canada's history resulted in a published collection of short historical fiction titled Because of a Hat.
Henderson will first be recognized with an awards certificate from Canada's History Society on Friday at Kildonan East Collegiate, followed by a formal presentation at Rideau Hall on Nov. 19.


#82
Scott Cairns
Metro: Winnipeg man was among a group of scientists who received the Nobel Peace Prize in 2013. A member of the organization for the Prohibition of Chemical Weapons, the group is currently working in Syria to dismantle that country's stockpile of weapons. It was for those efforts that he received his award. Incredible achievement.
U of M connection: U of M alumnus [BSc(Maj)/01].

From the CTV News story on Cairns' Nobel Peace Prize, which includes an interview with Cairns' former chemistry professor, Phil Hultin:
"When he graduated from the University of Manitoba I helped to get this first job within the Department of National Defence," said Hultin. "They have a big research lab in Suffield Alberta that works on the detection and neutralization of chemical weapons, and so they were looking for a chemist to work in their laboratory, and over the years we exchange emails."
Hultin hopes the prize will inspire other students to consider a career in chemistry. "Most students have no idea what the reason for studying chemistry is, but I think this is a good example of where you can go with a degree and training in the basic science of chemistry. It's only limited by your imagination."
#73
Vivek Bhagria
Metro: The lone Manitoban on Team Canada at the 2013 World Dwarf Games. He brought home 2 medals, but even cooler than that, he participated in 11 of 13 events at the games. Hardcore. The games were also largest sporting event in history exclusively for athletes with dwarfism.
U of M connection: A U1 student, Bhagria has been a media star for a while! See the story on Bhagria at the games here.
#64
Scott Burton
Metro: Ran for 24 HOURS STRAIGHT, covering 151.5 kilometres in what he called his "24 Hour Marathon to Fight Hunger" in support of the Lunches With Love program. I ran with him for bit along the 4k loop around Charleswood. Signs of encouragement marked the route, and the kids from Beaverlodge Elementary joined him for the final stretch. Cool scene. Great guy.
U of M connection: Alumnus Scott Burton [BComm(Hons)/02] stays busy. In addition to his career as a motivational speaker and corporate entertainer, he is also an endurance athlete. (his website)
#56
Lisa Dyck
Metro: On her farm near Anola, Manitoba Lisa produces arguably the best ice cream IN THE WORLD. Period. They milk 120 cows every day, twice a day, 365 days a year. Some of that effort goes towards producing Cornell Creme. Again, probably the best ice cream in the world. Lisa is brilliant, and she's on to something huge. From hand-picked berries to a brilliant beer ice cream, Cornell Creme is about to be another massive Manitoba food success story.
U of M connection: Dyck has been working with the dept of food science dairy in the Faculty of Agricultural and Food Sciences to develop her product. She owns a dairy farm with her husband, and the dairy at the U of M processes ice cream for her company on a contract basis. Food sciences staff member John Thoroski says, "They deliver milk to us from their farm and the dept. makes ice cream for her company to sell in the local market using her proprietary recipes. She is starting a new business, and we are helping her in development. The objective is for her business to grow so that she can eventually start her own plant."
#50
Wade Miller
Metro: Trust me, Wade didn't need a job. Far from it. Someone, however, had to step up and take over one of the hardest and highest-profile gigs in town. Wade Miller, our new president and CEO of the Winnipeg Football Club.
U of M connection: Alumnus [BPE/95].After four seasons with the Manitoba Bisons, Miller was drafted by the Blue Bombers in the fourth round (37th overall) in the 1995 CFL Draft.
#49
Elizabeth McGuire
Metro: One of Winnipeg's 2013 "Senior of the Year" award winners for her ongoing commitment to education and literacy. Since her retirement from teaching, Mrs. McGuire has returned to Ralph Maybank School on a daily basis to help students develop their reading and numeracy skills. Love her.
U of M connection: An alumna: BSc/70, BEd/94, PBCertEd/08.
#45
Marie Christian
Metro: Program Coordinator for Voices: Manitoba's Youth in Care Network. Under the stewardship of The Boys and Girls Club of Winnipeg, VOICES aims to empower and support youth in and from care. This is hard, vital work and takes a true leader and caring person to pull it off.
 U of M connection: Marie Christian serves on the advisory committee for the Faculty of Social Work, and she is also a practicum supervisor for the program.  Two U of M social work students have completed their practicum at Voices/Boys and Girls Clubs of Winnipeg so far.
#37
Dr. Dhali Dhaliwal
Metro: One of the most inspirational and engaging speakers ever on the subject of cancer. As President and CEO of CancerCare Manitoba, Dr. Dhaliwal spent 10 years fighting for those with cancer, and driving home messages of prevention. Just a wonderful man, who will now step down after a decade of exceptional service to our province.
U of M connection: Professor of internal medicine in the Faculty of Medicine.
#25
Mike Deal
Metro: An excellent photographer and super good guy, his Instagram portrait project has brilliantly captured unique faces of Manitobans and is a must follow. You're looking for #portraitproject2013 or @wfpmdeal.
U of M connection: His training includes a journalism diploma from the Southern Alberta Institute of Technology in Calgary. He also spent time at the University of Manitoba, working at The Manitoban (U of M's autonomous student newspaper) and the U of M photo club and taking fine art courses.
#s 22 – 15
The Mariachi Ghost: Jorge Requena, Gabriel Fields, Adam Kroeker, Bruce Berven, Rafael Reyes, Ian Mikita, Tim Friesen, Alexandra Garrido
Metro: Easily one of the greatest bands and live shows you will ever have the pleasure of watching. The sound is Mexican traditional folk music mixed with some progressive rock, acid jazz and different choral arrangements. Hard to explain, but it really, really works. The Mariachi Ghost live is not just a concert, it's a SHOW, featuring dancers, videos, sugar skull face paint, and more. It's an experience. I love them.
U of M connection: Six of eight are alumni and/or current students of the U of M: Adam Kroeker (M.C.P. 2013- present, M.A. 2007-2009, B.A. Hons. 2003-2007); Jorge Requena (B.A. 2004-2008); Gabriel Fields (B.A. Adv. 2008); Ian Mikita (Bsc. Hons. 1999-2003); Bruce Berven (B.Env.Sc.); Tim Friesen (BA (Music) and B.Ed. (2002-2007).
#12
Meira Cook
Metro: Wrote what until recently was a little-known novel set against the end of apartheid in South Africa. Set in Johannesburg during the '90s, The
House on Sugarbush Road focuses on two families, one white and the other black, in the days after Nelson Mandela was elected president of racially torn South Africa. The novel has been named McNally Robinson Manitoba Book of the Year. Christmas present idea, right there.
U of M connection: Alumna [PhD/98] and the winter 2011 writer-in-residence at the Centre for Creative Writing and Oral Culture (CCWOC) at the U of M. See the story on her recent book win here.

#10
Erika Dueck
Metro: Holds a Bachelor of Fine Art with Honours from the University of Manitoba and this year was named national winner of the BMO 1st Art! Invitational Student Art Competition for her mixed media installation, The Ephemeral Mind. She's really good, and it's worth checking her stuff out here: http://erikadueck.wordpress.com/ .
U of M connection: Dueck is an alumna of the School of Art [BFA(Hons)/13]. Read the story and see her winning installation here.

#s 7 – 3
Diana Carrier, Tiago Martins Araujo, Geoff Nagy, Joshua Jung & Chris Iverach-Brereton



Metro: They are the "Snobots." What did the Snobots do? They are a team from the University of Manitoba, who get this, made the BEST ROBOT IN THE WORLD. It's true. Winnipeg is home to the world's most talented robot. The crew travelled to Kuala Lumpur, Malaysia to compete in FIRA, the oldest robotics competition in the world. The "Snobots" (named Jimmy and Jeff) are humanoid robots who had to compete in an octathlalon which includes a sprint, marathon, lift-and-carry, obstacle run, weightlifting, basketball free throws, soccer and a climbing wall. Guys, they built a robot that climbs walls!!! And they won. I love it.
U of M connection: The U of M's  FIRA HuroCup robotics competition team — the SnoBots — won the kid-size division of the 2013 HuroCup in Kuala Lumpur, Malaysia. FIRA is the oldest robotics competition in the world, and the HuroCup is one of the most challenging competitions in existence: a single humanoid robot must compete in an octathalon that consists of a sprint, marathon, lift-and-carry, obstacle run, weight lifting, basketball free-throws, soccer penalty kicks, and a climbing wall. These collectively challenge a robotics team in a broad range of skills central to humanoid motion, complex motion planning, and human-robot interaction. Our team came in first place in climbing, first place in weightlifting, second in United Soccer (where the robot must join with other competitors to form a soccer team), fourth in sprinting, and fifth in soccer penalty kicks.
Based on the score across all events, the team won the highly-coveted all around event: the King's class at HuroCup. The students traveling to Kuala Lumpur were Chris Iverach-Brereton and Josh Jung, and the faculty involved with the team are the directors of the Autonomous Agents Lab, Jacky Baltes, professor in the department of computer science, Faculty of Science — and who also travelled to Kuala Lumpur — and John Anderson, professor and head of computer science. The team also relies on a range of people who spent time coding over the course of the year, including Diana Carrier, Tiago Martins Araujo, Geoff Nagy, Meng Cheng Lau, and Andrew Winton.
See Metro's story and Ace Burpee's list in its entirety here.