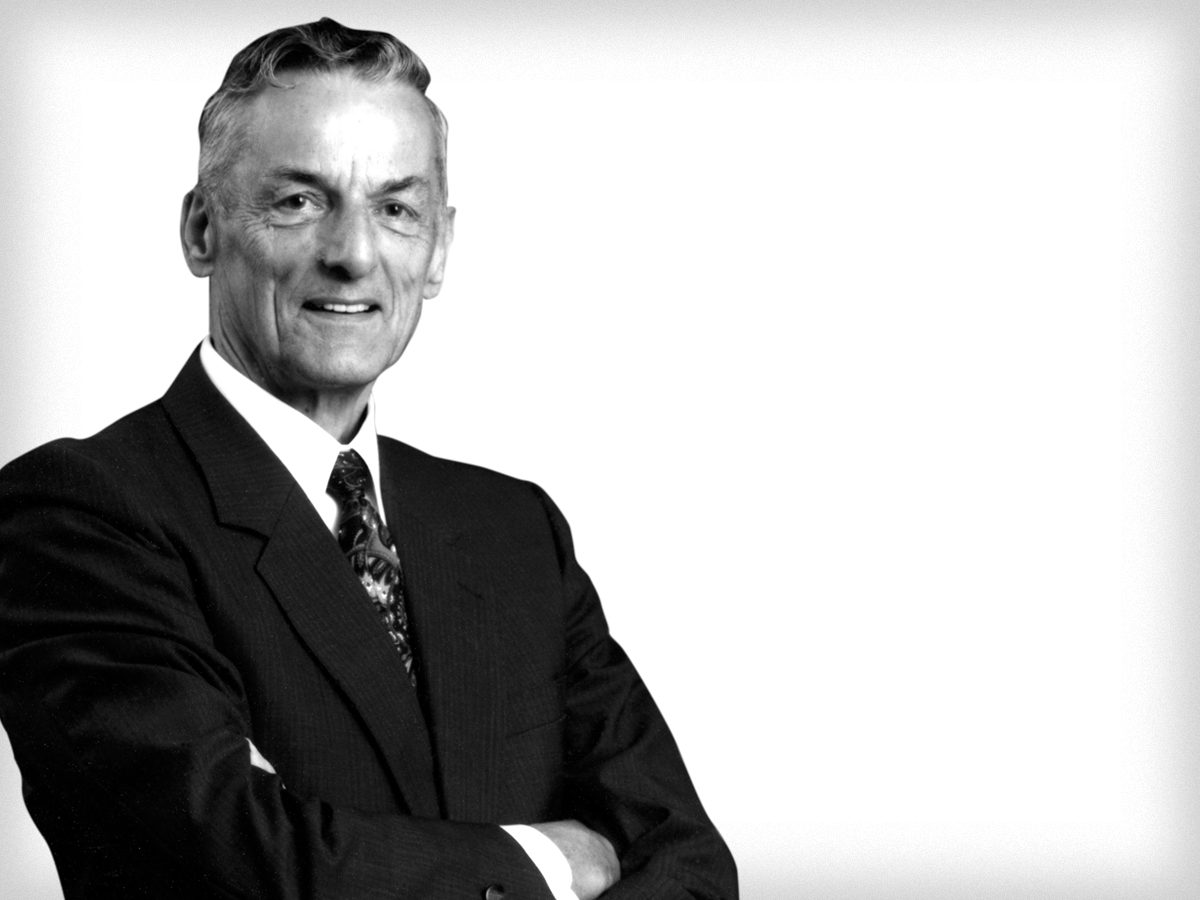 U of M has lost a beloved community member
The University of Manitoba has lost a beloved member of its community with the passing of John Derek Riley, C.M. [BComm/43, CA/49, LLD/17]
May 15, 2018 —
The University of Manitoba has lost a beloved member of its community with the passing of John Derek Riley, C.M. [BComm/43, CA/49, LLD/17]. Born in 1922 into one of Winnipeg's most esteemed families, he went on to become an Olympic athlete, war veteran, business leader, and a philanthropist of the highest order.
"Derek Riley was an outstanding example of how 'iron sharpens iron,' says Dr. David Barnard, president and vice-chancellor of the University of Manitoba. "A community leader and former CEO of Dominion Bronze & Iron Limited, Mr. Riley was instrumental in improving the lives of Manitobans by making others aware of needs and burning issues within our community. His support and encouragement for U of M students through bursaries and educational programs as part of the Front and Centre campaign was transformational in its scope and influence."
In 1943, Mr. Riley completed his commerce degree while serving as an officer of the Royal Canadian Navy aboard a Destroyer during the Second World War. After the war, he completed his chartered accountant degree and took a job at the Hudson's Bay Company, quickly establishing himself as chief financial officer of its fur trade division.
In 1987 at the age of 65, Mr. Riley became a founding investor and first chair of the North West Company, and was instrumental in brokering its purchase from the Hudson's Bay Company. As part of his new position, he toured the North extensively and was shocked by the lack of opportunity for young Indigenous peoples in many of the communities he visited. His gifts to the University of Manitoba include bursaries for Indigenous students coming from remote communities, as well as support for mentorship and cultural programs for children and teenagers in these regions.
Possessing athleticism as well as business acumen, Mr. Riley competed as a rower in the 1952 Summer Games in Helsinki, and rowing remained a passion throughout his life. He led a campaign to build a new clubhouse for the Winnipeg Rowing Club, which now bears the Riley family name, and chaired the rowing venue for the 1967 Pan Am Games. He competed in Masters level events until the age of 75. He credited the life lessons learned in rowing as "building blocks for his personal and professional life." Mr. Riley was inducted into the Manitoba Sports Hall of Fame in 2009, received the Order of Canada in 2014, and was bestowed with an honorary degree from the U of M in 2017.
Mr. Riley's unassuming generosity has improved the lives of Manitobans through organizations such as the Assiniboine Park Conservancy, Canadian Museum for Human Rights, United Way, Winnipeg Foundation, Royal Winnipeg Ballet, and Royal Manitoba Theatre Centre and was a member of the Associates of the Asper School of Business.