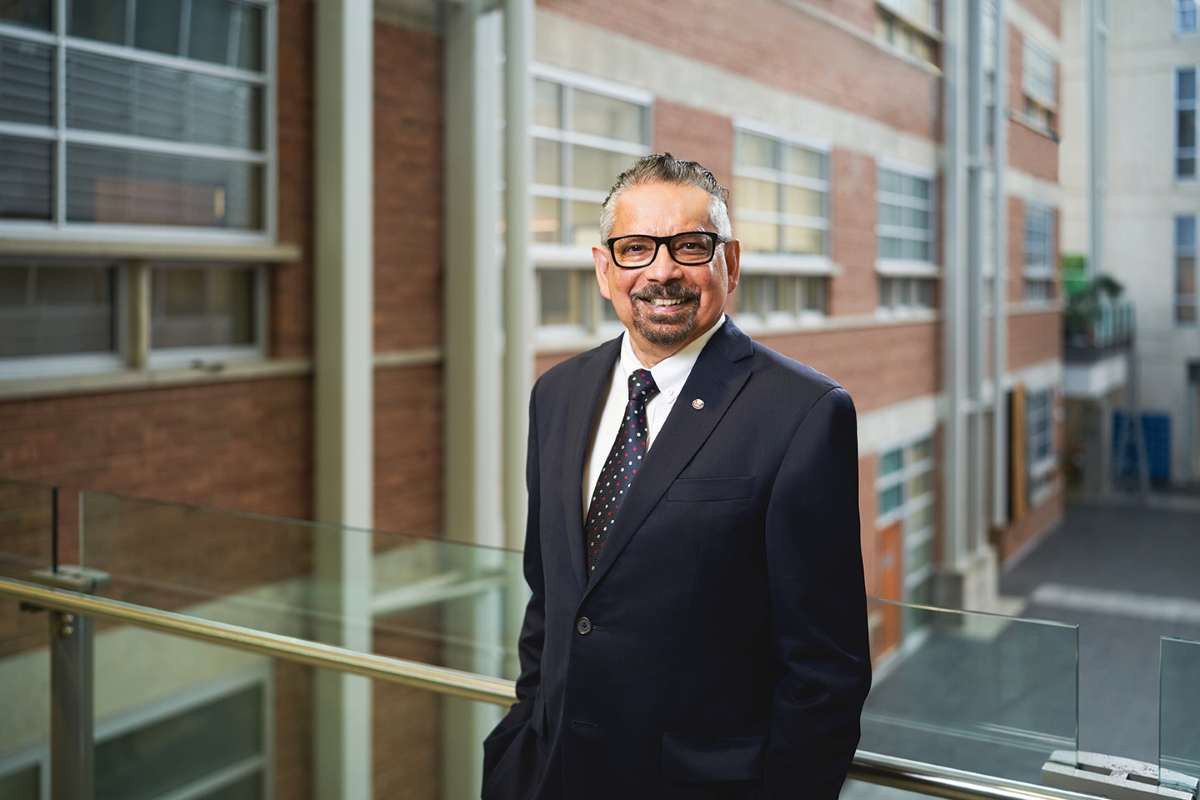 Top research stories of 2022
December 23, 2022 —
In 2022, the University of Manitoba shared many great stories regarding our world-class research. Here are our top picks for research news of the past year:
National Centre for Truth and Reconciliation and SSHRC partner to advance Indigenous-led research
The National Centre for Truth and Reconciliation (NCTR) and the Social Sciences and Humanities Research Council (SSHRC) announced a partnership to advance understanding of reconciliation. The collaboration will foster research on reconciliation and residential schools, done by and with Indigenous communities. It will leverage the skills and knowledge of both parties—the NCTR's expertise and ability to safeguard the truths of Survivors, their families, communities and others affected by the residential school system; and SSHRC's role to promote and support research and training in the humanities and social sciences.
Health research projects receive $31M in federal funding
The Canadian Institutes of Health Research (CIHR) on March 31 announced a six-year $31.1 million investment to provide new training and development opportunities for early career researchers and trainees as part of the new a new Health Research Training Platform. Researchers will receive training and development opportunities to build Canada's research capacity in several areas, including women's health, dementia, kidney disease, diabetes and the mental health of LGBTQ/2S populations.
UM global public health research partnership contributes to saving mothers and newborns in India
When University of Manitoba researchers began to work in India's most populous state of Uttar Pradesh in 2014, about 45 out of every 1,000 babies died within the first month of life. Now, with a new transformational investment of $87 million USD over five years from the Bill & Melinda Gates Foundation, the partnership between the UM Institute for Global Public Health and the Government of Uttar Pradesh (GoUP) through the Uttar Pradesh Technical Support Unit (UP TSU) can continue to help GoUP drive down maternal and neonatal mortality rates in the region.
This is achieved by working with local governments and other academic and development partners to strengthen health systems, to develop healthcare mentors and policies. All of which will continue to improve Reproductive, Maternal, Newborn, Child Health and Nutrition (RMCHN).
UM expands support to scholars, students at risk due to war in Ukraine
The invasion of Ukraine continues to endanger the lives, pursuit of education, and academic freedoms of students and researchers, and the University of Manitoba is expanding supports available to those affected. This includes a commitment of up to $1.755 million to support Ukrainian undergraduate and graduate student and researchers to come to UM to continue their studies and work that has been disrupted by this war. Going forward, new protocols have been established to guide the UM response to future geopolitical conflicts as they arise elsewhere in the world.
Elite researchers recognized with Rh Awards
Eight UM faculty members received Rh Awards, recognizing excellence in research, scholarly work and creative activities. Peter Nickerson, vice dean (research), the Flynn Family Chair in Renal Transplantation, and distinguished professor at the Max Rady College of Medicine, Rady Faculty of Health Sciences, was the recipient of the 2021 Dr. John M. Bowman Memorial Winnipeg Rh Institute Foundation Award.
Seven Canada Research Chairs announced at UM in 2022
The Honourable François-Philippe Champagne, Minister of Innovation, Science, and Industry, announced an investment of more than $102 million, in support of new and renewed Canada Research Chairs in 2022. The seven UM Canada Research Chairs are Lori Wilkinson Tier 1, Marcelo Urquia, Tier 2 (renewal), Robert Lorway, Tier 2 (renewal), Jason Kindrachuk Tier 2 (renewal), Kristina Brown, Tier 2, Heather Armstrong, Tier 2, and Zahra Moussavi Tier 1.
Commemorating the lifesaving legacies of Dr. John M. Bowman and Dr. Francis Plummer
Dr. John Maxwell Bowman and Dr. Francis (Frank) Plummer were immortalized with new busts unveiled at Innovation Plaza. Dr. Bowman was a UM alumnus and an internationally recognized expert in the treatment and prevention of Rh disease in newborns. His lifelong devotion provided a cure to the once fatal in 4 of every 1000 births in the 1940s. In the 1980s Dr. Plummer's infectious disease research changed the way the world understood HIV/AIDS and laid a path toward prevention and treatment.
New name, new mission for Richardson Centre for Food Technology and Research
The Richardson Centre for Functional Foods and Nutraceuticals at the University of Manitoba has changed its name – it is now officially the Richardson Centre for Food Technology and Research (RCFTR). The new name was selected to reflect the RCFTR's focus on collaborating with the agri-food industry to advance food quality and human nutrition through food research and pre-commercial product development.
The Conversation Canada: New 'hydrogen alliance' offers Canada an opportunity to export ammonia to Europe
A new energy deal between Canada and Germany could revitalize the Port of Churchill in Manitoba by increasing ammonia export traffic. The Hydrogen Alliance proposes a "transatlantic Canada-Germany supply corridor" to start exporting hydrogen by 2025. This target could be reached sooner with the export of hydrogen from Western Canada.
Celebrated research advocate invested in Order of Canada
Dr. Digvir Jayas, who completed his most recent term as vice-president (research and international) was invested as an Officer of the Order of Canada on October 20, 2022. At a ceremony in Rideau Hall in Ottawa, Her Excellency the Right Honourable Governor General Mary Simon presented Dr. Jayas with his medal, one of Canada's highest honours.
Meet Dr. B. Mario Pinto, the new Vice-President (Research and International)
Dr. Mario Pinto joined University of Manitoba as the new vice-president (research and international) on October 1 with a goal to advance UM's research impact to the global scale. Pinto hosted an event on December 1 to engage students, faculty, staff, and researchers at the UMSU University Centre Multi-Purpose Room.
The Conversation Canada: Indigenous spiritual teaching in schools can foster reconciliation and inclusion
We are living in an era of reconciliation where Indigenous populations are growing and interest in confronting our shared histories continues to develop. Part of that involves focusing on how primary and secondary schools are addressing the Indigenous experience in Canada. Spirituality is a vital part of Indigenous identities. Incorporating spiritual education can create space in schools where Indigenous students can learn and grow