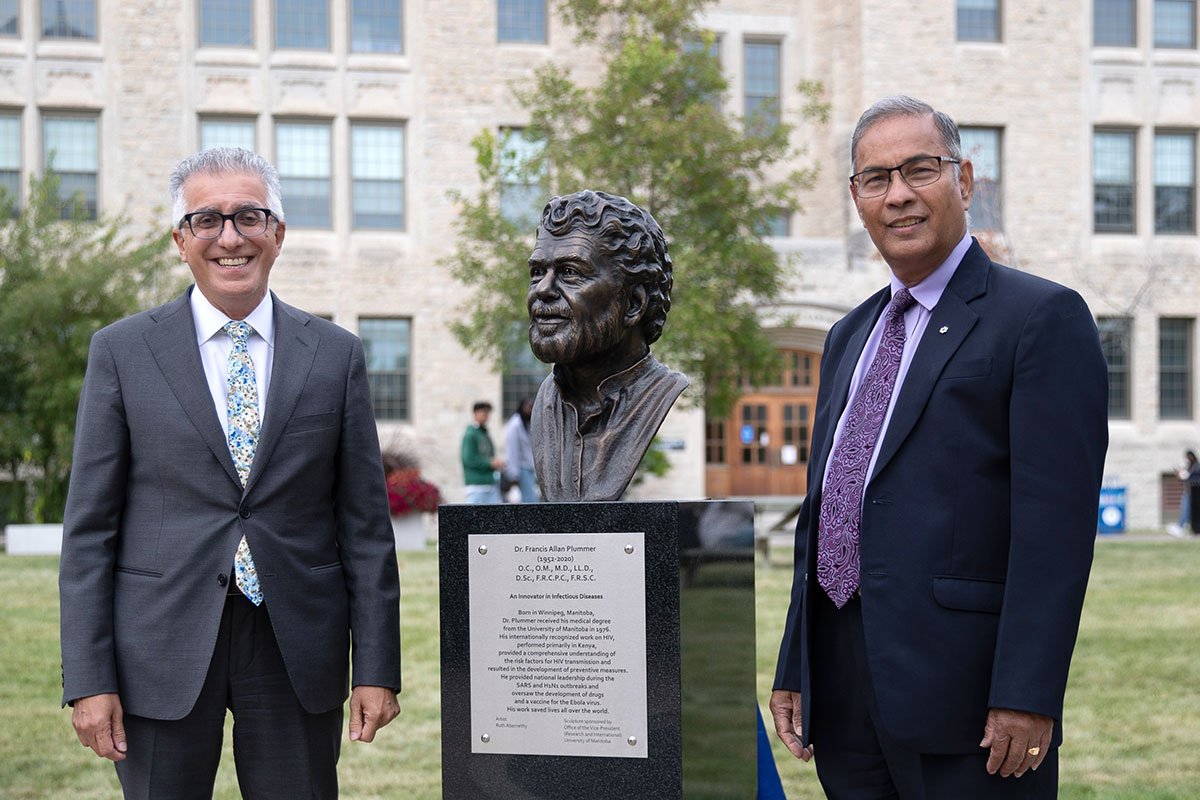 Celebrating world-renowned infectious disease researcher Dr. Francis Plummer
New bust added to Innovation Plaza in honour of UM researcher
September 13, 2022 —
In the 1980s Dr. Francis (Frank) Plummer changed the way the world understood HIV/AIDS, and laid a path toward prevention and treatment. Dr. Plummer was a UM alumnus (MD/76), Distinguished Professor of medical microbiology, and Canada Research Chair in Resistance and Susceptibility to Infections. His lifetime of research informed the development of treatments and public health strategies to control infectious diseases including SARS, H1N1 and Ebola still in use around the world today.
Dr. Plummer was immortalized last week with a new bust unveiled at Innovation Plaza to inspire students and faculty with a tangible reminder of the highest standard of excellence at UM. "Dr. Frank Plummer was model of research excellence we all aspire to," says Dr. Digvir Jayas, UM Vice-President (Research and International). "From Winnipeg to Nairobi and all around the world his contributions have saved the lives of tens of thousands of people, and it is wonderful to see him join the illustrious group here at Innovation Plaza."
The other researchers featured in the plaza are Dr. John M. Bowman, Dr. Baldur Stefansson, Dr. Henry Bruce Chown, and Dr. Carol Shields.
Remembering an Icon
Frank Plummer was born in Winnipeg in 1952 and received his medical degree from the University of Manitoba in 1976. He continued his training in internal medicine and infectious diseases over many years at the University of Southern California and the Centers for Disease Control in Atlanta.
Dr. Plummer was just 29 years old when he took a research position with the University of Nairobi, Kenya, in 1981, as part of a partnership with the University of Manitoba specializing in sexually transmitted infections. While studying with patients in Nairobi, the research team would uncover a link in their own work to a growing epidemic in Africa.
"Certain sexually transmitted diseases, most notably herpes, chancroid or syphilis, allow the AIDS virus to be transmitted more efficiently," Dr. Plummer explained in a 1987 CBC interview. "It's hard to overstate the problem in Central Africa where between 10-20% of young adults are infected with the virus, otherwise healthy and active people." But Dr. Plummer also found hope.
Ongoing study among sex-workers in Nairobi identified a small cohort who possessed a natural immunity to HIV-1, the virus that leads to AIDS. Over the next 17 years Dr. Plummer and his team would lay the path for the development of the lifesaving HIV vaccine and drugs which have improved the quality of life for people living with HIV.
After his return to Canada, Dr. Plummer was named Scientific Director General of the National Microbiology Laboratory in Winnipeg, in 2000. There, he played a leadership role in Canada's response to the SARS pandemic in 2003, and the H1N1 flu pandemic in 2009. He would also help lead the development of the Ebola vaccine used in response to the outbreak in West Africa.
Through his illustrious career, Dr. Plummer also served as senior scientific advisor of the Public Health Agency of Canada, and director general of the Centre for Infectious Disease Prevention and Control in Ottawa. He was honoured with many awards including Officer of the Order of Canada, the Order of Manitoba, both the McLaughlin and Flavelle Medals of the Royal Society of Canada, and four honourary degrees.
Dr. Plummer was also recognized for his outstanding contributions to biological science with the Prix Galien Research Award, the Rh Institute Award, the St. Boniface Hospital Research Foundation International Award, the Killam Prize from the Canada Council for the Arts and Canada Gairdner Wightman Award.
Dr. Frank Plummer passed away suddenly in 2020 while in Nairobi, Kenya celebrating the 40th anniversary of the Manitoba/Kenya research collaboration.
"The breadth of Frank Plummer's scientific outreach was greater than any other scientist that I know of," Keith Fowke, Head of the UM Medical Microbiology and Infectious Diseases told Research Manitoba. "That is what made him a great leader at the NML, he knew the clinical situation, the epidemiology of disease spread, and he understood the basic science. Having someone at the top who could see the big picture of infectious disease was really important."
Dr. Fowke worked together with Dr. Plummer for more than 30 years in Nairobi, and Manitoba, and nominated him to be honoured at Innovation Plaza. The bust of Dr. Plummer was unveiled by UM president Dr. Michael Benarroch, Dr. Digvir Jayas on September 8th, 2022.
Innovation Plaza was established in 2013 to celebrate and honour University of Manitoba academic staff who have demonstrated sustained excellence and global impact and influence through a body of research, scholarly works or creative activities with a series of commemorative busts. The project was made possible through the vision and leadership of the Richardson Foundation.
Research at the University of Manitoba is partially supported by funding from the Government of Canada Research Support Fund.