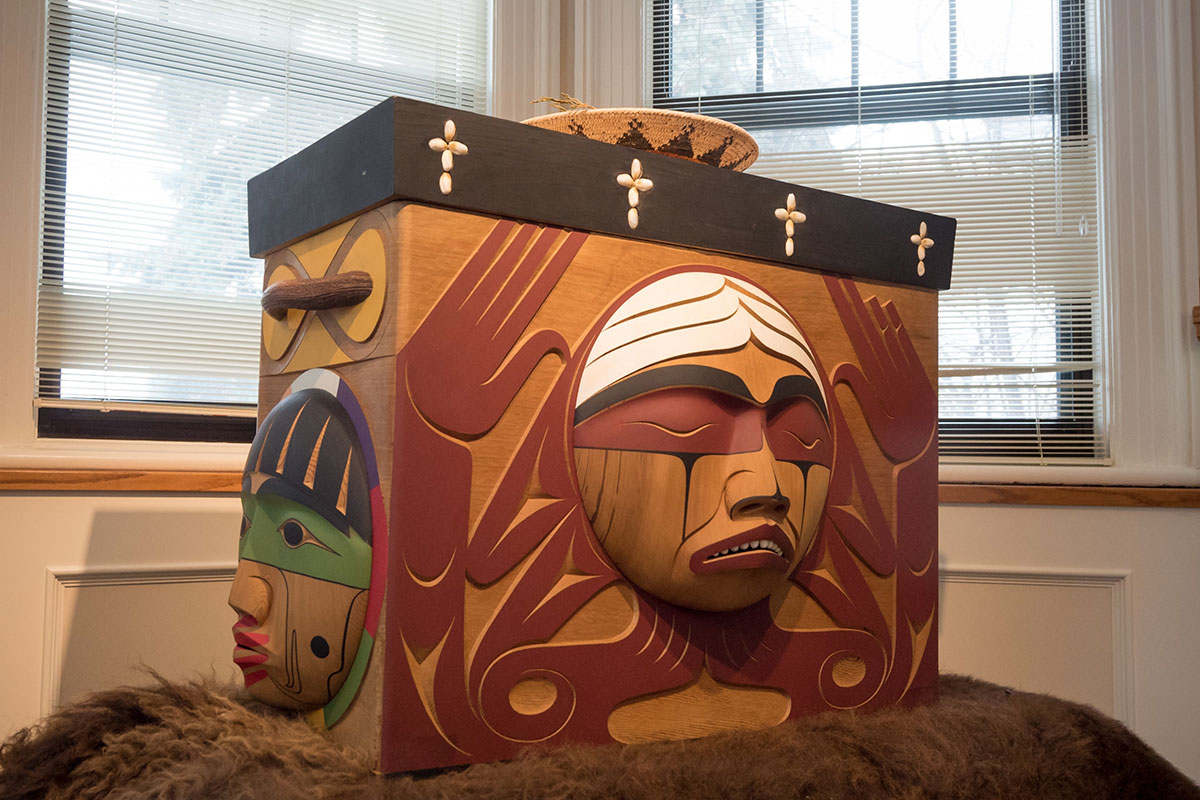 National Centre for Truth and Reconciliation and SSHRC partner to advance Indigenous-led research
New partnership an important step in further responding to TRC Call to Action 65, and supporting calls 71 to 76
February 1, 2022 —
The National Centre for Truth and Reconciliation (NCTR) and the Social Sciences and Humanities Research Council (SSHRC) are proud to announce their partnership on a national research program to advance understanding of reconciliation.
The new partnership further responds to the Truth and Reconciliation Commission (TRC) of Canada's Call to Action 65, and supports calls to actions 71 to 76.
The collaboration will foster research on reconciliation and residential schools, done by and with Indigenous communities. It will leverage the skills and knowledge of both parties—the NCTR's expertise and ability to safeguard the truths of Survivors, their families, communities and others affected by the residential school system; and SSHRC's role to promote and support research and training in the humanities and social sciences.
"Researchers have the responsibility to uncover the harm and legacy of the residential school system and to bring more truth to light on what happened to Indigenous children for over a century," said Brenda Gunn, Academic and Research Director, NCTR. "Residential schools were a social engineering project of the federal government to erase Indigenous Peoples and cultures from the Canadian landscape. This partnership and funding will provide the avenue for a paradigm shift in how we understand the history, legacy and impact of residential schools."
The NCTR is a place of learning and dialogue, where the truths of residential school Survivors, families and communities are honoured and kept safe for future generations.
"We must honour the voices of all Survivors that were and continue to be brave enough to share their experiences and pain from residential schools. We shared our truths in part to help make sure unanswered questions are answered and the intergenerational legacies are researched for future generations to thrive," said Eugene Arcand, NCTR Survivors Circle Member.
"Research was done on us without our permission; moving forward, there cannot be anything about us without us. Now we need Survivors, communities and community-affiliated researchers, enabled to do the research into the system that took us away and continued in other ways. We need to take control of our own history and present with an Indigenous lens that will make the research legitimate to us and done in a good way for our families and communities. It is one crucial step we must take towards ensuring this is no longer repeated."
The NCTR Archives is the foundation for ongoing learning and research. Survivors, their families, plus educators, researchers and the public can examine the residential school system more deeply with the goal of fostering reconciliation and healing.
SSHRC is the federal research funding agency that promotes and supports research and training in the humanities and social sciences.
"For many years SSHRC's focus has been how do we, as a federal research funding agency, step up to support Indigenous research and contribute to the immense work that needs to be done on the path to reconciliation," said Dominique Bérubé, Vice-President, Research, SSHRC.
"We are honoured and humbled to work alongside the NCTR to answer Call to Action 65 and support their work on calls 71 to 76. Together, we are now in a position to help shed more light on our past and foster research on residential schools and reconciliation, by and with First Nations, Métis and Inuit communities. SSHRC is truly grateful for this partnership as we continue to work tirelessly towards reconciliation."
SSHRC has long been committed to supporting research by and with First Nations, Inuit and Métis Peoples, and has played a leadership role in recent years, on behalf of Canada's federal research funding agencies, to co-develop with Indigenous Peoples an interdisciplinary research and research training model that contributes to reconciliation. The resulting strategy, Setting New Directions to Support Indigenous Research and Research Training in Canada 2019 – 2022, was launched in January 2020. Through its strategic plan, Momentum 2020-2025, SSHRC has pledged to lead the implementation of initiatives and activities under the four strategic directions of the strategy:
building relationships with First Nations, Inuit and Métis Peoples;
supporting research priorities of Indigenous Peoples;
creating greater funding accessibility to granting agency programs; and
championing Indigenous leadership, self-determination and capacity building in research.
More details on the various initiatives to be undertaken through this partnership are forthcoming.
Research at the University of Manitoba is partially supported by funding from the Government of Canada Research Support Fund.